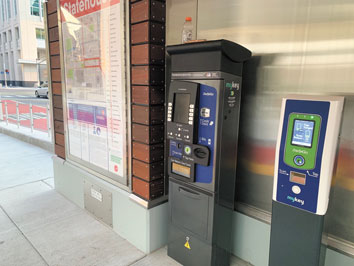 IndyGo is extending free service on its Red Line rapid transit route through Nov. 10, in part because the agency's new ticketing process will not be fully operational on Oct. 1, when the bus system was to start charging riders.
Officials said Thursday they will also use that time to work on service problems riders have faced during the first month of the Red Line's operations.
The Red Line—a 13.1-mile route that runs between College Avenue at 66th Street and the University of Indianapolis at Hannah Avenue—has been free since it went into service on Sept. 1.
IndyGo contracted with Paris-based technology firm, Flowbird Group, to modernize its fare system, with plans to implement new payment options on Oct. 1. The Flowbird system is to include a mobile app, a website, reloadable fare cards, ticket vending machines, fare enforcement and citation management.
But at the moment, the ticket vending machines are unable to accept bills for cash transactions and the user interface for administering the fare system Is behind schedule, IndyGo said.
"We are collaborating proactively with Flowbird and are optimistic the new machines will be up-and-running soon," said Justin Stuehrenberg, IndyGo's vice president of planning and capital projects.
"At the same time, we've made it clear to the company they must be accountable to our contract," Stuehrenberg said. "New systems and technology are bound to create new challenges, but we will not allow those challenges to impact ridership experience and IndyGo's commitment to exceptional customer service."
Based on Flowbird's current timeline and a period for public education, the ticket vending machines, mobile app and back-end customer management systems are projected to be ready for a Nov. 10 launch.
In its first week, the Red Line had more than 64,000 boardings. IndyGo officials did not have an updated total but said the route is averaging 7,000 per day.
"We are thrilled to see such a positive response to the Red Line launch," said IndyGo Board Chairman Juan Gonzalez said in a prepared statement. "These early ridership numbers send a clear signal that there is interest and demand for frequent, reliable transit service. We appreciate everyone's patience as new operational components and processes are optimized."
IndyGo had projected that daily ridership would be about 11,000 at the end of the first year of service, based on a model developed by the Federal Transit Administration.
Please enable JavaScript to view this content.