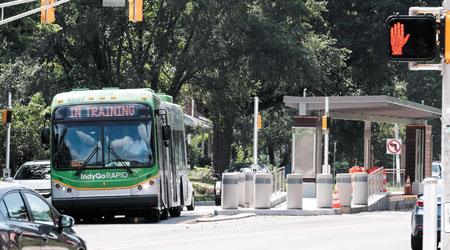 IndyGo has big expectations for the Red Line—including a 69% increase in ridership along the north-south corridor by this time next year.
It's a sizable increase, but one the transit system insists is realistic, based on "a new tier of service" along a route within a quarter mile of more than 50,000 residents and nearly 150,000 jobs.
"This is not just more buses," said IndyGo spokesman Bryan Luellen. "The characteristics of the service are part of what drives demand."
Ridership is among several concrete metrics IndyGo will use to evaluate the Red Line's success in coming months and years, along with some factors that are less easy to quantify.
Indianapolis' first bus rapid-transit line, which launches Sept. 1, will serve a 13.1-mile route that runs from College Avenue at 66th Street south to the University of Indianapolis, replacing two existing routes that now cover the corridor.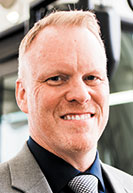 The Red Line—and planned Purple and Blue lines—will offer buses that arrive more frequently, stops spaced farther apart than on traditional routes, dedicated bus lanes along much of the route, traffic-signal priority for buses, and other features meant to improve the speed and reliability of service.
Daily ridership along what will be the Red Line corridor is now about 6,500, and IndyGo is projecting that will increase to about 11,000 by the end of the Red Line's first year. That increase, IndyGo says, will come from both existing riders who begin making more trips and new IndyGo riders. (Ridership measures the number of trips taken per day, not number of riders.)
That, in turn, should boost fare revenue. IndyGo's proposed 2020 budget includes $10.6 million in fare revenue, up from the $10 million projected for this year. The proposed budget for next year is $110.6 million, which would make fare revenue 10% of operations—a percentage IndyGo says it aims for every year.
The projected ridership increases are based on a model created by the Federal Transit Administration. The model, Luellen said, considers factors such as existing route ridership, how many residents and jobs exist within walking distance of a station, travel times along different portions of the route, hours of service, and service frequency.
"These are all things that contribute to whether people choose to use transit," he said.
Based on other cities' experiences with bus rapid transit, IndyGo might indeed be on the verge of a ridership boom.
Though BRT is new to Indianapolis, the concept has been around for years and is becoming widespread in the United States.
"Every mid- to large-size transit system in the country has, is planning or is building BRT," said Dennis Hinebaugh, director of the National BRT Institute. "They've all been very successful."
Hinebaugh also serves as director of transit research at the University of South Florida's Center for Urban Transportation Research.
In the late 1990s, he said, a handful of U.S. cities took fact-finding trips to South America, including to Curitiba, Brazil, to see how BRT systems there worked. U.S. cities then formed plans for their own systems.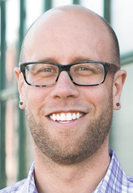 Los Angeles' BRT line, which opened in 2005, is generally considered the first true BRT system in the United States, Hinebaugh said.
The FTA started promoting bus rapid transit in the early 2000s by offering grant funding for such projects, he said. That, in turn, accelerated cities' interest.
IndyGo received a $75 million federal Small Starts grant to fund most of the $96.3 million cost of Red Line construction, and is pursuing Small Starts funding for the Purple and Blue lines.
'Our most popular route'
Richmond, Virginia, and Grand Rapids, Michigan, both say they saw big ridership increases following the launch of BRT service in their cities.
Richmond's transit system, the Greater Richmond Transit Co., launched GRTC Pulse in June 2018. The 7.6-mile route includes 14 stops and cost $64.9 million to build.
"It is our most popular route, by a ton," said GRTC spokeswoman Carrie Rose Pace.
GRTC Pulse, like the Red Line, includes traffic-signal priority—technology that gives BRT buses priority when approaching traffic lights, increasing the probability they will hit a green light. A portion of the route uses dedicated bus-only lanes, also similar to the Red Line.
These features, Pace said, allow GRTC Pulse buses to achieve an average speed of 12 to 13 miles per hour, as compared to seven to eight miles per hour before bus rapid transit. That, she said, is better than the 11 miles per hour GRTC expected.
The increased speed means the 7.6-mile route now takes about 35 minutes to travel by bus, instead of the previous 75 minutes.
"That's a tremendous reduction in the amount of time that you're on a bus to get to your destination," Pace said.
Ridership has also increased dramatically, doubling projections. Previous buses along the route carried about 3,000 riders a day, and GRTC estimated that would grow to 3,500 with the BRT service.
But the GRTC Pulse route now carries nearly 7,000 riders each weekday.
Grand Rapids' transit system, The Rapid, launched its BRT system in August 2014. The 9.7-mile route, called the Silver Line, includes 18 stations and cost $40 million to build.
"It connects our huge employment centers on what we call the 'medical mile,'" said The Rapid's CEO, Andrew Johnson. "It really bisects a huge part of the heart of our system."
Ridership on the Silver Line has increased every year, Johnson said. During the 2015 fiscal year, the Silver Line had a ridership of 690,000. By the 2018 fiscal year, ridership was 847,000, a 23% increase.
The Rapid is in the process of building a second BRT route, the Laker Line, which will launch in August 2020.
Speeding things up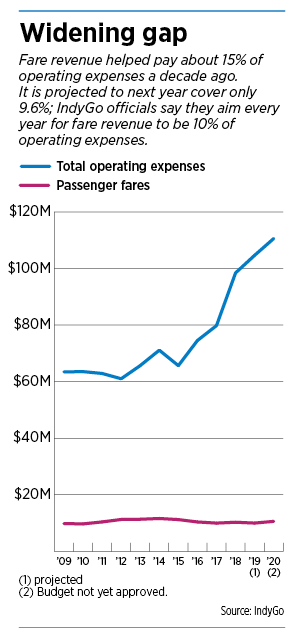 In addition to ridership numbers, IndyGo will also track other Red Line performance metrics.
The transit system's service standards, which were updated in October, call for its BRT buses to achieve average speeds of 25 miles per hour, arrive at stops every 10 minutes during peak service hours, and record a 90% on-time arrival rate. The standards also call for more than 27 boardings per hour. The more boardings per hour, the more efficient the service.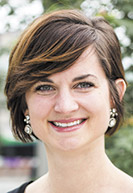 In comparison: On IndyGo's current routes that offer frequent service—buses every 15 minutes during peak times—the standard calls for average bus speeds of 17 miles per hour, an 85% on-time arrival rate, and 27 boardings per service hour.
The standards for basic service—routes where buses arrive every 30 minutes—call for average bus speeds of 14 miles per hour, an 85% on-time arrival rate, and 21 boardings per hour.
Some of the improvements proponents expect from the Red Line are harder to measure.
For instance, IndyGo doesn't know how much of the projected ridership increase will come from new customers. The FTA model "isn't as sophisticated to be able to break down new vs. existing riders," Luellen said.
Last year, IndyGo made two waves of service improvements that affected five routes. A year after the second wave was implemented, IndyGo saw a combined 8.1% ridership increase on those five routes, compared with a 3.4% ridership decrease on all other routes.
How many new riders did those improvements attract?
"It's hard to know," said IndyGo spokeswoman Lauren Day, because the fare collection system does not distinguish between current and new riders.
Day said she suspects most of the 8.1% increase came from existing riders who began using those routes more often.
IndyGo will collect anecdotal information about that metric once the Red Line opens, she said. The 200 or so volunteers who will help riders navigate the Red Line during its first week of operation will ask passengers whether they are new to IndyGo.
Another unknown is how much the Red Line might spur development along the route over time—creating the potential to boost ridership further.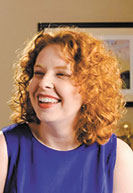 The vice chairman of IndyGo's board, Mark Fisher, said members want to see increased ridership and connectivity from the Red Line. Fisher is also chief policy officer at the Indy Chamber, an organization that is a Red Line supporter.
"I think the bigger picture for us is the connectivity," he said. "Are we connecting people from where they live to where they need to go?"
Development likely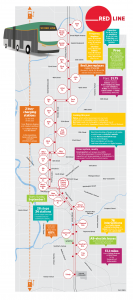 But, Fisher said, the board is also keen to see residential and commercial development along the route, for a few reasons.
More development means more residents, more jobs and more amenities like grocery stores and child care centers—all of which should create a virtuous cycle to make the Red Line more appealing, he said. "If there's denser housing, denser development along the Red Line, you'll see a spike in usage."
Increased development should also drive up property values along the Red Line, Fisher said, which ultimately means an increase in property tax revenue for the county.
Hinebaugh, director of the National BRT Institute, said property values and development do tend to increase along BRT lines over time.
BRT lines spur development in a way regular bus lines don't, Hinebaugh said. Regular bus routes shift as ridership demand changes, he said, but BRT lines tend to stay put because they're built around infrastructure such as stations and dedicated bus lanes. "Permanence is the key word."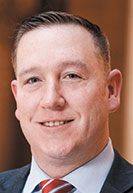 What's difficult to determine, he said, is whether any particular project came into being because of a BRT line or whether it would have happened, anyway. "It's really hard to follow."
In an effort to address this challenge, the Indianapolis Metropolitan Planning Organization released its initial Red Line Transit Impact Study this week.
The study analyzes demographics, economic characteristics and existing land use within a half-mile of each Red Line station, providing a baseline against which future changes can be measured. It does not include projections about those changes.
The study calls for planners to revisit the data after at least two years to measure how these metrics have changed.•
Please enable JavaScript to view this content.