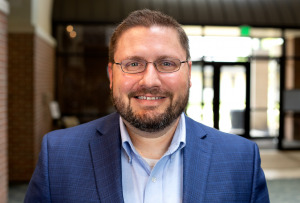 Finding skilled workers and providing essential training to employees are among the biggest challenges facing employers in 2022. IBJ's Custom Content Studio asked Andy Miller, PhD., the Vice President of Innovation & Partnerships at Indiana Wesleyan University, to share his thoughts about the state of the workforce and how businesses can meet today's challenges.    
Q: What are the essential skills needed for the workforce? 
Miller: Industries and positions have progressively transitioned from skills based on concrete, repetitive tasks to an environment where knowledge, automation, and artificial intelligence are competitive advantages. Some human tasks may be replaced with automatons, but the soul of an organization is in its people. As such, the skills of the workforce must reflect an environment where humans do less repetitive activities, depending on the industry, and focus more on the "softer" elements of human interaction. The workforce needs a careful balance between interpersonal skills, thinking and planning, human translational skills, and the capacity to build and advance the next generation of workplace technologies.
Q: What priorities and trends in the region are shaping education and workforce development efforts? 
Miller: On the heels of a global pandemic, every industry in the U.S. was left with open positions after a mass exodus of talent. This shift left managerial positions vacant or filled with first-time leaders, who often lacked the expertise and experience to manage the workforce. In the future, the decline of the birthrate in the Midwest will have a significant impact on labor. One report found that the U.S. will experience a deficit of 6 million workers by 2028. Beyond these social changes, the demand for technological competencies will shape education and workforce development efforts.
Q: How are businesses and workforce partners assessing labor needs and opportunities?
Miller: Organizations are performing assessments using algorithmic tools to match the organization's skills needs with the labor pool's talent. Firms feeling the economic pinch have pivoted to technology and alternative labor pools to mediate workforce needs. Workforce partners join in this effort by assessing the available human capital in the region and supporting the development of pipelines.
Q:  What options exist for providing training and education?
Miller: Colleges and universities provide education via credit-bearing certifications and degrees. Additionally, there is a growing number of alternative providers who deliver training. The best providers create training and education options that allow the learner to scaffold into higher levels. Consider, for example, IWU's Talent Ladder, which supports immediate skills development and positions people for educational attainment. Other firm-related training pathways have emerged in recent years, including ventures by Google and Amazon, that fill unique firm needs and offer a competitive advantage.
Q: What is the role of the state and federal governments in supporting education and workforce development? 
Miller: The role of the government is to create a labor market through regulation and funding in which more people are incentivized to participate. Governments regulate through the "iron triangle," which includes the accreditors, state governments, and the federal U.S. Department of Education. Enhancing this system will require that these groups recognize, support, and fund alternative training and education pathways, including short-term skills training programs, apprenticeships, competency-based education, and workforce-university partnerships.
Q:  How might educational institutions position themselves as reliable partners in workforce development?
Miller: Colleges and universities should align more tightly with industries and firms to serve the needs of the workforce. Doing so requires agility and responsiveness to market trends. One such adaptation is the development or support of alternative training programs. The involvement of educational institutions in alternative pathways will legitimize this approach and generate the robust conversation necessary to improve and advance these models.
Q: How might Indiana businesses incentivize workers to engage in training and education? 
Miller: Skills-based training offers immediate value to an employer by preparing individuals to perform in the workplace. Conversely, investments in degrees offer a lifetime value to the employer and employees. Degree programs prepare individuals in various fields but, more importantly, develop the cognitive skills necessary for leadership and strategic thinking. Indiana businesses should partner with educational institutions to attract and retain workers. These partnerships can provide pathways that enhance current roles and position individuals for a lifetime of success.
Q: How do education and industry partners attract, retain, and advance a diverse workforce?
Miller: Declining birth rates and lower workforce participation will require industry partners to develop talent pipelines in underserved communities. Hiring and training in these communities requires different education, training, and workforce development approaches. These efforts should include assessments to identify skills gaps, just-in-time training or education to fill this gap, wraparound coaching and support to ensure success, and pipelines into the workforce.
Q: What wraparound support is needed to attract and retain the workforce? 
Miller: A self-motivated learner could curate their training from the proliferation of available offerings without the help of an educational entity. The challenge of this approach is the absence of a feedback loop to reinforce the learning experience. A training and education platform should provide wraparound support, such as coaching and mentoring, to ensure that the learners engage in the process and reinforce the content in their work.
Q: What funding sources are available for education and workforce development?
Miller: The U.S. financial aid program is a vital resource for those pursuing a degree program. Indiana and surrounding states also provide financial incentives to degree-seeking students. Short-term training programs offer a significantly less expensive path to an appreciable skill. Depending on their circumstances, a mixture of personal, state workforce development, and corporate funding are available to learners. For example, the Indiana Next Level Jobs program offers financial support for those without a college degree to participate in training and education.