As a reader of the Indianapolis Business Journal, you've likely heard about Republic Airways. There's a good chance you've taken one of their regional flights under the banners of American, Delta or United. Or maybe you've driven past their new Aviation Campus, which is still under construction on US-31 in Carmel. Still, there's probably a lot you don't know about Republic, and the impressive way they're addressing a global transportation challenge from right here in Central Indiana.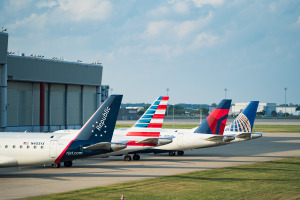 Where does Republic Airways fit in the airline industry? 
Republic Airways is proudly based in Indianapolis and is the second-largest regional airline in the United States. It employs over 6,000 associates and operates nearly 1,000 flights per day for its partners, American Airlines, Delta Air Lines and United Airlines. Republic has been a leader in the industry for 50 years not only in safety and operational performance but also in its workforce development initiatives, launching its subsidiary flight school—LIFT Academy—in 2018. 
Why is workforce development a top priority for Republic Airways? 
The industry has been facing an impending pilot shortage which was accelerated as a result of the COVID pandemic. There was a perfect storm of factors, including the loss of America's experienced pilots who exited the industry during the pandemic or had to retire at age 65, along with pent-up demand post-pandemic. This forced major airlines to limit their flight schedules, thereby reducing service to small and mid-sized communities.
The industry needs to more than double the number of new pilot and captain certifications to meet current air travel demand. Given this level of increased pilot training, Republic has invested hundreds of millions of dollars into its training infrastructure, including its new aviation campus in Carmel, in an effort to get ahead of this challenge and continue to lead the regional industry for decades to come.
What does the new Aviation Campus investment mean to aviation and the Indianapolis community? 
The brand new, state-of-the-art Aviation Campus along US-31 in Carmel is an all-purpose training facility that enables Republic Airways to train the best and brightest pilots, technicians and flight attendants. Previously, this training was performed across various locations in the Midwest. Republic is unique to its competitors in that the Aviation Campus brings all aspects of training and operational excellence into a single location.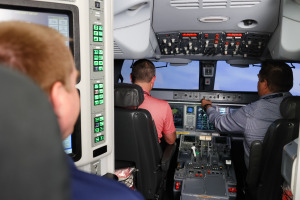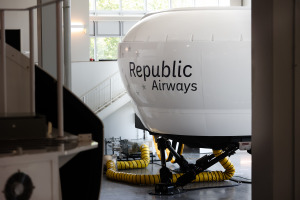 This facility features 8 state-of-the-art, full-motion flight simulators replicating the feel of Republic's all Embraer 170/175 aircraft fleet, as well as an Embraer aircraft cabin where flight attendants can train and simulate various safety protocols.  The facility also has an onsite hotel to serve as a retreat for trainees to relax and recharge so they can be at their best to focus on their training and studies.
Other than LIFT Academy being a large-scale workforce development initiative for Republic Airways, how is it different from other flight schools and how does it also benefit the local community? 
The LIFT Academy is a state-of-the-art flight academy located on the perimeter of the Indianapolis International Airport and, its newest location, in Myrtle Beach, South Carolina. LIFT Academy offers a curriculum that takes aspiring young student pilots from zero experience through all the certifications needed to be a licensed Air Transport Pilot. The design and development of the academy and training regimen is unique from other flight schools because it's based on the training processes and standards of Republic Airways commercial pilots.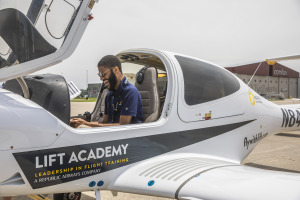 LIFT Academy offers the opportunity for students of all socio-economic backgrounds to become an Air Transport Pilot and achieve their dreams. Republic Airways is the only regional airline offering a direct-to-hire path for not just future pilots, but also maintenance technicians. LIFT is seeing exciting results that are transforming lives.
Republic and LIFT Academy want to make aviation open to the largest audience possible, which is especially important in its communities in Marion County and the Indianapolis metro area. In addition to making LIFT Academy accessible by offering financial incentives and assistance, they are also sponsoring aviation-themed programs in K-12 schools to expose students of all backgrounds to the accessible, alternative and lucrative aviation career pathways available to them.