Publishing March 20, 2017
The Indiana Health Industry Forum (IHIF), in partnership with Indianapolis Business Journal, will publish the 2017 BioFutures Magazine, a round-up of the latest news from the state's thriving health and life sciences sectors.
This year's BioFutures Magazine will be inserted in the March 20, 2017, issue of IBJ and will reach business decision makers throughout central Indiana and beyond. BioFutures is also the primary marketing piece used by IHIF as it promotes Indiana's health science sector at events locally, nationally, and around the world. An additional 2,000 copies will be mailed out to IHIF's membership statewide and distributed nationally to prospective businesses and economic development and site selection professionals, for a total distribution of 14,000.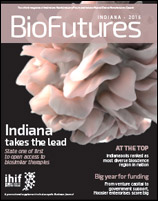 Issue Date
March 20, 2017
Advertising Space Deadline
February 7, 2017
Art deadline
February 15, 2017
Contact Me About Advertising
The 2017 BioFutures Magazine will take a comprehensive look at a variety of topics, including:
Policy: The recently passed 21st Century Cures Act will have a large impact on Hoosier patients, research funding, and drug and device approvals. Several Indiana legislators played key roles in making it happen.
Research: Indiana has a strong influence on both the Beau Biden Cancer Moonshot and the BRAIN Initiative. Companies and universities are working hard with patient advocacy groups to solve these complex healthcare challenges.
Entrepreneurship: IHIF's MOMENTUM program has expanded to bring new state and international partners and resources to the table to help Indiana research and start-up companies move ahead faster.
Growth: Hospital and corporate expansions are going strong in Indiana and feeding the demand for state-of-the-art facilities and workspaces.
Winners: From Indiana University's first Grand Challenge award to recognizing the best and brightest research and start-ups, we'll profile the winners and explore what drives their search for success.
Check out the IBJ MEDIA KIT