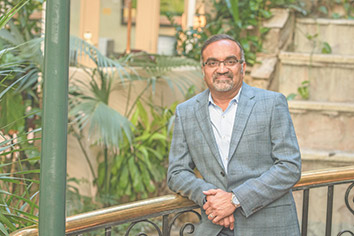 Local hotel developer Bharat Patel has come a long way since leaving his remote farming village in western India as a young man in the late 1970s.
Since arriving in Indianapolis about a decade later—to buy a Days Inn on the city's south side—he's grown his portfolio to nearly 30 properties stretching from California to New Jersey.
Now, Patel, 55, is about to embark on his biggest project in Indiana yet—the $35 million Embassy Suites hotel and conference center with restaurant space in Noblesville that city officials announced last month.
Not too shabby for someone who needed coaxing to make the trip from the East Coast to Indianapolis to inspect the hotel he ultimately purchased.
"There were more cornfields and more cornfields," Patel recollected about the Midwestern landscape. "And it was as flat as can be."
He's since settled in nicely, building a successful business on the west side and a nice home in Beech Grove near where he got his start as a hotelier. His company, Sun Development & Management Corp., boasts annual revenue of $100 million.
Despite a 2013 bout with bankruptcy, Patel has persevered. He exited Chapter 11 reorganization in January relatively unscathed after his bank called $118 million in loans with little warning.
Patel has moved on and continues to grow his company. He purchased the seven-story, 221-room Embassy Suites near Michigan Road and West 86th Street for an undisclosed price in September 2014 and since has embarked on a $6 million renovation.

Eble
Perhaps more important, Patel survived the scare with his reputation as a stand-up guy still intact, said Mark Eble, Midwest regional vice president for San Francisco-based PKF Hospitality, of which Patel is a client.
"He's got a very sophisticated organization, and he's done exceptionally well," Eble said. "He's the real deal."
Patel grew up north of Mumbai in a village of about 500 residents. His father, a farmer, grew rice, sugar cane, and fruits and vegetables.
After attending a year of college in India, Patel—and his family—arrived in New Jersey in 1979 with the help of two uncles who had been in the United States since the late 1950s and had become U.S. citizens.
"I was so excited I couldn't sleep," Patel recalled of leaving his home.
One of the uncles owned a hotel in Hattiesburg, Mississippi, where Patel stayed for free while attending the University of Southern Mississippi. In the 1980s, he earned bachelor's degrees in microbiology and biochemistry, and a master's degree in molecular biology.
He returned to New Jersey to pursue a career in medicine at the New Jersey Medical School at Rutgers University, but dropped out in 1988.
In search of a business to own, Patel settled on what seemed most logical to him—a hotel.
The Atlanta-based Asian American Hotel Owners Association says its members own more than 40 percent of all hotels in the country. The hospitality industry became a popular career choice for Indians because it offered immediate housing and cash flow, as well as the opportunity to "blend in" despite cultural differences, according to the association's website.
"It couldn't be that difficult if everybody else was doing it," Patel reasoned.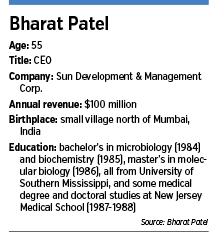 Indiana beckons
So in 1989—the same year he married his wife, Anju—he reluctantly came to Indianapolis on the advice of his broker—and never left.
Patel bought the Days Inn (now a Motel 6) at the Interstate 465 and Emerson Avenue interchange for $1.5 million, knowing he could make a profit.
During his initial visit, he discovered the hotel's owners were offering rooms for the typical $22 nightly rate—even though it was May and other hoteliers were ratcheting up prices to capitalize on the throngs of fans in town for Indianapolis 500 festivities.
Patel crunched the numbers and figured he could make a $100,000 profit in May alone, which he did the following year. It was hard work, though. Patel would arrive at the hotel at 6 a.m. daily and wouldn't leave until 10 p.m., becoming a jack-of-all-trades by cooking, working the front desk, and providing maintenance.
He sold the hotel in 2000 for a tidy $3 million—doubling his investment.
Patel founded Sun Development in 1992 and began building several hotels following a standard formula. He'd buy property near an interstate or major highway, apply for a small-business loan, and receive tax abatements from local government in exchange for the jobs he would create.
He built hotels across the state, in cities such as Brownsburg, Columbus, North Vernon, Madison, Scottsburg, Washington and Kokomo. Hotels in Illinois, Ohio and Wisconsin followed, on the way to Sun's becoming a national player.
His hotels fly many of the major flags, including Embassy Suites, Hilton Garden Inn, Holiday Inn, and Hampton Inn & Suites.
"He's way beyond small," said Eble at PKF.
In 2005, GE Capital provided Sun a major boost by refinancing $90 million in loans, enabling Patel's company to build 17 hotels from 2006 to 2013 during the depths of the recession.
Bank dispute
But in November 2013, he was forced to file Chapter 11 to protect seven hotels across the nation after the National Republic Bank of Chicago declared $118 million in loans in default. Patel, who couldn't afford to pay construction costs and the interest on the loans, presented a restructuring proposal to the bank, to no avail.

O'Neil
"The bank had so many problems on its own that it was trying to foist those problems onto its borrowers," said Michael O'Neil, who represented Patel and leads Taft Stettinius & Hollister LLP's restructuring practice.
The Federal Deposit Insurance Corp. ultimately took over bank operations and allowed Patel to pursue a new financing package to repay the FDIC. That paved the way for dismissal of the bankruptcy.
"As a testament to his skills as an operator, the various hotels operated as well, or better, during the bankruptcy cases as they had prior to bankruptcy," O'Neil said.
Patel has now turned his attention to building the 198-room Embassy Suites at exit 210 just off Interstate 69 in Noblesville. Plans call for an attached 20,000-square-foot conference center, plus an additional 5,000 square feet of meeting space. The development also would include four stand-alone, non-fast-food restaurants, according to city documents
The city is offering a slew of incentives and tax abatements worth millions of dollars. Construction is expected to begin in the spring and finish within 18 months.
The project is Patel's biggest in Indiana but not overall. He developed a $55 million Embassy Suites in Elizabeth, New Jersey, near Newark Liberty International Airport.
Locally, he has a west-side development in the early planning stages that he's not ready to discuss. He also would like to build downtown, but fears that, with at least five hotels in the works there, he might be too late.
"I was doing so much everywhere else, I missed it," he said.•
Please enable JavaScript to view this content.