They spend thousands of hours a year in their laboratories, running tests and analyzing data. Then they often spend weeks or months writing their findings for journal articles.
But for a certain breed of university researchers, that's just the beginning.
A few influential "serial entrepreneurs" in Indiana universities feel an itch to turn their discoveries into products and companies, over and over again. Sometimes it takes a decade or more to see success in the marketplace. Other times, success is hard to measure, as the inventions get sold to other companies, which sometimes take them in other directions, or put them on a shelf.
Here is a snapshot look at a handful of serial entrepreneurs around the state, how they got started, and what they learned.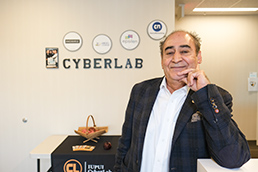 (IBJ photo/Eric Learned)
Ali Jafari
professor of computer and information technology and CyberLab director, IUPUI
With seed money from Indiana University, Jafari co-founded Angel Learning Inc. in 2000, an education software platform that delivered content to students and course-planning functions to instructors. Nine years later, the company was bought by Blackboard Inc. for $100 million—netting millions for Jafari and $23 million for IU.
Since then, Jafari, now 64, has commercialized several other software systems, including Epsilen Environment and CourseNetworking. The latter allows learners across the globe to connect and chat around shared interests and class subjects.
How long have you had the entrepreneurial bug?
I can remember when I was in elementary school, I always wanted to invent something. Then, when I was in high school, I invented a radio that could be used as an intercom between different rooms in the house and could also function as a walkie-talkie. I also invented a clock that shows the time in 16 different languages. I could not commercialize it, but I still have it in my office.
Is publishing research in journals enough for you?
No, and honestly, this is something I don't like about academia. When somebody gets a job as a tenure-track assistant professor, he or she gets told you need to do research and publish, and when you publish, you are done. But I want to see that invention, that design, to be in use.
What does the term "serial entrepreneur" mean to you?
It means you start a company, then you want to do another one and another one and another one. And I am truly one of those. After Angel Learning, I could have retired very easily. But after two months, I got bored. My colleagues, my family asked me when I want to retire. I say never. I want to wake up in the morning and do something challenging.
Your proudest accomplishment?
Actually, I am proud of all of them. They are like my children and I am proud of all of my children. I should also say that I am very grateful [for] the home where my children were born and raised, the IUPUI CyberLab.
Your biggest frustration?
Doing entrepreneurship in a university can be very slow. A simple decision may take months or years. If you are a faculty member and you want to do something new and commercialize your research, you may find many people in the university try to convince you this is a dumb idea. But I developed skills and learned how to go around it.
What can Indiana do to encourage more entrepreneurship at universities?
I'm very pleased with Indiana University. The Office of Technology Transfer does workshops. It tries to encourage and educate faculty members to translate research into a product. They have seed money available. So IU is one of the best universities for this.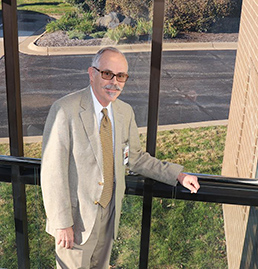 (Photo courtesy of Bioanalytical Systems)
Peter Kissinger
professor of analytical chemistry, Purdue University
With just $365, Kissinger started an instrument business in his garage in the mid-1970s, with the goal of finding ways to measure chemical substances, such as neurotransmitters. He set his sights on projects in psychiatry, neuroscience and drug metabolism, where researchers needed to make accurate chemical measurements; the company, Bioanalytical Systems, did both instrument making and contracted research. The West Lafayette-based operation went public in 1997 and posted revenue last year of $24.2 million.
Kissinger, 73, is also chairman of another Purdue startup, Prosolia, which markets mass spectrometry innovations for life sciences, industrial and homeland security applications. He is co-founder of Phlebotics, a medical-device company focused on diagnostic information for intensive care medicine, and adviser to several other companies.
How long have you had the entrepreneurial bug?
I would say since high school. I was an electronics nut. Then I got very interested in chemistry and physics. An uncle of mine was an entrepreneur who was very active in developing instrumentation for the space program. When I visited the family on summer vacations, I was intrigued [by] what could be accomplished in a little business and making a difference.
Is publishing research in journals enough for you?
Publishing academic papers was never enough. Most of them fade into obscurity very quickly. From the 1970s, I've wanted to drive innovations in measurement science—analytical chemistry, clinical diagnostic chemistry, neuroscience, drug metabolism—to where it would help advance research and then medicine.
What does the term "serial entrepreneur" mean to you?
I think it means you keep trying, and are intrigued by the impact of innovations. I'm a measurements person. I like to be able to take measurements that are helpful in making good decisions.
Your proudest accomplishment?
The main thing for me is helping patients. We worked on very famous macrocyclic antibiotics, in which tens of millions of patients have been dosed. We worked on the idea of cocktail therapy for HIV in the 1990s. And of course the whole neuroscience franchise we had, both with products and services, made a huge difference in the 1980s.
Your biggest frustration?
My biggest problem was selecting the right people for certain positions—and then being slow to make changes when things are not working out very well. It almost never self-corrects. You have to take some action and get it fixed.
What can Indiana do to encourage more entrepreneurship at universities?
I've gone from a time at Purdue where the president of the university, Arthur Hansen, welcomed involvement of faculty in getting things started, in the land-grant tradition back in the mid-'70s. But the peer group in academia—the faculty—didn't like it and still many of them do not. They see it as a conflict of interest, disloyalty to the university and so on. So in the late '80s, a group of four of us started the first new business incubator at Purdue. This evolved over time into now what is a major effort at Purdue, in encouraging entrepreneurship. Today, undergraduates have patent rights to their own ideas so they can do startups freely. This is celebrated. It's fantastic.
(Photo courtesy of University of Notre Dame)
Nitesh Chawla
professor of computer science and engineering and director of the Interdisciplinary Center for Network Science & Applications, University of Notre Dame
Chawla, 43, has spent his career trying to find out how things are connected—and how he can develop algorithms, methods and software to pull massive sets of data from different places and use them to make predictions.
He formed a company, Aunalytics, in 2012, to try to capture the power of big data, using seed funding from private partnerships. The company's flagship product, Aunsight, helps researchers and business analysts streamline the data-science process, pulling information from disparate sources and helping them come up with business solutions. Aunalytics now has about 50 employees.
Chawla also has a patent on disease prediction that was licensed by a startup called iCare Analytics.
Is publishing research in journals enough for you?
No, it's not enough. Taking an idea from a journal and translating it for innovation is awesome. The world is our oyster. We can come up with novel solutions that we can publish in journals, but what if we can translate those, reach out to individuals, democratize the knowledge, data and the impact of our work? That, I think, is a complete story.
What does the term "serial entrepreneur" mean to you?
A serial entrepreneur is someone who continues on the process and the cycle. He takes the good or the bad, learns and moves on, is resilient, and has integrity.
Your proudest accomplishment?
One was to be able to develop some algorithms which have become a mainstay in all of the textbooks. It has inspired other dissertations and has thousands and thousands of citations to it. People have sent me notes, how one algorithm has changed their work on medical diagnosis or speech recognition—across the disciplines. That has been a great, phenomenal achievement.
Your biggest frustration?
Being in academia, the disappointment is when you believe in something really strongly and have this idea you want to pursue. You want to get funding for it, and if you can't get funding, then you have a sense of failure. Fortunately, I am very resilient and have a thick skin. I don't give up that easily.
What can Indiana do to encourage more entrepreneurship at universities?
A couple of things. Success begets success. When folks come in from outside, look at what's happening, see there have been companies that have been created—that increases the belief factor. Even in Silicon Valley, many startups fail, but the few that become successful inspire us to go on. So what Indiana can do is support what we have to ensure resounding success. See what we can do to create more incentives.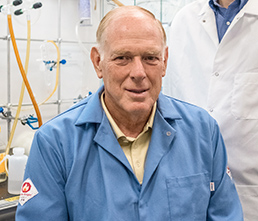 (Photo courtesy of Purdue University)
Philip S. Low
distinguished professor of chemistry, Purdue University
Low, 71, produced research on cancer, bone formation, connective tissue, malaria and other health areas that has generated five startups. The first, Endocyte Inc., developing smart drugs for cancer, was bought last month by Swiss pharmaceutical giant Novartis AG for $2.1 billion, one of the richest deals in Indiana history.
His other companies, and what they're developing, are On Target Laboratories (an infrared dye to help surgeons spot tumors in patients with ovarian and lung cancer), Novosteo (drugs to help stimulate bone growth and quickly repair fractures), HuLow (therapies to treat the thickening and scarring of connective tissue) and the newest company, still unnamed (treatments for malaria in developing countries).
How long have you had the entrepreneurial bug?
We founded Endocyte in December 1995, but I didn't develop this drive to find applications to my scientific discoveries until 15 years ago, when I started noticing that we were really discovering far more opportunities than we could develop. Then I started thinking, "How could I also develop these other opportunities?" and formed my second company, On Target. It took off from there.
Is publishing research in journals enough for you?
No, it's not. I've grown up in the academic world. I've seen all sort of colleagues make really terrific discoveries that have the potential to relieve suffering. And yet they seem to be satisfied simply to publish the results and then move on to the next project. Either they didn't really find much satisfaction in developing their discoveries, or they didn't ever stop and ask, "How can I use what I just discovered to make a difference?"
Your proudest accomplishment?
It's just terribly rewarding to see your results be useful to people in saving lives and reducing morbidity and pain.
Your biggest frustration?
The most memorable one is when Endocyte's lead drug, EC145, which showed terrific benefit to patients in the phase 2 clinical trials, failed to meet its end point in phase 3. We were all crestfallen from that. We thought it would be a slam dunk. In retrospect, everyone has their own ideas of why it failed. I believe it was patient selection. But that was terribly depressing.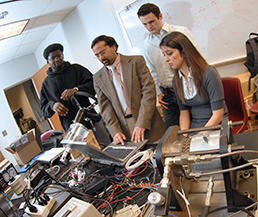 (Photo courtesy of IUPUI)
Sohel Anwar
associate professor of mechanical and energy engineering and director of the Mechatronics and Automotive Research Lab, IUPUI
Anwar has always been fascinated with trying to understand the mechanics of force and pressure.
He was on a team of IUPUI researchers that founded Health Smart Technologies, a company creating devices to quantify the pressure applied to soft tissue during physical therapy​.
Anwar, 55, also founded Emission System Solutions Inc., which seeks to improve the fuel efficiency of diesel engines with a sensor system that measures soot in the engine. That startup is also in the early stages.
How long have you had the entrepreneurial bug?
I would say more than 10 years. Once you get it, it's impossible to let go.
Is publishing research in journals enough for you?
No, definitely not. That's a first or second step. But then what is the next step? The next step, once you have established a research breakthrough, is [that] you need to move further. How can you move this technology, create a business? One of the good things about technology is when it's used to benefit people.
What does the term "serial entrepreneur" mean to you?
I think it means that a person has talent that encompasses a wide range. Some people are focused in one direction, and go further in that direction. Some others have a wide portfolio and come up with different products. I think I fall into the second category, with wide-ranging interests.
Your proudest accomplishment?
My inventions on fault-tolerant control of drive-by-wire systems that I believe have contributed directly to today's autonomous-vehicle technologies. My research and development work in this area has resulted in 12 U.S. patents.
Your biggest frustration?
I'll put it this way: Sometimes I feel I have a very good proposal and have given 100 percent, but I'm not successful in getting funding. On one proposal, we submitted it for funding four times. But we weren't successful.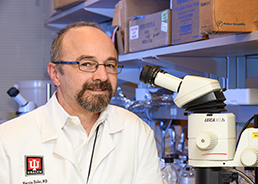 (Photo courtesy of Indiana University)
Dr. Mervin Yoder
professor emeritus of pediatrics, Indiana University School of Medicine and associate director for entrepreneurship, Indiana Clinical and Translational Science Institute
Yoder, 66, worked for more than three decades as a pediatrician at Riley Hospital for Children, caring for newborns in the intensive care unit. Along the way, he got frustrated with the lack of new treatments for babies, and began researching such treatments.
He formed two companies. EndGenitor worked in the discovery and development of cell therapies, and was later sold to an Indiana device company that Yoder declined to identify, at its request. Vascugen, formed last year, is in the startup phase, and is focusing on producing blood-vessel-forming cells for patients with too little blood flow.
How long have you had the entrepreneurial bug?
I think I've had it ever since I was in medical school. My colleagues used to tell me, "You'll never practice medicine. You're too interested in all the equipment and how the drugs are made." But I proved them wrong. I did both.
Is publishing research in journals enough for you?
No, it's not. I have over 300 publications, and it's wonderful to be able to advance science further. But in the end, we've got to try to turn that into treatments. That's my mantra.
Your proudest accomplishment?
I really think the proudest accomplishment is that we've actually been able to make a type of cell that can be placed into a tissue that doesn't have enough blood vessels, and these cells will actually make new blood vessels in the body. And they'll connect to nearby vessels and give the tissue the kind of blood flow it needs in order to survive and flourish.
Your biggest frustration?
There are many. But I would say just understanding how hard it is to raise capital for a new company. But overall, I'm very fortunate. I've been able to do everything I've wanted to do, both clinically and in research.
What can Indiana do to encourage more entrepreneurship at universities?
We need to somehow attract and support more entrepreneurial people who are interested in biomedical sciences. Because in the absence of those people, we scientists often have to do it ourselves.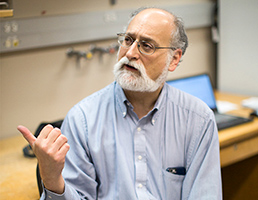 (Photo courtesy of Indiana University)
Adam Zlotnick
professor of molecular and cellular biochemistry, Indiana University
For years, Zlotnick found himself driven to understand how viruses spontaneously assemble and infect people. As he studied the physics of virus assembly, he came to see they used many copies of the same protein to build an elegant structure. He compares it to throwing a deck of cards into the air and having them form into a miniature Taj Mahal 99 times out of 100.
Zlotnick has focused on one particular virus, hepatitis B, which currently afflicts 257 million people worldwide and kills about 1 million annually. In his work, he searched for molecules that would start interfering with the assembly process.
In 2012, he formed a company, Assembly Pharmaceuticals, with entrepreneur Derek Small. (Other early collaborators were IU chemistry professor Richard DiMarchi and Uri Lopatin, a former research executive at Gilead Sciences.)
Two years later, the company merged with Ventrus Biosciences, a publicly traded biotech in New York, turning Assembly into a public company. It later changed its name to Assembly Biosciences, and Small became CEO in 2015.
In the meantime, Zlotnick, 58, recently formed another startup, Door Pharmaceuticals LLC, which also deals with viruses and assembly issues.
How long have you had the entrepreneurial bug?
If I would pick a date, maybe 15 years ago when we first started realizing we could actually stop hepatitis B.
What does the term "serial entrepreneur" mean to you?
In science, an entrepreneur is someone who wants to take basic research and make it practically applicable. A real serial entrepreneur is someone who has many companies to their name. I'm likely to become one, but right now I can only take credit for one company.
Your proudest accomplishment?
I was a graduate student at Purdue and I thought my thesis project wasn't going to work, so I built my own computational model back in 1994 of what I thought virus assembly should look like. That remains one of the standards in the field.
Your biggest frustration?
There is a continuous battle—if you aren't working closely with industry, then you have to go for government funding, and that is extraordinarily competitive. There have been times when I've had inadequate funding. So finding money and keeping the machine rolling is the biggest single setback I have had.
What can Indiana do to encourage more entrepreneurship at universities?
What Indiana should do is make the paths toward corporate development better established and easier for a novice to follow. If you're in a place with a long history of commercialization, all the rules are established and there's essentially a recipe book that can be followed. But in Indiana, we don't have that yet.•
Please enable JavaScript to view this content.