On September 30, Indianapolis Business Journal will publish our Business Cares cover demonstrating the business community's support of Breast Cancer Awareness Month.
We invite your company to join in supporting Breast Cancer Awareness Month by placing your LOGO on the front cover of IBJ for only $850.
Your support of the cover will go towards a full month of exposure for Breast Cancer Awareness in print, online and enews. In addition, a special Breast Cancer Awareness section will be featured in this issue. Coverage will include screenings, treatments, activities and fundraisers during the month of October.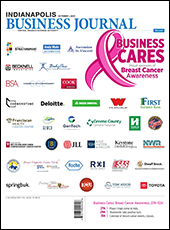 Publication Date:
September 30, 2022
Space Reservation:
September 14, 2022
Logo deadline:
September 16, 2022
Contact Me About Advertising
For more information, call your IBJ Account Executive 317-634-6200 or Lauren Fox 317-472-5235.
Check out the IBJ MEDIA KIT