On February 3, 2023 Indianapolis Business Journal will publish a custom Business Cares cover demonstrating the business community's support of Heart Awareness Month.
We invite your company to join in supporting Heart Health Awareness Month by placing your LOGO on the front cover of IBJ for only $850.
Your support of the cover will go towards a full month
of exposure for Heart awareness in print, online and enews. In
addition, a special Heart Health Awareness section, with content
collaboration from American Heart Association will be featured
in this issue. Coverage will include information on prevention,
screenings, treatments, activities and fundraisers during the month of
February. Ad placement within this special section is available.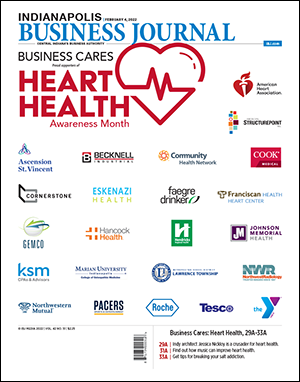 Contact Me About Advertising
For more information, call your IBJ Account Executive 317-634-6200 or advertise@ibj.com.
Check out the IBJ MEDIA KIT