On November 15, Indianapolis Business Journal will publish our third annual custom Business Cares cover focusing on Corporate Social Responsibility (CSR). CSR is a self-contribution that reflects a business's accountability and commitment to addressing social, cultural, and environmental issues in the community.
Show your commitment to CSR and your willingness to make an impact in our Hoosier communities by placing your LOGO on the front cover of IBJ for only $850.
Your investment will support IBJ's 2025 Giving Guide which profiles our communities' worthy philanthropic organizations—all of which rely on the generosity of people like you to carry out their mission—and opens the eyes of the business community to the specific needs of local not-for-profits. A special CSR section on November 15 will spotlight companies making a difference and building a positive brand within their communities. Ad placement within this special section is also available.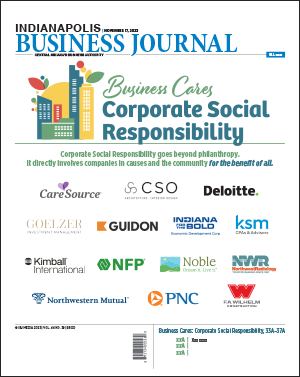 Contact Me About Advertising
For more information, call your IBJ Account Executive 317-634-6200 or advertise@ibj.com.
Check out the IBJ MEDIA KIT