Engage Northeast Indiana - Fort Wayne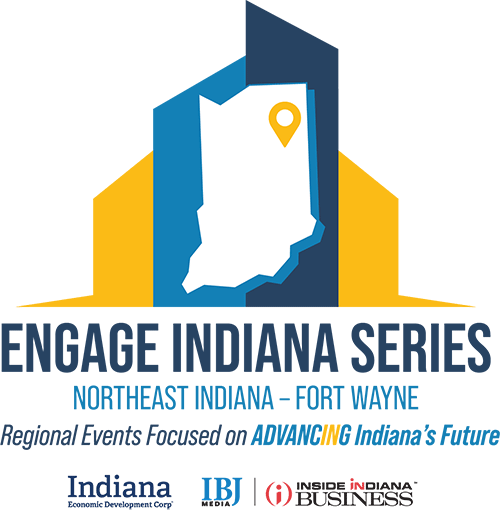 Date:
Tuesday, October 10, 2023
Location:
Grand Wayne Center
Address:
120 West Jefferson Blvd, Fort Wayne, IN 46802
Networking:
11:30 am
Program:
12:00 - 2:00 pm
Speakers / Moderator
Featured Speaker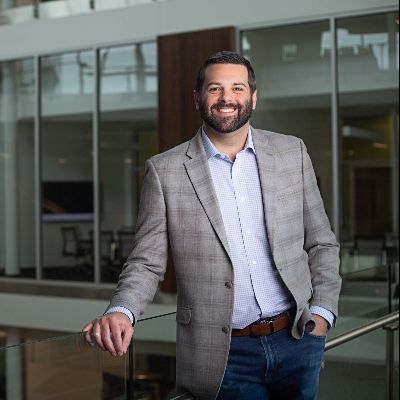 David Rosenberg
Secretary of Commerce
State of Indiana
Bio
David Rosenberg has served as Secretary of Commerce for the state of Indiana and a member of Governor Eric J. Holcomb's cabinet since his appointment in August 2023. In his role, Sec. Rosenberg leads the Indiana Economic Development Corporation (IEDC), guiding the strategy and growth of the state's economy and its related economic development efforts. Rosenberg joined the IEDC in August 2021. Prior to becoming secretary of commerce, he served as the IEDC's chief operating officer and chief of staff.
As chief operating officer and chief of staff for the IEDC, Rosenberg oversaw the agency's operations, cultural and young professional development team, as well as several strategic IEDC initiatives, including the Indiana Regional Economic Acceleration and Development Initiative (READI), and the LEAP Innovation and Research District in Boone County. Rosenberg helped build and lead the IEDC's 100+ person international team that, under the leadership of Gov. Holcomb, has achieved unprecedented success for Indiana's economy. This includes record-breaking committed capital from companies at $22.2 billion in 2022 and securing historic economic funding from the state legislature.

Rosenberg is a proven leader within the state, boasting an impressive track record that includes a significant role as Deputy Chief of Staff under Mayor Greg Ballard where he oversaw the management of substantial development projects worth billions of dollars, optimizing operations across the enterprise, and represented the city in both the City-County Council and within the Statehouse.
His previous experience also extended to the education sector, where he served as the Operations Officer for Indianapolis Public Schools, the largest school district in the state. Rosenberg spearheaded the reorganization and modernization of transportation services, effectively directed the management of over 9 million square feet of real estate assets, and also led the sale and development of the Bottleworks District.
Rosenberg also served previously as a consultant for a versatile, multi-client firm, advising and advocating for clients across various levels of government. His areas of focus included K-12 education, facility financing, and operations enhancement. He currently serves on boards for Visit Indy, BSA's Crossroads of America Council, and KIPP Indy Public Schools.
Rosenberg was recently recognized as one of Indiana's 250 Most Influential Leaders by Indiana Business Journal and is also a recipient of their 'Forty under 40' recognition. He is a graduate of the Indiana University Maurer School of Law and resides in Zionsville with his wife, Ali, and their children, Will and Lily.
Featured Speaker
Ann Lathrop
Chief Strategy Officer
Indiana Economic Development Corporation
Bio
Ann Lathrop, chief strategy officer for the Indiana Economic Development Corporation (IEDC), joined the IEDC in November 2021 and was appointed to join Governor Eric J. Holcomb's cabinet in August 2023. In her role, Lathrop oversees Indiana's integrated approach to business development, aligning external engagement, workforce, business development, foreign direct investment, federal engagement, government-to-government relations, defense, foreign policy and trade to meet the needs and speed of the market.

With a rich professional history spanning more than 30 years, Lathrop brings a wealth of diverse experience to her role at IEDC. Her extensive expertise encompasses business development, sales, finance, marketing, and brand management. Notably, she served as Crowe's pioneering Chief Marketing Officer, where she orchestrated marketing and brand strategies and realigned the inside sales team. Lathrop's journey began as an auditor with KPMG, progressing to her pivotal position as Deputy Mayor of Indianapolis and subsequently as City Controller. Before joining Crowe, she flourished as Vice President of Business Development at ACS Inc./Lockheed Martin/Netgov.com.

Beyond her professional endeavors, Lathrop has made impactful contributions to the state by participating on various boards. She serves as an Executive Committee member at Visit Indy and previously served as Board President of the Indiana Youth Institute. As a distinguished alumna of San Diego State University, her achievements include being recognized as a Woman of Influence and Forty Under 40 leader by the Indianapolis Business Journal.
Lathrop resides in the city of Lawrence (Marion County) with her husband, Michael Gargano.
Moderator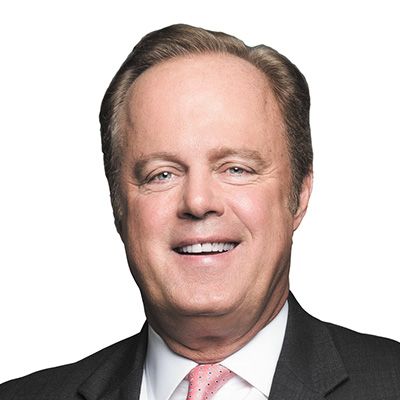 Gerry Dick
Division President
Inside INdiana Business
Bio
In June 2000, broadcast news veteran Gerry Dick and technology entrepreneur Scott A. Jones formed Grow INdiana Media Ventures, LLC, a media company created to deliver Indiana business news and information through multiple media sources. Mr. Dick is president and managing editor of Inside INdiana Business, a division of IBJ Media.  
GIMV properties include the EMMY-award-winning Inside INdiana Business with Gerry Dick, Indiana's most-watched local business television program; InsideIndianaBusiness.com; Inside INdiana Business Radio, The INside Edge Morning Briefing and Midday e-newsletters and a variety of interactive and mobile media products.  
Mr. Dick is also a frequent keynote speaker and moderator on issues related to the Indiana economy and serves as a business analyst for CBS4 & FOX 59 (Indianapolis) and 93.1 WIBC (Indianapolis).
Mr. Dick's broadcast news background includes 14 years as a principal reporter and field anchor at WRTV (ABC) in Indianapolis. While at WRTV, he reported on issues facing communities throughout Indiana and neighboring states. His work received an Emmy nomination for a 1993 series on Indiana companies doing business along the U.S.-Mexico border. He has also held reporter and anchor positions at television stations in Fort Wayne and Terre Haute.  
Prior to the creation of Grow INdiana Media Ventures, Mr. Dick served as senior vice president of the Indianapolis Economic Development Corporation, where he was responsible for a broad range of initiatives, including marketing, communications, advertising and media relations.
Mr. Dick has three times been presented with the state's top honor, the Sagamore of the Wabash, by Governors Kernan, Daniels and Pence. He has also received Ernst and Young's prestigious Entrepreneur of the Year award and been recognized by the Small Business Administration as its Journalist of the Year. Inside INdiana Business with Gerry Dick has received an EMMY five times for best interview/discussion program/series or special.  
Mr. Dick is a native Hoosier, born and raised in the Vermillion County community of Clinton. He is a graduate of Indiana State University, which has recognized his professional accomplishments with its Distinguished Alumni Award.  
He is a member of the board of directors of The International Center and past board member of the Indiana Chamber of Commerce, serves on the Board of Advisors at Indiana University-Purdue University Indianapolis and the Dean's Executive Council at the Scott College of Business at Indiana State University and is a founding member of the Dean's Advisory Council at the Indiana University School of Informatics.  Mr. Dick also serves as chairman of the Scholarship Selection Committee for Vectren Corporation and is an honorary member of the Rotary Club of Indianapolis. 
Mr. Dick is married to the former Roz Redman of Dana, Indiana. Roz and Gerry are residents of Lawrence Township in Indianapolis and have three children.  
Panelists
Panelist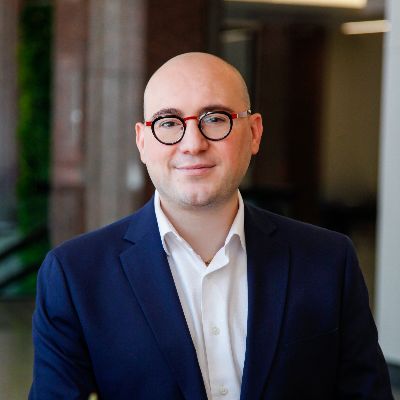 Stephane Frijia
President & Chief Executive Officer
Northeast Indiana Regional Partnership
Bio
A dynamic, strategic and innovative economic development leader, Stephane joined the Northeast Indiana Regional Partnership to serve as President and CEO in October 2021. Stephane is responsible for leading the economic development strategy for the 11-county region represented by the Regional Partnership, including the task of increasing business investment and regional prosperity through ongoing collaboration with local, regional, private, and public partners and organizations.
For over 10 years, Stephane honed his craft in the fast-paced, competitive and politically complex environment of the top economic development organizations in the country. In his previous role as the senior vice president of strategy for the Greater Phoenix Economic Council, he attracted billions in new investment and thousands of new jobs to the region.
He served as an advisor to c-suite and policymakers regarding market intelligence, public relations, international relations, policy and foreign direct investments.
Stephane was responsible for continually improving internal processes to gain actionable market and industry intelligence, to drive traditional deal-flow, economic diversification. He has a proven track record for developing and managing regional cluster-based industrial attraction strategies to catalyze investment into new industrial parks across the region.
Additionally, Stephane led the creation of new consortiums of public, private, university and community partners to create a new smart region framework to develop and help scale solutions rooted in connectivity, mobility, equity and sustainability.
Stephane earned a Master's degree in Urban and Environmental Planning and a Bachelor's degree in Aeronautical Management Technology from Arizona State University.
He was recognized in 2019 as top 40 under 40 in the economic development industry by Development Counsellors International (DCI), a national leader in marketing places.
Panelist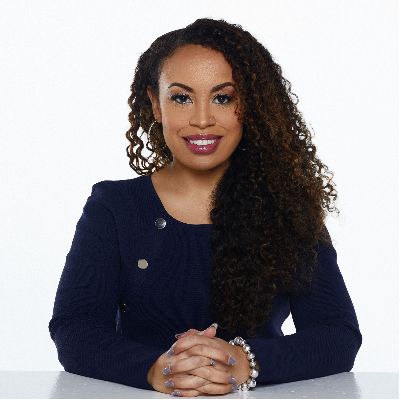 Dr. Elicia Harris
Chief Medical Officer
Navigate Maternity
Bio
Elicia Harris MD, MBA is the Chief Medical Officer (CMO) of Navigate Maternity. Dr. Harris a board certified OB/GYN who currently practices as an OBGYN Hospitalist in Indianapolis, IN. She completed her undergraduate studies at Purdue University.. Dr. Elicia Harris has always been a passionate advocate for her patients and a warrior of healthcare disparities. In addition to providing excellent care to her patients, she also works as an advocate for healthcare policy and reform as the Treasurer of the American College of Obstetrics and Gynecology (ACOG) District V. She completed her medical school training and OBGYN residency at Indiana University School of Medicine. She recently completed a Physician Executive Masters of Business Administration (EMBA) at IU Kelley School of Business.
Panelist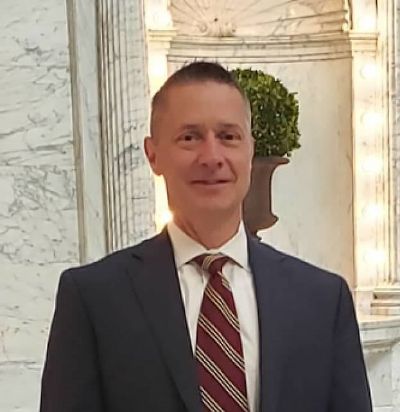 Richard Poinsatte
Vice President & Treasurer, Business Development
Steel Dynamics, Inc.
Panelist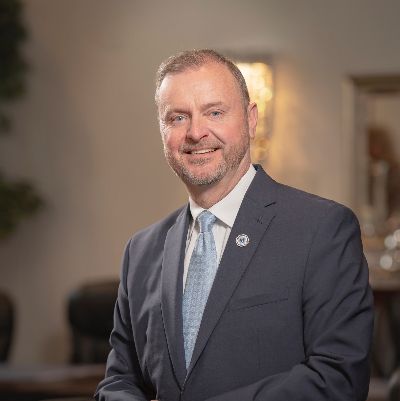 John Shannon, PhD
President
Trine University
Bio
Dr. John Shannon is the 17th President of Trine University. His educational background includes a Ph.D. in foreign and second language education from The Ohio State University, an M.A. in applied linguistics from Southern Illinois University at Carbondale, and a B.A. in psychology from State University of New York at Plattsburgh. He has taught at the rank of instructor, assistant professor, associate professor, and full professor, and has been awarded tenure. He has served as a university faculty member, department chair, program director, academic dean, vice president for academic affairs, and provost. On June 1, 2023, he became President of Trine University. Additionally, Dr. Shannon has earned recognition as an educator and is a presenter at conferences. He has served as a journal review board member, newsletter editor, ESL program accreditation site reviewer, and accreditation liaison officer to the Higher Learning Commission. Furthermore, he worked as a pioneering academic leader at a start-up university (the American University of Sharjah). He also served as dean of a school of Arabic at the largest intensive language institute in the world: the Defense Language Institute in Monterey, California. Lastly, Dr. Shannon's career includes serving in the U.S. Army in the former West Germany and as a Peace Corps volunteer teaching in special education classrooms in Tunisia.
Panelist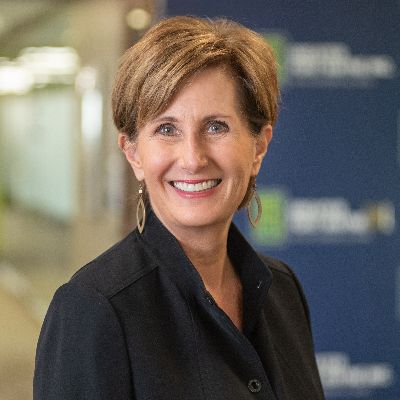 Brenda Gerber Vincent
Chief Impact Officer
Greater Fort Wayne Inc.
Bio
Brenda Gerber Vincent is a speaker, community leader, and outspoken mental health advocate. Her passions include inspiring and empowering the next generation of leaders by creating opportunities for others to succeed. She is committed to creating equity and quality of place for all through economic development, programming, and leadership.
Brenda currently serves as the Chief Impact Officer at Greater Fort Wayne Inc. In her role she oversees Advocacy, Leadership Fort Wayne, programs, events, and marketing. Brenda served as a Governor appointed, Indiana Bicentennial Commissioner, and serves on numerous boards and committees including, The Board of Governors for the Richard G. Lugar Excellence in Public Service Series, Vera Bradley Foundation, The Carriage House, Parkview Systems Board, United Front Initiative and Love Fort Wayne. 
Brenda is proud to be a fourth generation Fort Wayne native. She received her bachelor's degree from Indiana University, where she continues to serve on the Indiana University Board of Associates for the Student Foundation.  Besides her husband and children, she considers her single greatest achievement co-founding the Carriage House, a rehabilitation facility established to restore seriously mentally ill persons to maximum social and employment functioning. 
Brenda is a recipient of the "Sagamore of the Wabash," Indiana's highest civilian honor, an alumna of the Aspen Institute for Global Leadership, and the first woman in NE Indiana to be awarded the prestigious "Heart of Indiana" Torchbearer Award.
Panelist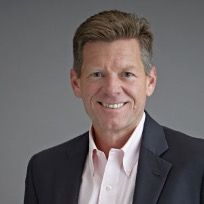 Bob Vitoux
President & Chief Executive Officer
OrthoWorx; AcceLINX
Bio
Bob Vitoux is the President & CEO of OrthoWorx and AcceLINX based in Warsaw, Indiana. OrthoWorx has been around since 2009 in support of the orthopedic cluster represented in Northeast Indiana (NEI) with an epicenter in Warsaw, Indiana – known around the world as the Orthopedic Capital of the Word®. Since his appointment in July of 2022, it has been his desire for the organization to be known as Northern Indiana's orthopedic catalyst focused on Equipping the Next Generation, Enriching Community, and Accelerating Industry. Prior to this role he was the Chief Financial Officer and Chief Commercial Officer at Dovetail Brands, an Ambassador Enterprises (AE) holding company invested in businesses producing high-end products serving the luxury home market. Before that Bob served as the senior leader for the Private Equity Lane at AE after having joined the organization in April of 2018. AE is a legacy-minded private equity firm based in northern Fort Wayne with a portfolio of approximately fifty affiliate companies committed to cultivating legacies grounded in purpose, people, and performance.
Bob has held many different roles across a variety of businesses and several industries, including serving as the President & CEO of Seymour Midwest in Warsaw, a privately held landscape and specialty tool manufacturer, and as the CFO & EVP for the iconic Steinway Musical Instruments business based in Manhattan, but much of his career has been spent in the medical device (namely orthopedics) industry. Before moving to New York with Steinway, Bob held executive roles in Finance and Commercial Operations at Biomet Orthopedics over an 8-year period before the business was purchased by Zimmer, Inc. (now Zimmer Biomet). Bob and his family also lived in northern Scotland for nearly two years while he was part of the Johnson & Johnson companies, where he was the Finance Leader for the LifeScan Scotland diabetes business. He attributes this as one of the most formidable times in both his career development and family's connectedness. Bob served as the Finance Leader for the US Joint, Trauma, & Extremity business at DePuy prior to moving overseas. Earlier in his career, Bob served in progressively more responsible finance roles at Zimmer, Inc. over a 6-year timeframe after having left Price Waterhouse where he progressed to Manager and started his professional career.
Bob obtained both his degrees, B.S. in Accounting and A.A. in Computer Applications, from Manchester College, now known as Manchester University. He is a CPA and also has completed Executive Programs at the University of Pennsylvania Wharton School of Business and the University of Notre Dame.
He and his wife Debbie were married back in 1987 and they have two kids, Austin and Ashlyn. They are active members in the church and their community, including Bob's participation on several nonprofit boards over the years. Bob recently completed his 15-year tenure on the Grace College board and is still serving on the NEI Elevate Ventures board and is an Advisor for First Merchants Bank. He also remains on some AE boards, the Razor Medical LLC board, and recently has joined the board of Biopoly, Inc.