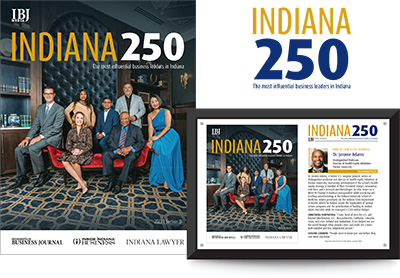 Indiana 250 Honoree Package
$1,500.00
Spotlight Your Indiana 250 Distinction
As one of the most influential business leaders in Indiana, you have the unique opportunity to spotlight your story to IBJ Media's audience and beyond. Our marketing package allows you to strategically promote your inclusion on this elite list of the most prominent business leaders in Indiana.
You've made the list…let's spread the word.
Package Details:
Plaque
Customized plaque featuring your photo, your profile, and the 2023 Indiana 250 cover.
Press Release
Official IBJ Media press release to promote your inclusion in the 2023 Indiana 250 which can be customized with your information.
A link to download the press release template will be included in the order confirmation email.
Social Media Graphic
Custom social media image featuring your honoree profile photo and the Indiana 250 logo.
Collateral
Customized one sheet PDF featuring your honoree profile, the Indiana 250 cover image, and Indiana 250 logo.
Publications
Two additional copies of the Indiana 250 publication (value of $100). Available while supplies last.
 Investment: $1,500
Sponsored Content Add-on
Limited spots available
Sponsored content highlighting your honoree and/or company posted on IBJ.com and accessible outside of the IBJ.com paywall. Client to provide custom content and images based upon an IBJ template. IBJ editors will review and edit the post to align with IBJ standards. Post will be active for 1 year and can be promoted via your own marketing efforts. Will be posted within a month of the list being shared.
 Investment: $1,000