As president of the Historic Landmarks Foundation of Indiana, Marsh Davis is surrounded by history every time he goes to work.

It also greets him when he comes home.

Davis and his family live in a 100-year-old Prairie-style, Meridian-Kessler Neighborhood home that they have filled with Mission furniture, family heirlooms and quirky artifacts.

A Lake County native and foundation staff member for 18 years, Davis picked up and moved from Indianapolis to Galveston, Texas, in 2002 to head that city's historical preservation society. But he never forgot about the Prairie house at 3947 N. Delaware St., and when he returned here in 2006, he was pleasantly surprised to find it for sale.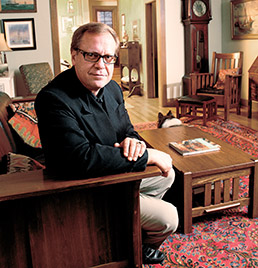 Marsh Davis was attracted to his 100-year-old home's Prairie style, and he's filled the Meridian-Kessler residence with period furnishings. (IBJ Photo/Robin Jerstad)
"From my first stint here I knew about the house," Davis says. "It's very distinctive because of its severe Prairie style, and I thought it was a great-looking house."

He and his wife, Grace, along with their two daughters, jumped at the chance to buy the home and have done very little to change it since. "The house was in pretty good shape when we bought it. The previous owners were very good stewards," he says, noting the house suffered a fire in the 1960s but no indication of that event lingers.

Enough space

The home is divided into three floors, including a basement that the Davis family has dedicated to TV viewing and hanging out.

The main-floor living room, dining room and sunroom house numerous pieces of Mission-style furniture, many of which were handcrafted by Davis' father. "We've benefited a lot from his hobby," Davis notes.

The kitchen would be considered tiny compared to those in contemporary homes, and Davis admits it can get cramped at times. But he has no plans to knock down walls and expand the space. "One of the reasons I bought [the house] is that I don't have the time," he says.
With one daughter off to college in New York and the other a senior in high school, the home is plenty big enough to accommodate the soon-to-be empty nesters. At roughly 3,000 square feet, the home is "a bit modest by today's standards," Davis says, but was considered anything but modest at the time it was built in 1909.

A.D. Johnson, then the president of the Indianapolis-based Diamond Chain Co., commissioned Swiss-born architect Adolph Scherrer to build the home. Scherrer, who designed the Crown Hill Cemetery Gates and Waiting Station, worked under Edwin May on the design of the State Capitol Building. May actually died while that project was still in its early stages, leaving Scherrer in charge.

Known more for his Victorian design sensibilities, Scherrer departed from that philosophy on the Johnson house and turned to the Prairie style, a genre made famous by legendary architect Frank Lloyd Wright.

The house remains mostly as Scherrer designed it, save for a second top-floor bathroom a later owner added. A century later, the Davises have added their own touches with furnishings and artwork.

Some of the most notable pieces are those the family picked up during its time in Texas. They include a sculpture of the Dona Sebastiana, a skeletal figure used by some Hispanic-American cultures around the Easter holiday, and several pieces of artwork commemorating Mexico's Day of the Dead.

Those unexpected items mingle with more traditional elements, including several "tall case," or grandfather clocks throughout the house, a baby grand piano in the sunroom and a large built-in buffet in the dining room.

Upstairs, a sleeping porch extends off the master bedroom. A holdover from the Victorian era, the porch functions well as a home office for Grace, an art teacher.

Comfortable with history

Living in an historic home is a no-brainer for Davis, an undergraduate history major at Butler University who earned his master's degree in historic preservation from Ball State University. While a graduate student in Muncie, he began an internship with the Historic Landmarks Foundation that developed into a career.

Davis was happy in his lead role in Galveston, but knew he couldn't pass up an opportunity to return to his Hoosier roots at the helm of Indiana's Historic Landmarks Foundation, calling it a once-in-a-lifetime opportunity. "It really is the preeminent statewide preservation organization in the country," Davis says.

With a staff of 50 and annual budget of $4 million, the foundation oversees nine regional offices and three museums. The group uses its $32 million endowment to make grants to not-for-profit organizations statewide.

Davis took over in 2006 when then-president Reid Williamson retired after 31 years in the job. After 25 years in historic preservation himself, Davis has yet to grow tired of his profession.

"With each passing day, I am more and more convinced of how important it is to our neighborhoods and communities," he says. "The challenge of protecting our heritage is very exciting."•