GAS CITY—Of all the inappropriate postmarks for the largest distributor of plug-in electric vehicles in Indiana,
Gas City, about an hour north of Indianapolis, takes the prize.
But Steve Mitchell, proprietor of Electric Cars
and Carts, figures he's in the right place as far as business prospects go. Despite a stalled economy, Mitchell's
electric vehicle sales are up 35 percent over the same month last year.
It's likely due to a little-known
federal tax credit enacted this year. The credit is good for up to $5,335 toward some of Mitchell's on-road electric
inventory, which includes shrunken adaptations of Cadillac Escalades, Hummer H3s and even 1930s-era roadsters.
Apply that credit toward the sticker of one of his $13,000 electric Cadillacs and "that's cheaper than going out
and buying one of those," Mitchell says, pointing to a lonely corral of golf carts on one end of his lot.
Behold the plug-in electric twist on Cash for Clunkers, better known by the Internal Revenue Service as the "Qualified
Plug-in Electric Vehicle Credit."
Hurry on down, shoppers, because, as far as Mitchell can figure—and
tortuous IRS documents appear to affirm—the credit expires at year-end. But some busy manufacturers are telling some
dealers they can guarantee year-end delivery in time for the tax credit only on orders placed by the end of October.
If you think a golf cart on steroids and rolling on real car tires isn't likely to induce car lust, you might
be surprised.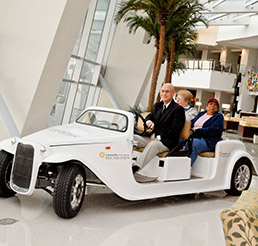 Valet Nelson Martin, left, drives an electric California Roadster with passengers Mary Weintraut and Dyrthene Crowe
at Community Hospital North. The car shuttles hospital patients and visitors between the parking garage, valet desk and the
hospital. (IBJ Photo/Karly Tearney)
The gem on this lot is a diamond pearl-painted, six-seat electric cart
resembling a Cadillac Escalade. It has actual Caddy taillights and Caddy polished alloy wheels that have all the bling of
Mr. T's neckwear.
"This is mine," said Mitchell, who shows off the vehicle's snake-skin
seats (not a factory option, but his upholstery-shop buddy can dress yours likewise).
Or there's a miniature
Hummer H3, produced under license from General Motors by Chino, Calif.-based American Custom Golf Cars Inc. With a few Budweisers
under your belt, you might mistake it for a Hummer, right down to its genuine Hummer wheels and tires.
Just
don't call these babies golf carts. Sophisticates know them as "estate vehicles," the kind of giant
toy a trophy wife might use to get the mail or buzz down to the marina.
Technically, the vehicles are classified
in government circles as "neighborhood electric vehicles" or "low-speed" vehicles.
Dodging
electrics in Gas City
"They're not toys. It's a mode of transportation," said
Gas City Mayor Larry Leach, who three years ago bought an electric H3. He's not alone—three members of the city
council have electric Hummers, Mitchell said.
Leach and his wife use the Hummer to get around town. He winds
up pulling over and talking to people he never otherwise bumps into. It's as if he's riding a rolling front porch.
When outdoor concerts are held in town, it's not uncommon to see 25—sometimes 50—carts ringing the stage.
Some people take them to work.
Gas City, ironically, is a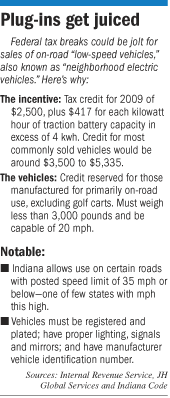 hotbed for the vehicles.
In all, the nearly 6,000 residents of Gas City operate a few hundred low-speed vehicles, and the bulk
of them are electric. Back in 2006, the city enacted an ordinance permitting their use on certain streets
in town as long as the vehicle is registered with the local police department. A year later, Mitchell
sold more than 200 vehicles to everyone from retirees to contractors to distribution centers.
More recently, state law was changed to allow the vehicles on certain roads with posted speed limits of up to 35 miles
per hour. Indiana is one of just a handful of states that allows them on roads meant for cars. To comply,
one must carry insurance and go to the license branch for plates. The vehicles carry 17-digit vehicle
identification numbers just like cars. Like cars, they have basic automotive equipment such as brake
lights, turn signals and mirrors, the same bells and whistles that distinguish them from real golf carts.
Most golf cart dealers don't sell the on-road versions. Besides Mitchell, they're
sold by Bloomington-based Professional Golfcar Corp., which sells vehicles made by Augusta, Ga.-based Tomberlin Group. Some
base models start at $7,500, and the effect of the tax credit can get one out the door for $4,000.
In the last
two months, the firm has sold close to 40 of the on-road Tomberlin vehicles, said sales executive Trent Crohn.
"Truth be told, it's been insane. People are all over these things," Crohn said.

A workplace market
Some of the carts are meant for the workplace. Mitchell has sold them to Community
Hospital North, for example. Since 2007, an electric roadster limo has carried 57,123 people between Community North's
parking garage and areas inside the hospital's enlarged new building, said Ryan Chelli, Community Health Network Foundation's
director of philanthropy.
Mitchell, a Vietnam vet, also sold a seven-passenger, U.S.–assembled Chinese
electric minivan to the veterans' hospital in Fort Wayne. He doesn't have any on his lot, but he can get them,
at about $21,000 a pop. The upside is you can drive these minivans indoors, at up to 25 miles per hour, powered by 48 volts
of marine batteries.
He also sells the Star Electric Vehicles line by South Carolina-based JH Global Services,
which counts among its options a vehicle tailored for hunting.
In some respects, they are a cross between a
golf cart and a conventional passenger car. A roadster created by American Custom Golf Cars looks about the size of an old
British sports car, with automotive shock absorbers, rack and pinion steering, and hydraulic disc brakes.
The
fiberglass bodies wear automotive paints. One of Mitchell's roadsters even has a hot rod flame painted on the hood.
It's a hit at the James Dean festival in nearby Fairmount.
Most of these so-called neighborhood electric
vehicles can go as far as 50 miles on a charge, depending on speed, weather and how many doughnuts the driver has eaten in
recent years. Most have built-in chargers. All that's needed is a 110-volt socket. About a year ago, when gasoline topped
$4 a gallon, Mitchell sold one vehicle to an electrical engineer in Minnesota. The guy did some calculating and figured his
vehicle got the equivalent of 842 miles per gallon.
"It costs about 25 cents a day to operate these,"
Mitchell said. "It's green. It's the right thing to do."
But despite brisk sales at some
dealers, the federal tax credit isn't widely known.
"I'm not getting any calls on [the tax
credit]," said B. Carol Howard, a director of the tax department at Indianapolis accounting firm RJ Pile LLC.
Howard said it could be that her clients just don't know about the credit, one of a dizzying number of federal
incentives enacted this year to stimulate the economy and alternative energy adoption.
The tax credit for low-speed
electric vehicles of the type Mitchell and other dealers are selling is good only for those manufactured for on-road use.•
Please enable JavaScript to view this content.