Play Ball Indiana, an Indianapolis-based not-for-profit that promotes the game of baseball to inner-city youth, has received a huge lift from Citizens Energy Group.

The groups announced Thursday that Citizens has donated 28 acres from its former Citizens Gas & Coke Utility site on the southeast side of Indianapolis to Play Ball for the development of a youth sports complex.

Citizens, which provides energy to more than 266,000 customers in and around Marion County, closed the 98-year-old coke foundry in 2007.

Play Ball still needs to raise $5 million to construct the diamonds and other facilities. Construction is set to start after the first of next year and could be completed in spring 2011, the not-for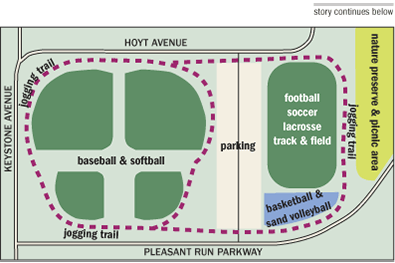 -profit said.
The property, which has undergone environmental remediation, is expected to house two baseball diamonds, two softball diamonds, indoor batting cages and offices, and an outdoor multi-use sports facility, according to Play Ball's plan.

"It's a significant development opportunity for the southeast side of town," said Milt Thompson, a Play Ball director and president of Grand Slam Cos., a locally based sports marketing consultancy. "We're really excited about it."

Play Ball's plan is to raise the funds in stages and seek an endorsement from Major League Baseball, which could donate to the cause or help the organization get former players to contribute, Thompson said.

Former Cincinnati Reds outfielder George Foster, part of the Big Red Machine of the 1970s, was expected to speak today at the luncheon and news conference as part of Play Ball's annual Sandlot fundraiser.

Getting more black children interested in baseball has been an MLB goal for several year. The percentage of black players in the major leagues increased to 10.2 percent in 2008, the first increase since the 1995 season.

MLB reached an all-time low in black participation of 8.2 percent in 2007, according to a report from the University of Central Florida's Institute for Diversity and Ethics in Sports.