Last week's front-page story "Shuffling the deck" pointed out the significant gains midsize banks have
made in the Indianapolis market over the last year. The one glaring exception was Columbus, Ohio-based Huntington National
Bank, which had lost $56.3 million in local deposits as of June 30, according to the FDIC.
A closer look explains
why. In 2007, Huntington dramatically increased its Indianapolis presence by buying Salineville, Ohio-based Sky Bank, which
previously had purchased Fort Wayne-based Union Federal Bank and its parent, Waterfield Mortgage Co.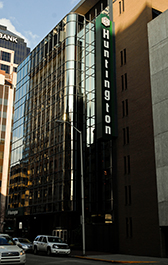 Columbus, Ohio-based
Huntington is now the No. 4 bank in Indianapolis. (IBJ Photo/Robin Jerstad)
The acquisition boosted the number of
Huntington branches in central Indiana from 21 to 49. And Huntington's local deposits nearly tripled, from $645.9 million
on June 30, 2007, to $1.7 billion on June 30 this year. The bank is now No. 4 in the Indianapolis Metropolitan Statistical
Area, with about 600 area employees and 6.13-percent market share.
Part of its deposit growth came from a relationship
that ended this year. Regional President Mike Newbold said his bank exited a partnership with Irvine, Calif.-based Affinity
Financial Corp. A Union Federal legacy, the relationship had provided Huntington a brokered portfolio of $300 million in private-label
deposits from member-based organizations.
Exclude that change, and Huntington's results here were similar
to its peers like Cincinnati-based Fifth Third Bank, Milwaukee-based M&I Bank and Cleveland-based KeyBank.
"While profitable, it was not generating the type of returns we wanted to show our shareholders," Newbold said.
"If you net the effect of that out, what the figures would show is what we're actually experiencing, which is
significant deposit growth."
Please enable JavaScript to view this content.