Hoosiers are shrugging off hard times and heading out on vacation—so much so that some of the state's top attractions actually are seeing attendance boomlets.

But the travelers are sticking close to home, and they're clenching their dollars tightly.

Intrastate attractions are a bright spot at a time when other areas of the tourism segment, notably hotels and high-end restaurants, have taken it on the chin.

The state does little to track tourism. However, a spot check of some of the most popular destinations suggests Indiana residents are fanning out short distances this year in search of leisure.

Holiday World & Splashin' Safari, Indiana Dunes National Lakeshore and the state's park system all have hosted more guests.

Anecdotal evidence also reveals strong attendance at Conner Prairie in Fishers, Mesker Park Zoo & Botanic Garden in Evansville, and Fort Wayne Children's Zoo, said Amy Vaughan, director of the Indiana Office of Tourism Development.

"Our attractions really held their own this year," Vaughan said. "We've kept some people here who might have traveled farther in the past."

The growth came despite a cool, damp year that ordinarily would keep tourists at home.

• Total revenue at state park gates jumped 9.5 percent, to $5.9 million, through Labor Day compared with the same stretch last year, said Christie Wilmoth, who manages the reservation system for the Division of State Parks and Reservoirs within the Department of Natural Resources.

Revenue from campground reservations soared 14 percent.

And it wasn't only Hoosiers hitting the parks. Fees paid by out-of-state guests rose 9 percent. Like their Indiana counterparts, out-of-state visitors are probably looking for cheap recreation close to home, Wilmoth said.

• Holiday World & Splashin' Safari in the southern Indiana community of Santa Claus had a good year, too. Its season ran from May 2 to Oct. 11.

Attendance rose 3 percent to slightly more than 1 million, said owner and President Will Koch.

"We're absolutely thrilled with that," Koch said. "We feel very fortunate."

Families, overwhelmingly Holiday World's core customer, opted for short trips rather than venturing to places like Disney World and Yellowstone National Park, he said.

Holiday World also seemed to benefit from ramped-up advertising campaigns in its top market of Indianapolis as well as in stalwarts Louisville and Evansville. A new thrust into Nashville, Tenn., reaped dividends, too.

Attendance climbed despite a 40-percent plunge in the theme park's corporate picnic business. Toyota and other automotive companies held back as did Holiday World's other big corporate segment, the hardwood furniture industry.

However, Toyota, which operates an assembly plant at Princeton, has booked a 2010 picnic, its first in three years.

Spending by guests fell, Koch said, but the rise in attendance pushed overall revenue higher than last year—barely.

• Indiana Dunes, the popular beach on Lake Michigan, had a big summer. Visits rose 8.2 percent, to 1.7 million people, through September over last year.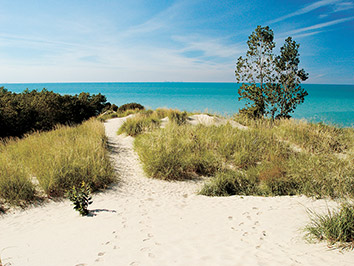 Indiana Dunes is one popular location experiencing a swell of visitors. (Photo Courtesy Porter County Convention, Recreation & Visitors Commission)
The season started slow and wet, but visitors braved the weather to turn out "in droves" over Memorial Day weekend, said park spokeswoman Lynda Lancaster.

Where did they come from? Probably the Chicago area, the Dunes' biggest market, Lancaster said, although she couldn't say with certainty because the park doesn't track visitor origins.

At the nearby Porter County Convention, Recreation & Visitors Commission, Executive Director Lorelei Weimer said most of the visits appeared to be day trips, likely from the Chicago area.

Hotel visits are down 9 percent, and visitors are spending less money than normal.

"People are adjusting how they spent their money," Weimer said, but, "people don't want to give up travel."

The climb in statewide tourism occurred despite the tourism office promotion budget's being slashed by half, to $2.4 million. The office dropped radio and television advertising and poured resources into its Web site, www.in.gov/visitindiana.

Visits to the site have edged up partly due to the additions of coupons and discounts, ideas for trips, and notifications of events and festivals, Vaughan said.

A related venture, a monthly e-mail alert about tourism in the state, has 66,000 subscribers, at least a third of whom are out of state.

Hoosiers traditionally take advantage of low-priced, family-oriented recreation during tough times, and visitors from outside the state travel to Indiana for the same reasons, Vaughan said.

But Vaughan said it isn't known if Indiana people leave the state, and out-of-state visits slump, when the economy is good.•