In Scott Watanabe's vision, future college students would buy paperless digital textbooks that would contain only the chapters the professor actually will teach, would include a plethora of videos and interactive diagrams, and would tailor all this material according to students' learning tendencies and comprehension levels.

Oh yeah, and they would cost half as much as printed books do.

Watanabe, son of the late Dr. August Watanabe, is in talks with Indiana University and other schools to do exactly that. He also has hired the investment bankers at David A. Noyes & Co. in Indianapolis to help raise $10 million to make his vision a reality.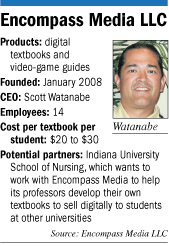 "What we're looking to do is work with professors at universities that are already developing their own curriculum," said Watanabe, 38, who is CEO of Encompass Media LLC, a 14-person firm he runs from Orlando, Fla.

The company will remain based in Orlando, he said, unless he lands a big investor or first group of clients in the Midwest.

Watanabe grew up in Indianapolis. His dad was a professor at the IU School of Medicine and then the top scientist at Eli Lilly and Co. After earning a degree from the Herron School of Art at IUPUI, the younger Watanabe developed his career in video game publishing.

Encompass started two years ago making digital guides for video games. But Watanabe sees bigger dollar potential on the textbook side.

College students spent $4.7 billion on new textbooks last year, according to the Association of American Publishers. The sector is dominated by five large publishers.

Those firms—such as McGraw-Hill, Houghton Mifflin and Pearson—have been trying to grow their digital textbook business, with little success. Electronic textbooks make up less than 3 percent of textbook sales, according to the Association of College Stores.

Watanabe thinks that's because current electronic textbooks are rooted in the printed form. He wants to embrace the full functionality of the Internet to transform how books are made and used.

"The [Internet] revolution that they promised in the late-'80s is finally able to be realized," he said.

That means videos and interactive maps can supplement and sometimes even replace hard-to-follow descriptions in text.

Watanabe's programmers also are delving into artificial intelligence software that would periodically quiz students on their comprehension. If they aren't getting the book they're reading, the program might refer them to a visual aide, like a video or a diagram.

If, over time, the program finds that visual material works best for a particular student, it would start showing those resources first, making the text secondary.

"We can really fundamentally change the way people comprehend," Watanabe said.

But those things are down the road, he admitted. More immediately, Watanabe wants to use the Internet to allow consortiums of professors at various schools to write their own textbooks and make them available to professors at other schools.

In short, he wants to cut out the established textbook publishers when it comes to producing college-level curriculum.

Watanabe said he's close to signing a memorandum of understanding with the IU School of Nursing in Indianapolis under which the school would partner with Encompass to produce textbooks for nursing students.

As partners, they would seek out grants as a major source of funding. But Watanabe's pitch also includes profit sharing with the school and its professors.

Right now, he said, nearly all the money in textbook publishing goes to the publishers.

But cutting out printing costs will eliminate 80 percent of the costs of typical textbooks, Watanabe estimates. If his company's books sell at half the price, it still can make substantially larger profit margins.

A presentation given to potential investors estimates the company could earn profit of 45 percent to 55 percent. And schools and their professors could keep the ownership rights.

"The current textbook market is broken with costs way out of control, which puts an undue burden on students," said David Lewis, dean of the library at IUPUI, who had preliminary discussions with Watanabe as he was launching Encompass. "Alternative approaches to delivering textbook content, like that being explored by Encompass, offer better models that can serve students much better." •