The Indiana State Teachers' Retirement Fund is negotiating to buy a 12-story office building across from the
Statehouse in what could be the year's largest downtown office transaction.
The state agency sees the building
as an ideal investment for its $7.9 billion fund. If it closes the deal, the fund would move from 12,500 square feet it leases
in the nearby headquarters of the Indiana State Teachers Association to the building at 1 N. Capitol Ave.
The
building is owned by locally based Duke Realty Corp. and was constructed in 1981. It appraised for tax purposes most recently
at $18.4 million. Duke officials said the company does not discuss potential property sales before they close.
The 162,000-square-foot building has about 43,000 square feet available, according to Duke's Web site, giving it a vacancy
rate of about 27 percent, above the central-business-district average of 15 percent. The site does not list the building as
available for sale.
The Teachers' Retirement Fund has ordered appraisals of value based on the building's
potential return over a more-than-10-year period. The group is hoping to capitalize on a drop in real estate values.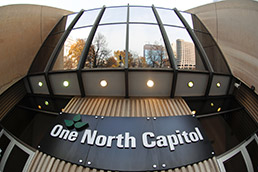 The 12-story building is Duke Realty Corp.'s only property in downtown Indianapolis. (IBJ Photo/Robin Jerstad)
"Turbulence
in today's credit and commercial real estate market is providing unprecedented opportunities for cash buyers with a
long-term investment horizon," Executive Director Steve Russo said in an e-mail.
The group's board
on Nov. 4 gave Russo the authority to negotiate and close on the deal by the end of the year. The move was first reported
by Indiana Legislative Insight.
Adding real estate assets is a priority to diversify the fund, said
spokeswoman Molly Deuberry. Only about 3 percent of the fund's assets were in real estate as of Sept. 30, compared with
41 percent in equities and 37 percent in fixed-income securities. The fund is up 16.6 percent year-to-date after losing 16
percent during the same time span in 2008.
The building has an attractive location near the Statehouse between
Washington and Market streets; the tenant mix also is a selling point. Occupants include several state agencies, such as the
Indiana Economic Development Corp., the Indiana Small Business Development Center and the Office of Budget and Management.
Most of the rest of the space is occupied by industry lobbying groups that spend plenty of time at the Statehouse,
including the Indiana Health Care Association, Indiana School Boards Association and the Indiana Retail Council.
Still, the fund's interest in the building is puzzling to market observers such as Jon R. Owens, a principal in the
local office of Colliers Turley Martin Tucker. That's because the state has made no secret of a strategy to move as
many of its departments as possible into state-owned office space.
Owens is not surprised Duke is interested
in selling the property, which is adorned with the company's green-leaves logos. It's the developer's only
property in downtown Indianapolis.•
Please enable JavaScript to view this content.