Lebanon-based real estate consultancy 11th Street Development LLC is seeking to boost the city's supply of workforce housing by developing two efficiency-minded neighborhoods near Lebanon Business Park.
Bryan Stumpf, president of 11th Street Development, presented plans to the Lebanon City Council this week to build an $11 million row-house community with 54 for-sale lots on a vacant 8-acre parcel on Nobles Street and a roughly $6 million, 30-unit cottage community to be built on 3.5 acres of undeveloped city-owned land along Ash Street.
While discussing the project with the city, Stumpf said he learned that 80% of Lebanon Business Park workers commute from outside of Lebanon. City leaders say that's because Lebanon's housing prices are too high and unattainable to some of its workforce.
Stumpf is seeking to rezone the properties from single-family housing to a special planned unit development designation featuring customized zoning standards, which could be approved by the Lebanon City Council as soon as May 10.
Noble Street row houses
Matt Reynolds, assistant city planner for the Lebanon Planning Department, told the city council that Lebanon's biggest economic challenges are that there aren't enough workers and there's not enough attainable housing for those workers. He said the average home price in Boone County is about $360,000, a figure that's out of reach for many.
"For most people, that's not necessarily an attainable amount," Reynolds said. "This is an infill product that is designed to accommodate attainable housing in a market that is in desperate need of it."
Stumpf believes 11th Street Development is positioned to build housing that suits the city's needs. The project would be located northwest of the Noble and Patterson streets intersection, a transition from those single-family homes to the industrial uses across the railroad track.
"One of the challenges of infill development is, projects like these are too big for small builders that build half a dozen homes a year, and they're too small for mainstream builders," he said.
11th Street Development has designed the two-story, two- and three-bedroom homes to include a first-floor garage and room for a second car in the driveway. The homes will range from 1,300 to 1,600 square feet, and each lot would be 25 feet wide, with 10 feet between homes.
Neighborhood plans would provide front lawn management by a homeowner's association, a community gathering area at the north end of the cul-de-sac and some on-street parking for guests.
The configuration is meant to keep those homes' prices between $180,000 and $225,000. If approved, Stumpf hopes to start construction in the fall.
Ash Street cottages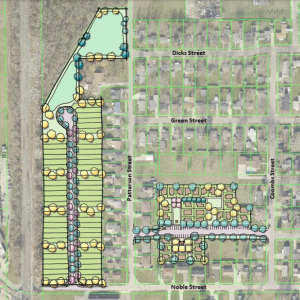 Lainie Stumpf, marketing manager for 11th Street Development, said Bryan Stumpf, her husband, has long wanted to develop a cottage-style neighborhood.
She said the city has owned the 14 parcels just north of Noble Street for years, and there were once plans to turn it into a city park. Now, 11th Street Development is hoping to develop cottage-style homes on both sides of Ash Street, a newly planned road one block east of Noble Street.
The homes, ranging from 1,000 to 1,300 square feet, have been designed to attract empty-nesters, retirees and other families without children (because they would lack a yard).
"Our vision has really been housing with dignity and wanting people to have a place they can be proud to call home," Lainie Stumpf said. "We're looking at a community where all the homes front on a green open space, with a front porch and almost a little Mayberry-esque feel."
The two- and three-bedroom cottages would rent at estimated rates from $1,300 to $1,400 per month.
"Which is in line with a house in Lebanon of comparable size—if you can even find one," Lainie Stumpf said. "We've been saying all along that we feel we can't build these fast enough."
There's no hard timeline for those cottages to be built, but Bryan Stumpf said he'd like to develop both projects in the same time frame.
Please enable JavaScript to view this content.