This story has been corrected.
___

Outside, it's Brownsburg, Ind., 2009. Step inside Everyday Joe's Barber & Style Shop, though, and suddenly it's Anytown, America, circa 1955.

Old-fashioned barber chairs are set on a black and white checkered floor. Four barbers and stylists, often dressed in '50s-style apparel, cut hair next to a vintage gumball machine while "The Andy Griffith Show" plays on a set nearby.

It's a touch Gretchen Nichols-Shortall added when she bought the business two years ago. A self-proclaimed fanatic of the rockabilly era, Nichols-Shortall, 37, looks like she might be preparing to barber James Dean's hair. She keeps him immortalized with a poster hanging just over her shoulder when she cuts hair.

"This is just my way of thinking," she said. "I love the rockabilly theme. That's the style I've wanted to keep."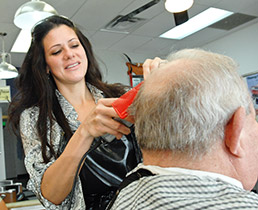 Owner Gretchen Nichols-Shortall cuts a client's hair at Everyday Joe's Barber Shop in Brownsburg. (IBJ Photo/Karly Tearney)
Two years ago, she just wanted to keep her newly acquired store alive. Having never owned a business, she knew she was fighting an uphill battle. Nichols-Shortall, who then had worked at the shop four years, had just purchased it from Dan Anderson for $7,500.

Nichols-Shortall made a total investment of $25,000 and start on a new path.

"I was already here and I knew how it was done," she said. "I've always wanted to own my own shop. It was a great opportunity and it came at the right time."

Nichols-Shortall may have had little experience keeping the company's finances or calling maintenance crews to make repairs, but she knew how to style and barber.

She also knew to surround herself with others who could cut hair at the highest level. Nichols-Shortall brought in Tammy Vaseloff, who has also styled hair for 18 years, to fill out a roster of independent contractors with Estel Collins and Tommy Miskowiec. Together, they bring more than 90 years of hair styling and barbering.

Roger Brown has been coming to the shop since it opened in 2001.

"The styling is excellent. They make sure my hair looks perfect even though I don't look perfect," Brown said, laughing.

"They are very cordial, very professional and very responsive," Jack Houk, a customer of four years, said. "It's kept me coming back for years."

Despite customer loyalty, Everyday Joe's brought in less than $200,000 last year. It's enough to keep all four employees on staff, but Nichols-Shortall wants to grow.

The shop always feels busy, even when it's not. The sounds of conversation, the TV and a pet parakeet fill the room. But three booths are always vacant. Nichols-Shortall hopes to add enough staff and new business to fill those booths. She said the problem is not the shop, but what lurks just beyond its doors.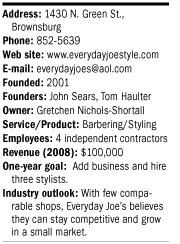 For more than two years, road construction has plagued an intersection on State Road 267 just north of the Interstate 74 exit. Signs, barriers and laborers are often blocking entrances into the strip mall where Everyday Joe's is located, between a shoe store and a Dunkin Donuts.

"It's been horrible," Nichols-Shortall said. "We've heard so many promises on [the construction] getting finished, but it never does."

Nichols-Shortall said the roadwork has caused a 30-percent drop in walk-in business. It's hard, Nichols-Shortall said, to get people to discover the shop when some people can't even find a way to get there.

"We've managed to stay in business because we do very good work," she said. "We stand behind every haircut."

That work earned the shop Indianapolis Monthly's "No.1 Barber Shop in Indianapolis" award in 2008.

Everyday Joe's does not offer any discounts or coupons because of the drop in business. Nichols-Shortall said the company will no longer advertise beyond the shop's Web site, either. The shop owner instead relies on word-of-mouth to generate interest. Until construction clears and she's able to see if business will return to normal, Nichols-Shortall is holding off on any marketing strategies. As revenue increases, she said, then she'll look into other opportunities to advertise.

On the plus side, she has little competition. Only two other shops in Brownsburg style women's hair and barber men's, and only two others are independents.

A regular men's haircut is $15 and women's styles begin at $20, prices that have held steady since she bought the shop, although she plans a small increase next year.

Nichols-Shortall knows her shop faces challenges, but she's willing to adapt. As clients' needs change, so does she.

"We can do any kind of cut," she said. "We're kind of an old-fashioned, new-school place. We are very capable of doing whatever our customers want."

Any day now, she said, the road construction will end and new customers will find their way to Everyday Joe's. She's content with her small shop and expects to work there until she retires.

For now, Nichols-Shortall still comes to work with a smile on her face to greet the staff that has made her ownership a success in her mind.

"I love what we do," she said. "This is the best job."•