Lilly Endowment Inc. gave another $7.5 million to a team of education experts at the University
of Indianapolis.
The school's Center of Excellence in Leadership of Learning will use the money
to develop strategies to improve middle schools, to design a program to prepare principals to turn around struggling schools,
and to link schools and businesses on economic development efforts.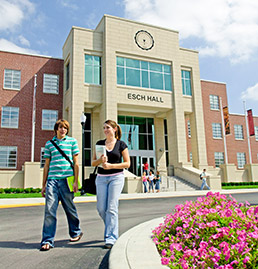 The Center of Excellence in Leadership
of Learning resides in Esch Hall. (Photo Courtesy University of Indianapolis)
The Indianapolis-based
Endowment had previously given $16.5 million to UIndy's education center, which was founded in
2001.
"Communities throughout the state increasingly are coming together with the
goal of making their schools more effective," said the center's executive director, David
Dresslar. "With this renewed support from Lilly Endowment, we can continue our support of those
efforts while seeking new approaches to transforming education."
The center's
current projects include the annual "Indiana's Future" education conference, which drew nearly 800 participants
earlier in November. The center has also helped Indiana schools adopt alternative models known as New Tech and Early College.
Please enable JavaScript to view this content.