A Ford Motor Co. subsidiary will start cutting its local work force next year, but won't close its east-side plant for good until late 2011.

The massive, under-used Automotive Components Holdings factory at English and Shadeland avenues has been targeted for closure since 2006. Ford is phasing out the hydraulic steering systems made there in favor of electric power steering.

"The migration has not occurred as quickly as was originally anticipated," Automotive Components Holdings spokeswoman Della DiPietro said. Automotive Components is Ford's division of troubled parts plants.

Automotive Components originally announced in 2006 that the lights-out would come at the end of 2008, but the United Auto Workers struck a competitive operating agreement that extended their work through 2010.

UAW Local 1111 President Dan Huddleston said the union learned early this year that the wind-down would progress more slowly because of a delay in Ford's business plan. The automaker now says it will use electric power steering in all models by 2013.

The Ford Escape, Fusion and Taurus SHO models, as well as the Mercury Mariner and Milan and Lincoln MKT, now come with electric systems. Mustang, Focus, Edge and Lincoln MKX models will get the systems next year.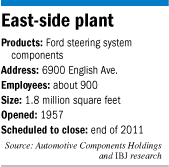 Local 1111 hoped to land some of the electric-systems work, but so far it's been awarded to TRW Automotive Holdings Corp., a Northrop Grumman Corp. company that has a steering-systems plant in Lafayette.

About 900 Indianapolis Ford employees, including 754 represented by the UAW, will lose their jobs.

Automotive Components plans to cut the hourly work force to about 510 early next year, Huddleston said. Part-time temporary employees will be laid off in the first round, starting in late January, he said.

The next wave of layoffs will come in October 2010 and last through the following March, Huddleston said. That will leave about 240 hourly employees at the plant in 2011, he said.

UAW members can leave with severance pay of $70,000, or keep working and receive supplemental unemployment benefits, Huddleston said. Ford has not set a deadline for workers to decide on the separation agreement, he said.

The UAW local's last shot at keeping its members working was a proposed revision to the national contract. One of its many provisions would have allowed Indianapolis workers to transfer to plants in Louisville.

While the Indianapolis plant voted for the contract concessions with Ford, UAW members nationwide rejected it overwhelmingly.

At this point, Huddleston said, the local is trying to line up job training for its members.

While Ford's delayed plans don't change the bottom line for local employees, it might buy time for redevelopment. At 1.8 million square feet, the 52-year-old factory isn't likely to attract many businesses looking to use the entire site.

"Time is always helpful whenever you're looking at a site that is as complicated and as big as the Ford site is," said Scott Miller, president of Indianapolis Economic Development Inc.

Miller said one of his staff members met recently with Automotive Components representatives as part of his rounds with the city's largest employers. Each of the Detroit Three automakers has large sites that are either long abandoned or slated for shutdown, but Miller said his agency can't pitch them to new businesses until they hit the market.

(The other sites are Chrysler's former foundry on Tibbs Avenue and General Motors Corp.'s metal-stamping plant west of downtown. In addition, Navistar International shut down its generations-old diesel engine plant on Brookville Road this summer.)

DiPietro said it's too early for Automotive Components to market the Indianapolis property. "We aren't doing anything at this time."

She added that the late 2011 closing is approximate.•