Roche Diagnostics Corp., once the darling of the U.S. diabetes-device market, is now licking its wounds.
And it's mulling whether to keep fighting on all fronts or to pull back.
The Switzerland-based company, which runs its U.S. operations out of Indianapolis, has for at least five years suffered swooning share in the markets for blood glucose monitors and insulin pumps.
The American troubles haven't slowed Roche globally, where it continues to grow faster than its competitors. But with a new chief of diagnostics named in Switzerland in September, analysts foresee difficult cuts soon for Roche's U.S. diabetes business.
The most immediate decision on the table is whether to keep selling insulin pumps in the United States. In April, the U.S. Food and Drug Administration required the company to recall its Spirit insulin pumps, threatening to further dampen the product's already weak sales.
"We don't see the company putting the same resources in the field as they have in Europe," wrote Kelly Close, president of San Francisco-based market analysis firm Close Concerns, in an e-mail about Roche's insulin pumps. "It has been difficult for Roche to differentiate in the U.S., for sure."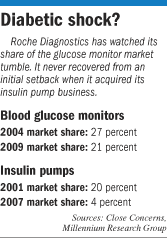 Local Roche executives declined to be interviewed for this story. But current and former employees and contractors at Roche say the company is evaluating all its locations around the globe in the wake of its $46 billion buyout this year of California-based drugmaker Genentech Inc.
Most of that work is on the pharmaceutical side of the business, which accounts for 80 percent of Roche's revenue. But the company is reviewing all its assets, according to people with knowledge of the process.
No decisions have been announced, but among the possibilities being considered are moving research and development jobs from Indianapolis to the West Coast and moving information technology jobs from the East Coast to Indianapolis.
The stakes are big for the Indianapolis area. Roche is one of the area's 15 largest employers, sustaining 2,900 well-paying jobs at campuses in Indianapolis and Fishers.
Roche's history in Indianapolis dates to the 1964 founding of Bio-Dynamics, a diagnostic and medical-device company. It was purchased 10 years later by Germany-based Boehringer Mannheim Corp., which then moved its U.S. headquarters from New York City to Indianapolis.
Roche acquired Boehringer in 1998 to form the world's largest diagnostic company. Roche has added nearly 1,000 jobs here in the last decade.
But employment trends recently have moved the other way. Last year, Roche said 300 jobs connected to its lab equipment business would move to Germany by 2011. Many of the people in those jobs, which were both scientific and business positions, were given the chance to find other jobs with Roche's U.S. locations.
When Daniel O'Day, a 22-year Roche veteran, becomes chief of the global diagnostics business Jan. 1, company insiders expect further changes.
Slower growth
Diabetes accounts for the largest chunk of Roche's local operations. But the outpost here manages sales and marketing of all of Roche's diagnostics throughout North America. Those products include laboratory testing machines and supplies, DNA-based tests for various diseases, and patient monitoring equipment used by doctors and hospitals.
Roche's diagnostic sales in North America grew 4 percent through the first nine months of this year, to roughly $1.9 billion. But Roche's worldwide diagnostic sales are growing twice as fast.
In the U.S., Roche's diabetes sales have fallen 2 percent so far this year, according to Close Concerns.
The insulin pump unit, called Disetronic, has been dogged by problems since the day Roche spent $1.2 billion to acquire it in 2003. The FDA said the company's factory in Switzerland wasn't up to snuff, which kept Disetronic pumps off the market for roughly two years. Their sales never recovered.
Disetronic's 20-percent U.S. market share in 2001 collapsed to less than 4 percent by 2007, according to Toronto-based Millennium Research Group.
The insulin-pump woes prompted Roche to start handing out layoff notices this fall, according to people with knowledge of the dismissals. This month, company brass were scheduled to meet to consider whether to exit the U.S. market, according to David Kliff, publisher of the Diabetic Investor newsletter.
"All signs point to that," he said. "My sense is, [O'Day] is going to say, 'Why throw good money after bad?'"
The Disetronic unit employed about 200 people at its Fishers headquarters. This fall, Roche decided to change the Disetronic name to Roche.
But the Roche name isn't what it was just five years ago in the diabetes market, Kliff said. Since then, Roche has lost about a third of its U.S. market share.
Roche held 27 percent of the U.S. glucose-meter market in 2004, according to Close Concerns. But that slid to less than 21 percent now.
"At one time, they were on top of the world. But they didn't adapt to the changes. And that really hurt them," Kliff said.
Early innovations
Roche delivered several market-leading innovations in the 1990s and early 2000s.
It was the first to introduce curved strips for its glucose meters, which were designed to fit patients' fingers better and make it easier to get adequate blood on the strip to conduct a test. And in 2002, Roche won a retailers' award for its Accu-Check Compact, which featured push-button dispensing of test strips.
But now the entire market has become less profitable. Retailers and health insurers pushed back on the pricing of glucose monitors, which at one time had 90-percent profit margins, Kliff said. Also, several retailers started selling store-brand glucose meters at lower prices.
Roche was loath to discount its products, but LifeScan, a unit of New Jersey-based Johnson & Johnson, was not. LifeScan scored more favorable arrangements with health insurers, and has seen its market share surge at Roche's expense.
Roche has a new glucose meter, the Accu-Chek Aviva Nano, ready for the U.S. market. It already has been selling well overseas. But this summer, the FDA told Roche officials they would not approve the Nano.
The FDA worries because the enzyme Roche's glucose monitors use fails to distinguish between glucose and other sugars. In a very small number of cases, this enzyme has led to a glucose reading higher than reality. When this has occurred in hospitals, the patients were sometimes given far larger doses of insulin than necessary, which caused six deaths in the last two years.
Meanwhile, real growth in the market is coming from continuous glucose monitors, which patients can attach for several days to see how their glucose levels rise and fall.
But Roche does not have such a product in the U.S. market.
Competitors such as Medtronic Inc. have even introduced continuous glucose monitors that link to insulin pumps. These devices have the potential for strong sales, said James Kurz, a vascular analyst at Millennium Research Group.
"Combination devices are the way to go in the future," he said.
Roche introduced a combination product in Europe this year. But with its insulin pumps selling so poorly in the United States, Kliff does not expect Roche to ever get a combination product onto the market here.
But Bruce Frank, a former Roche employee and now a consultant to medical-device companies, said not to count Roche out. The current combo products are not accurate or fast enough to make insulin pumping automatic, but Roche's engineers in Germany have a history of turning out breakthroughs.
"It's a very strong company; it's got a lot of money," Frank said. "It can do what it wants to do when it wants to do it." •
Please enable JavaScript to view this content.