Just a decade ago, RealMed Corp. was considered Indiana's next big thing. Flush with tens of millions of dollars in venture capital, the maker of health care claims processing software talked openly about an initial public offering, brokered hefty government incentives, and promised to add 1,800 jobs.

RealMed's work force peaked at 210 before falling as low as 91 during the decade's first recession. After being acquired by a group of Blue Cross Blue Shield plans half a decade ago, RealMed fell off the radar.

The company maintained its low profile until 16 months ago, when it hired a new CEO, Phil Christianson, an attorney with an MBA whose last job was as a vice president of Minnetonka, Minn.-based UnitedHealth Group.

Once again, RealMed is signing up physicians by the thousands to use its system, and employment is up to 145. The clients are attracted to RealMed's easy implementation and its ability to speed up the medical bill payment cycle—which helps doctors make ends meet during the economic downturn.

RealMed enjoys a nearly 99-percent renewal rate among its current customers and attracted 4,000 new doctors this year, Christianson said, taking its user count to 27,000.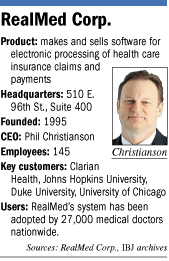 Some hail from small practices with only a handful of physicians. Others are attached to huge hospital systems, like Clarian Health or Johns Hopkins University. Christianson said RealMed expects to add another 4,000 to 6,000 docs next year.

"We're going to have our best year in 2009 in the company's history," he said. "The company was quiet for a few years because it was hunkering down and perfecting the application. … In the last year, 14 or 15 months, we've been more aggressive."

Organic growth is taking RealMed places speculative venture capital never did. And even the threat of a major lawsuit hasn't slowed the company down. In July, Salt Lake City-based competitor NetDeposit LLC slapped RealMed and four other companies with a complaint alleging infringement on NetDeposit's patent for "electronic creation, submission, adjudication and payment of health insurance claims," according to federal court records in Delaware.

But in early November, Delaware court records show NetDeposit withdrew the suit. Ian Forrest, NetDeposit's legal counsel, said his company made an internal decision not to pursue the matter, but he wouldn't elaborate why.

Just 10 days later, RealMed filed a countersuit in federal court here asserting it hasn't infringed on NetDeposit's patent.

RealMed General Counsel Scott Herbst said his firm won't comment on the legal tussle, except to characterize it as "very minor." RealMed would rather focus on the ground it has gained since hiring Christianson.

Industry experts are again starting to notice RealMed. For example, in June, Utah-based KLAS Research ranked RealMed No. 1 among 15 providers of claims-processing software it studied.

The study, which didn't include NetDeposit, noted that other firms, such as Nashville, Tenn.-based Emdeon and Atlanta-based RealyHealth, still hold much larger market shares.

"RealMed delivers a superior client experience in terms of service, responsiveness and tools provided. Every respondent in this research had a positive outlook on RealMed," wrote the KLAS report's author, Mark Wagner. "Bottom line: RealMed is a small but growing vendor that handles growth pains very well."•