After 20 years in business, Jeryl Mitsch wants to grow her architecture and interior design firm, but isn't sure
how. She's about to get some high-powered help.
Carmel-based Mitsch Design was the first local company
chosen to participate in the AthenaPowerLink program for woman-owned businesses. Mitsch Design will receive free assistance
for a year through an advisory panel handpicked to assist the firm. Mitsch will begin meeting with the panel this month.
"I'm beyond excited," Mitsch said. "It's my Christmas present this year."
The program began in Pittsburgh in 1992 and has spread across the country and to several foreign countries. It is
offered through Chicago-based Athena International. The program entered the local market last year through the sponsorship
of National City Bank, law firm Krieg DeVault LLP, Sponsel CPA Group and RJE Business Interiors.
The primary
goal is to support woman-owned businesses, said Julie Carpenter, a partner at Krieg DeVault. According to AthenaPowerLink,
the program helps participants increase sales and profits and purchase their own property.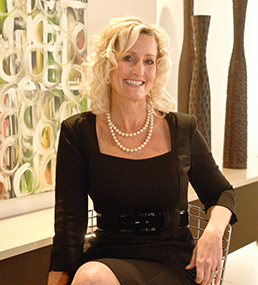 Jeryl Mitsch (IBJ
Photo/Robin Jerstad)
But the opportunity for a positive mentoring experience is a draw for her and other members
of the local governing body, she added. All people involved with the program locally are volunteers.
Although
the Athena program will assist just one local company this year, Carpenter eventually hopes to be able to help more.
Mitsch Design was selected from among 14 local applicants. The local Athena governing body first scored all the applications
and narrowed the list to four, then conducted site visits and interviews with the finalists. Mitsch sold the committee on
herself, and she was chosen in November, Carpenter said.
"[Mitsch] had a great business plan," Carpenter
said. "She knew what she wanted to do. We thought we could help her the most."
Sharon O'Donoghue,
executive director of the local Business Ownership Initiative, said she applauds Athena's effort to support entrepreneurs,
but that the program wasn't well-publicized, which may account for the small number of applicants.
She
said the program highlights the importance of having a team of advisers. Women business owners even can create such teams
themselves, she added.
Mitsch's advisory panel will include an attorney, accountant, banker, marketing
professional, information technology expert, former CEO, woman business owner and government procurement specialist. They
will meet with her at least six times.
The composition of the panel was based on needs Mitsch outlined in her
application. At the top of that list was IT assistance.
Although Mitsch employs just 10 people, it competes
against international firms with sophisticated 3-D computer imaging capability. Mitsch's equipment also must be able
to communicate with that of its major clients.
"I have to be as sophisticated as Dow AgroSciences,"
Mitsch said. "It's difficult to keep up with that."
Mitsch, 54, also wanted help evaluating
whether to pursue government contracts. She likes the idea of a revenue stream with potential for repeat business, so she
can spend more time advising clients and less on drumming up projects.
But she has been working on the paperwork
to become a federal contractor for six months, and isn't even close to finished. She'd like to get advice on whether
it makes sense to keep plowing through.
She has learned about the importance of diversification the hard way.
During the last economic downturn after 9/11 her company suffered because nearly all of her business was corporate.
Now her company, which posted $1.3 million in revenue last year, has clients ranging from the Indianapolis Museum of
Art to Community Health Network.
Mitsch also hopes the advisory panel might suggest other ways to improve her
operations. After 20 years, she admits she might be stuck in certain areas and could benefit from some fresh ideas.
"It'll be fun to see how it all pans out," Mitsch said. "I'm very open to the future."•
Please enable JavaScript to view this content.