If you thought stand-up comedy was a 1980s thing, you haven't been living in Indianapolis.
The area
supported a bevy of comedy clubs long after the boom faded elsewhere. Competitors to the longest-running name in the market,
Crackers Comedy Club, died off only in the last two years.
Morty's Comedy Joint, an upscale club that had
opened on 96th Street in 2006, hung on through this past New Year's weekend. Morty's closing was preceded by One-Liners
Comedy Club in Greenwood, which shut down in June 2008 after 15 years.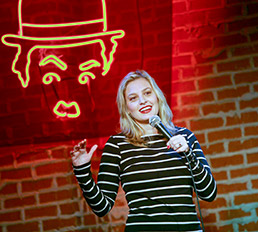 Los Angeles comic Christina Pazsitsky headlines
at Crackers Comedy Club in Broad Ripple. Crackers operates the area's two remaining comedy clubs.. (IBJ Photo/Perry
Reichanadter)
"Indianapolis is a great market for comedy," said New Jersey-based comedian Brian McKim,
who also edits Shecky Magazine, a blog/magazine.
McKim is among the industry insiders who attribute
comedy's strong run locally to the presence of Bob and Tom, the nationally syndicated radio hosts who've built
their show around visiting comics.
"It puts stand-up in the forefront of everybody's brain,"
McKim said.
"The Bob and Tom Show" holds a top-three spot in 85 percent of its 150 cities. In Indianapolis,
where it began in 1983, it's by far the top-rated morning drive show.
Although Bob and Tom helped build
up the local comedy scene, former club owner Dave Wilson said they can't be held responsible for its recent decline.
"That's a hard business, and it's a full-time job," he said of running a club.
Wilson, a former afternoon radio host and comedian who used to appear on the show, said he decided to close One-Liners
because he was just too busy. He'd tried to sell the business, which included a large bar and restaurant, for five years.
Morty's New Jersey-based owners opened the upscale club on 96th Street with local manager Eric Shorts in August
2006.
Shorts, a comedian, had tended bar and booked shows for other local clubs. Co-owner Andrew Pincus, a lawyer,
was Shorts' high school classmate.
"The club just wasn't profitable, and we felt it never
would be, under the current model," Pincus said.
He and his partners hoped to attract affluent north-side
customers, and the business had a substantial marketing budget. But crowds didn't materialize, and Morty's resorted
to giving away admission to fill the house.
Morty's hoped to recover its revenue at the bar, but Pincus
said audiences weren't willing to spend big on drinks, either.
Comedy clubs continue to open and close
across the country, McKim said. The Minneapolis-St. Paul area, for example, is poised to gain a third club.
"It's
in flux," he said.
Bob and Tom also have their own comedy tour. Visiting clubs across the country, co-host
Tom Griswold said the appetite for stand-up seems to be as strong as ever.
Clubs face the same recession-driven
challenges of any bar or restaurant, Griswold added.
"People tend to be staying in a little more than they
were two years ago," he said. "You can watch a lot of comedy on TV."
Ironically, cable television
probably helped fuel the stand-up boom in the 1980s. That's when Arts and Entertainment Network began airing "An
Evening at the Improv."
The show introduced a generation of cable TV viewers to stand-up comedy, and The
Improv chain began its national expansion.
The boom lasted into the 1990s in Indianapolis. Wilson recalled that
when he opened One-Liners on New Year's Eve in 1992, he had no fewer than six competitors. Three more hotels and bars
in the area were hosting comedy on the weekends, he said.
Back then, Crackers was at Keystone at the Crossing.
It now has two clubs, one in Broad Ripple and one downtown—locations Crackers owner Steve Bobeck moved into after buying
out the couple who owned the Broad Ripple Comedy Club and Downtown Comedy Connection,
Crackers General Manager
Ruth-Anne Huber-Bunting said she is seeing the effects of the recession, but the business survives on its reputation for quality
talent.
"Good service and sticking to what we know, which is comedy. I think those are big things,"
Huber-Bunting said.•
Please enable JavaScript to view this content.