This story has been corrected.
____
Indiana's future as a hub for making electric and hybrid vehicles hinges on a single government loan program.
The Department of Energy has less than $17 billion left to loan under its Advanced Technology Vehicles Manufacturing program.
Before making its first round of loans last year, the $25 billion program had $38 billion in requests. A spokeswoman wouldn't say how much in requests it now has, but called it "oversubscribed."
Five startup companies with requests totaling $1.3 billion have applied for the loans so they can expand or begin manufacturing in Indiana.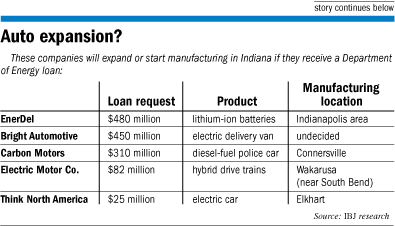 "The ATVM loan program is really the deal maker," said Paul Mitchell, president of the Energy Systems Network, a project of the Central Indiana Corporate Partnership.
Think North America joined the fray earlier this month when it announced with much fanfare its plan to assemble a two-seat electric car in Elkhart.
The company hopes to begin production early in 2011 and ramp up to 20,000 cars a year. Think says it could create 415 jobs by 2013.
The entire plan, however, depends on whether the company receives a $25 million ATVM loan
"The current manufacturing plan, including volume, is contingent on the loan," spokesman Brendan Prebo said.
Think is certainly not alone in its dependence on the Energy Department. The $25 billion program was rolled out in October 2008, after private capital markets collapsed. Now, private investors are waiting to see which companies receive a blessing from Washington, D.C., Mitchell said.
Two of the largest Indiana-based applicants are EnerDel, which needs $480 million to produce its lithium battery packs on a large scale, and Bright Automotive, which needs $450 million to produce a plug-in electric delivery van.
"The amount they're seeking is a proxy for private equity they cannot raise," Mitchell said of the pending requests.
The Energy Department has already made loans to Ford and Nissan, as well as electric-car startups Tesla and Fisker. A department spokeswoman said the goal is to distribute the rest of the money by mid-summer.
The timing could be a full year later than Anderson-based Bright Automotive anticipated. The company, which launched in January 2008, hoped to begin producing its Idea van by 2012.
That's been pushed back to the first half of 2013, Vice President of Marketing and Sales Lyle Shuey said.
In the meantime, Bright is looking for other sources of funding, possibly through equity ownership by an existing automaker or supplier, Shuey said. Bright intends to manufacture in the United States, but has not committed to Indiana.
The startups aren't the only companies with ties to Indiana seeking the loans, Mitchell said. Established firms also have applied but are keeping quiet, he said.
Energy Department spokeswoman Ebony Meeks would not disclose applicants' names or specific amounts requested.
Several startups have grabbed headlines with their plans to take up shuttered auto-parts plants in hard-hit towns. Backup plans tend to be vague.
Carbon Motors, for example, is seeking $310 million to take its diesel-powered police car from prototype to product. If it lands the government loan, the company could hire 1,500 people by 2017 at the former Visteon plant in Connersville.
Spokesman Stacy Dean Stephens said the company would open a plant without the Energy Department's backing, but it would have to find other sources of financing. It's not clear how long that would take.
"That's going to completely fall on what the routing plan behind that is, and how long it takes us to get that done," Stephens said.
Think, which is based in Norway, would have to revamp its North American strategy, Prebo said.
"We wouldn't be able to fund the project to the level we would under the ATVM loan," he said.
Prebo also said the company would not necessarily locate in Elkhart.
Jacob Grose, a senior analyst at Lux Research in New York, said he expects a large chunk of the remaining loan money to go to Detroit automakers General Motors and Chrysler, where the federal government has already invested billions.
The government also has backed EnerDel, though at a much smaller level. In August, EnerDel's New York-based parent company, Ener1, received a $118 million federal stimulus grant for battery manufacturing.
Ener1 will invest $18 million of company capital and convert $3 million in debt to help bail Think out of bankruptcy. Ener1 now has a 31-percent stake in the electric car maker, to which it is the exclusive supplier.
If Think is successful, it could mean more work for EnerDel. The company now has about 150 employees between two facilities on Hague Road near East 86th Street and in Noblesville. EnerDel is also scouting locations for a third site dedicated to manufacturing.
Think has put 1,500 of its two-seaters on the road in Europe. Mitchell thinks that's good reason for the Energy Department to back Think in North America.
"They have a vehicle. It's crash-tested. It's road-tested," Mitchell said. "That gives them a front-runner's advantage."
Grose agreed Think stands a chance of winning a government loan, but he's less confident about the long-term prospects for the company, or any other electric-car startup.
"Is Think really going to compete with the Toyotas and GMs of the world?" he asked.•
Please enable JavaScript to view this content.