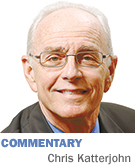 Katterjohn is on vacation this week. In his absence, this column, which appeared on Jan., 26, 2004, is being reprinted.
____________
Once again, I have returned from my annual January drive to Florida to deliver my mother and her
car to her Naples condominium.
As always, brothers Jim and John made the trip with me. We stayed for more than
a week of vacation and family bonding, then left my mother to while away the next couple of months on her own.
As
is our way, my brothers and I spent much of our time on excursions into some of the wilder regions of southern Florida: Corkscrew
Swamp, Fakahatchee Strand and the Ding Darling National Wildlife Refuge on Sanibel Island.
Again, I came away with
a deepened love and respect for the Everglades and its land and creatures that continue to survive, albeit precariously, in
an environment that has been ripped asunder by development over the last century.
I'm convinced that 99 percent
of the people who visit Florida don't know the first thing about its natural history and ecosystem, and its true uniqueness.
That's a shame.
People go to Florida for lots of reasons, but I doubt many Northerners see the state the
way my brothers and I do: like one giant field trip.
Being with Jim and John there is like being in science class.
Both landscapers by profession, Jim majored in anthropology; John majored in biology. They live and explain their lives by
science. They read non-fiction.
Me, the English major, I'm more metaphysical. I read fiction.
You
can imagine that at times this dynamic generates some friction. For the most part, however, barring some sporadic toxicity
due to information overload, I find it all incredibly engaging and we get along swimmingly.
While most people throw
their towels on lounge chairs by swimming pools to catch rays or read, we walk the beach, only occasionally lying in rest.
We scan the water for dolphins; we try to identify shorebirds and plants. We spot a dead fish in the surf; we try to figure
out what it is.
While most of my Indianapolis acquaintances who go to Florida are on the golf course, playing tennis
or shopping, we are off on one of our aforementioned excursions into the wild country.
The bookshelves in our condo
are filled with field guides on birds, plants, trees, shrubs, shells, fish, you name it. Fiction titles include several books
by Carl Hiaasen and Peter Matthiessen, writers whose yarns typically unfold in the swamps and towns of southern Florida.
Brother John has even stocked some books and tapes on Totch Brown (1920-1996), a native of the Everglades who made
his living trapping gators, running moonshine and drugs, and doing just about anything else he needed to do to survive there.
This year, quite by accident, we discovered a place east of Naples called the Picayune State Forest. At nearly 40,000
acres, it is the happy result of a Florida real estate scam gone bad.
Crisscrossed by a handful of roads and 180
miles of canals, these wetlands were supposed to be Golden Gate Estates, the world's largest subdivision. Several years
ago, out-of-staters bought some 29,000 lots; the problem was most of the land was under water all summer long.
After
the project went belly up, the state bought the acreage piece by piece and created the Picayune, now the protected home of
the full gamut of Everglades wildlife, including the near-extinct Florida panther.
I'd like to see more of
Florida go in this direction. I am ecstatic that Congress passed the Comprehensive Everglades Restoration Plan, an $8 billion
investment with a $172 million annual operating budget to recapture some of the grandeur of the Glades. You should be, too.
If you'd like to get a pretty good grip on this natural wonder—past, present and future—read "Liquid
Land: A Journey through the Florida Everglades," by Ted Levin, published last year by University of Georgia Press. My
brothers and I recommend it highly.•
__________
Katterjohn is publisher of IBJ. His column
appears every other week. To comment on this column, send e-mail to ckatterjohn@ibj.com.
Please enable JavaScript to view this content.