Wireless phone distributor Brightpoint Inc. is among the high-profile local investors in a new logistics company that says it plans to employ 100 by year-end and perhaps 250 in 2012.

Brightpoint also is licensing its supply chain and logistics technology to s2f Worldwide—an advantage for the company, along with its status as a Minority Business Enterprise, that could make it a formidable player in the market.

Johnson
Investors include Lacy Johnson, a prominent attorney at Ice Miller, who is chairman of s2f, and Earl Scott, co-founder of Maryland-based telecom infrastructure firm DYNIS Llc., itself an MBE firm.

Also investing is the Binion Family Trust, which includes Jack Binion, chairman and founder of Blizzard Management LLC, a Las Vegas casino industry consulting firm. The Binion family had owned the Horseshoe Casino, a Las Vegas landmark.

More recognizable are local investors Stephen Hilbert, founder of Conseco Inc.; Robert Wagner, co-founder of Indianapolis law firm Lewis Wagner; and Michael "Mickey" Maurer, founder of National Bank of Indianapolis and co-owner of IBJ.

At the helm as president and CEO is Randall Lewis, who last August left WellPoint Inc., where he was executive vice president and chief compliance officer.

The new firm will focus on selling its broad-based supply chain and logistics offerings to the automotive, chemical, government, life sciences, mass retail, technology and telecommunications sectors, said Lewis, and it will play up its use of Brightpoint's technology.

Brightpoint is among the world's largest distributors and logistics services providers for wireless phones. In 2008, it handled 85 million phones, doing everything from procurement to software loading to packaging to arranging shipment to retailers, including Wal-Mart.

The new firm "gives us an opportunity to leverage our expertise and investment in new areas," J. Mark Howell, president of Brightpoint, said of s2f's industry sectors.

He declined to disclose the amount of Brightpoint's investment but said it amounts to less than 50 percent of ownership.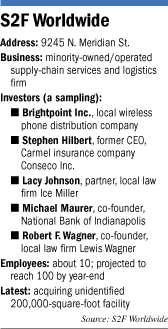 Neither Lewis nor Johnson would disclose how much the founders have put into the company. Last September, $500,000 was raised from a group of investors, according to Securities and Exchange Commission records, but the records don't identify whom that money came from.

The next big step, by the end of March, is to move into a large facility equipped for warehousing and light assembly. Negotiations are under way for 200,000 square feet of space, Lewis said. He declined to say where s2f is looking, but the company's global aspirations suggest a facility near Indianapolis International Airport to take advantage of air cargo connections.

Johnson, a member and former chairman of the Indianapolis Airport Authority board, has a keen appreciation for the potential the airport provides, citing infrastructure such as FedEx's No. 2 U.S. package hub.

"Logistics is such a part of the economic engine in this community," Johnson said.

As for customers, Lewis would say only that s2f has a number of prospective clients.

He anticipates s2f will hire a broad range of employees to fill jobs ranging from general warehouse to information technology positions.

Lewis sees a global market in logistics and supply chain management that could swell to $600 billion by 2014. He said by some estimates about one-third of companies that don't outsource such work today could do so in the next 12 months.

If anything, the sluggish economy is more of an incentive for companies to outsource that kind of work rather than make additional capital expenditures in supply chain functions, Lewis said. The ability to deliver efficiencies during the downturn is part of the pitch to prospective s2f customers.

It's unclear just how many minority-owned and -operated logistics firms there are in the region.

Under the logistics category, 28 firms pop up in the database of the Indiana Minority Supplier Development Council, though many are based out of state.

One of the best-known MBE firms in the sector here is Freight Master Logistics, founded more than 30 years ago by Gene McFadden. The Indianapolis company recently filed for Chapter 11 bankruptcy reorganization, stung by a heavy concentration of customers in the troubled automotive industry.

The universe of firms competing in 2sf's realm is harder to define.

"I'm going to say there are just a handful of companies doing full supply chain integration and solutions," said Michele Howell, president and CEO of the IMSDC.

Conexus Indiana, the logistics and advanced manufacturing initiative under the umbrella of the Central Indiana Corporate Partnership, is in the midst of building a supplier database to provide a better picture, said Conexus Vice President David Holt.

Often, the operations here tend to be specialized, such as those targeting the pharmaceutical products sector, he noted.

An estimated 41,000 people in the region are employed in logistics, with the potential of 9,000 new jobs by 2012, according to Conexus.

One area of promise is expanding the multimodal operations involving the airport, the railroad yards in Avon and the myriad of logistics operations surrounding them. Officials have been trying to lure more direct-freight shipments to the area from ports on the West Coast.

They're also looking at the potential to wrest more air cargo business from bottlenecked Chicago.•