Escalating coaches' salaries and other expenditures are casting a cloud of uncertainty over the long-term future
of college athletics.
A group of academics grilled the NCAA at its annual convention this month in Atlanta about
what it plans to do to secure the future of more than three-fourths of its largest members, whose athletic departments are
hemorrhaging cash at a surprising rate.
Tackling the issue of Division I football and basketball coaches'
salaries could be chief among a bevy of challenges awaiting when Myles Brand's successor takes office around the time
the next college football season kicks off.
A contingent of university presidents and professors implored NCAA
officials to reduce financial pressures on athletic departments and consider seeking an anti-trust exemption from Congress
to cap coaches' salaries.
"The coaches' salaries today are sending a ridiculous message to
students at institutions where athletics are supposed to be complementary to academics," said Andrew Zimbalist, a sports
economist and professor at Smith College, who was a presenter at the NCAA convention.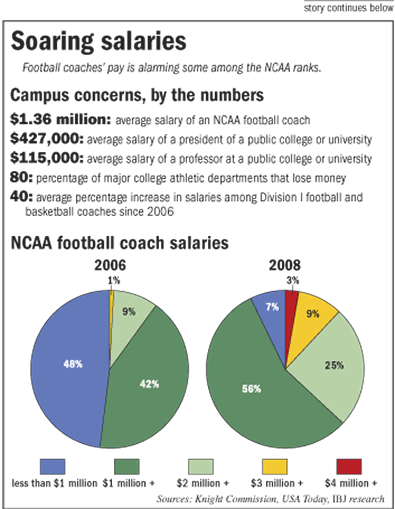 More important, Southern Methodist
University President Gerald Turner told the NCAA, many college athletic departments nationwide are foundering
trying to keep up with a handful of rich programs, such as the University of Notre Dame, the University
of Texas and Ohio State University.
"During the most recent fiscal year, only 12 of
120 [NCAA Division I-A athletic departments] either broke even or made money," said Turner, who
is co-chairman of the Knight Commission, a Washington, D.C., group formed by university presidents in
1989 to push for reform in college athletics.
"A few elite programs have set a standard for
spending that has created an arms race which makes it difficult, if not impossible, to sustain the business of college athletics
as a whole."
Another factor pushing schools to the brink is the arms race surrounding athletics facilities.
"When you consider debt service to build all this sports infrastructure, the picture is even worse,"
Turner said.
Butler University is one of those schools trying to balance expenses of college athletics against
the benefits they bring the school.

Fong
"Athletics is an important part of our institutional experience," said Butler President
Bobby Fong. "It's a focus of student and alumni enthusiasm, and it's an important reputational tool."
But Fong admits Butler doesn't have the alumni support or the money generated by large media-rights deals
that bigger schools have. "That's why we have such churn with our basketball coach position."
Butler doesn't divulge its coaches' salaries, but sports business experts estimate Butler Basketball Coach
Brad Stevens makes about $350,000 annually. That's not nearly enough to compete with the university's larger brethren.
"I do have concerns that coaches' salaries are out of line with the general enterprise of the university,"
Fong said. "This is a marketplace where we feel immense pressure that may push and pull us in directions we may not
want to go in order to compete."
Breaking point
That pressure,
said Brit Kirwan, former Ohio State president and current co-chairman of the Knight Commission, has brought many colleges
to the breaking point.
"We've reached a point where we have to find a different fiscal model,"
he said.
Eighty percent of major college athletic departments lose money, while average salaries among Division
I football and basketball coaches are up more than 40 percent since 2006, according to various studies.
This
is happening, Kirwan noted, "at the very time that tuitions are going up, faculty are being furloughed, classes are
being cut, and enrollment is being capped."
Jim Isch, NCAA interim president, acknowledges that a recent
survey of presidents of NCAA Division I schools shows 85 percent think football and basketball coaches' salaries are
too high.
The NCAA's own studies show that, over the last five years, college athletic department budgets
have grown 43 percent but those departments' revenue grew only 33 percent.
Isch conceded the NCAA could
"establish some [spending] parameters," but he said it's up to each school to regulate itself.
Zimbalist said now is the right time to relax anti-trust rules.
"The NCAA has evolved into nothing more
than a trade commission for coaches and athletic directors," he said. "Because things are so bad, Congress and
President Obama have expressed concerns."
Butler's Fong called an anti-trust exemption "an
interesting idea worth exploring."
Ed Harris, a partner in the local office of law firm Taft Stettinius
& Hollister, said it wouldn't come easy. Major League Baseball is the only U.S. sports body to be granted an anti-trust
exemption. Judges later admitted the baseball exemption was flawed, but never overruled it.
In the NCAA's
case, the exemption would give colleges the power to act collectively and regulate factors like coaches' salaries.
"The courts have made it clear, big-time athletics are to operate under the same laws as any other business,"
Harris said. "Just raising the issue would cause a huge uproar from coaches' associations."
That's because coaches have so much to safeguard under the current system, Zimbalist said.
"The main
reason the coaches are getting paid so much is because the players aren't getting paid," he said. "The coaches
are reaping the value driven by the athletes. It's a completely artificial market."
Big bucks
Indiana's biggest schools pay a considerable amount for coaches, but with the exception of Indiana
University basketball coach Tom Crean, they are below the curve.
Crean's contract through the 2017-2018
school year assures he makes $2.36 million annually. IU football coach Bill Lynch is making $658,750, with a potential for
a $450,000 bonus.
Purdue University basketball coach Matt Painter is earning $843,000 annually through 2012-2013,
while Purdue football coach Danny Hope makes $825,000, with a potential $558,900 bonus.
Purdue Athletic Director
Morgan Burke was out of the country and unavailable for comment and IU Athletic Director Fred Glass declined to comment.
Notre Dame Athletic Director Jack Swarbrick, however, doesn't support cost controls dictated by the NCAA.

Swarbrick
"Spending needs to be looked at in a historical context within each school," said Swarbrick,
a former Indianapolis attorney and Indiana Sports Corp. chairman who became Notre Dame athletic director in 2008. "Each
school needs to answer for itself, is the athletic department being run as an effective business? In our case, the department
supports itself."
Notre Dame doesn't disclose coaches' salaries. Sports business experts estimate
that the school's new football coach, Brian Kelly, is among the highest-paid college coaches, making $3 million to $4
million a year.
Swarbrick pointed out that, last year, Notre Dame's athletic department poured more than
$10 million in profits back into the school's general fund—much of which was used for academic purposes.
But Notre Dame, with its huge TV and other multimedia deals, is the exception.
A recent study conducted
for the Knight Commission found that only six of the 120 NCAA Division I-A athletic departments made money in each of the
last five years.
"That means a lot of money is being siphoned away from academics and into athletics,"
Zimbalist said.
Swarbrick said the next NCAA president will face more difficult times than any of his predecessors.
"This is one of the least stable times the NCAA has faced," he said, "and the next president will
have to find the glue that holds all this together."•
Please enable JavaScript to view this content.