Tech executive Scott Webber and a local entrepreneur are out to revolutionize benefit auctions, which, despite their importance in raising an estimated $16 billion a year for not-for-profits, can be remarkably primitive.

One has to elbow through a table of auction items and jot down a bid on a nearby sheet of paper. Assuming you remember to update your bid after dinner and a round of drinks, there's inevitably someone blocking the way when you return to up the bid.

Harris Turner attends a lot of these auctions and one day thought, "How do you eliminate the pain of constantly having to go back to the item area?"

His solution gave birth to Indianapolis-based BidPal Network, which has developed what's believed to be a first-of-its-kind wireless remote bidding technology for silent auctions.

Attendees enter bids onto an iPod Touch device that BidPal has loaded with its own proprietary software. Antennas set up around the room funnel data to a server that keeps a running tally of bids and relays information back to the bidder.

BidPal crews last year rolled out devices at 32 auctions in Indianapolis, with others in Chicago and New York.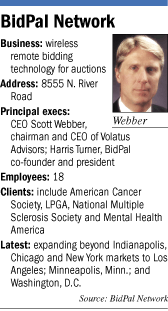 TThe company hopes to nearly triple that, to 80 events locally, in 2010. BidPal has 20 full-time and 65 part-time employees.

"By eliminating the pain point, there are more bids per item," said Turner, president of BidPal.

More precisely, BidPal claims auctions where its devices are used receive an average of seven bids per item compared with the typical two bids when paper bidding is used.

Turner said that, despite a down economy, events BidPal staged last year had average increases in auction revenue of more than 20 percent.

"We did probably close to 20 percent" better than expected, Julie Husselman, events specialist for the American Cancer Society, said of the organization's Discovery Ball in Indianapolis last October. Rather than halt the auction before dinner, guests kept the BidPal devices at their side while eating. "That allowed for a longer bidding time and brought more bids."

That event was about 18 months after Turner put together his first prototype. With prototype in hand, he approached Webber, the local tech investor and software executive, and other investors in HALO Capital Group.

"It just made enormous sense to me," said Webber, whose wife is involved in charitable auctions and occasionally uses him as a pack mule to carry items to the events.

Webber—who is CEO of BidPal—said the company has raised $4.5 million from various sources, including $1.2 million from HALO last April.

A few months later, the firm raised $1.6 million through an offering, according to Securities and Exchange Commission records.

A lot of the cash flow goes toward equipment that rivals that of a roadie's burden at a rock concert. There's a computer server on wheels, wireless modems and a dozen or more equipment cases housing and recharging the iPods. BidPal's system can handle up to 1,500 wireless devices at one time.

"We are really pushing the limits of this Wi-Fi technology in a contained environment," Webber said.

The BidPal software and user interface came from analyzing silent auctions and the quirky human behavior patterns of bidders.

Many attendees make an initial stroll through auction items at the tables, bidding on some immediately and making a mental list of others to consider later.

"Then you head to the bar," Webber said. "It's essentially out of sight, out of mind."

In traditional paper auctions, about 80 percent of bids occur within the first half hour; auctions using BidPal see the most activity at the tail end.

The company preloads information about each item before the auction, including photographs and narrative descriptions.

Lutheran High School, which used BidPal as part of its popular silent auction, said the digital descriptions of its auction items saved it $3,000 by eliminating the need to print that information in its event catalog.

The iPod flashes a message when a person has been outbid, giving those standing around the bar or sitting at the dinner tables a chance to sweeten their offers. Webber noted that bidders can become particularly competitive with a little liquor in the belly.

"You will have people saying, 'Darn, I've been outbid.' This becomes the entertainment of the evening."

And the devices can display ads. "They make a lot of money on this right from the get-go," Turner said. "Many of our events are totally underwritten just by advertisements."

Bidders know immediately at the conclusion of the auction whether they've won (a flashing "Yippee!" appears on the device) rather than having to wait an hour or more for paper bids to be collected and tallied by harried volunteers.

So what's the potential for BidPal? Webber said nine-figure revenue (i.e. $100 million or more) "is clearly achievable," citing a $16.2 billion annual market value of silent auctions.

BidPal charges two types of fees, though company officials were reluctant to quantify them, saying they vary based on a number of factors.

The future may involve a version of BidPal that could be downloaded onto most any attendee's own smart phone. Right now, the market penetration of those devices isn't high enough.•