The federal government has erected a high fence around a pot of $27 billion available to doctors and hospitals that successfully
computerize their patient records by next year.
That has sparked complaints around the country—including
in Indiana—that the government's standards are too difficult to meet
so quickly.
"It was a typical first swing. It was ridiculous," said Dr. Tim
Story, a primary-care physician at Clarian North Medical Center in Carmel.
The rule was
proposed Dec. 30 by the federal Centers for Medicare and Medicaid Services agency. The rule can be altered
after a 60-day comment period and will then go into effect.
However, central Indiana doctors
and, especially, hospitals have a bit of a leg up when it comes to meeting the hardest part
of the rules: exchanging patient information with other health care providers.
That's because hospitals
here are sharing patient records through the Indiana Network for Patient Care, a database operated
by Indianapolis-based Regenstrief Institute Inc. And doctors can receive lab reports and quality reports
from services provided by the not-for-profit Indiana Health Information Exchange.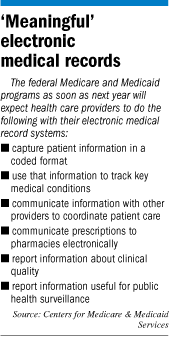 "Your physicians in Indianapolis are in better shape that way, because you do
have an exchange," said Wes Richel, an analyst for the Connecticut-based technology
research firm Gartner. He supports the government's high standard, but acknowledged it is a "stretch
goal" that will be difficult to achieve.
Electronic swapping of patient records among hospitals and some
physicians is occurring all over Indiana, including around Bloomington, Fort Wayne, Lawrenceburg and
South Bend.
If those assets prove helpful, Indiana doctors and hospitals could have more
success winning subsidies from the government to help defray the cost of their electronic
medical record systems, or EMRs.
Those subsidies could reach as high as $44,000 from Medicare alone for each
physician, if they are fully ready by 2011 or 2012. Physicians who join in later would receive smaller
subsidies. In 2015, Medicare will begin reducing payments to doctors as a negative incentive to adopt
electronic medical records.
For hospitals, the incentive payments will hinge on a complex
formula based on their number and percentage of patients who pay with Medicare. For a very
large hospital, which might have a third of its patients paying with Medicare, the subsidy could top
$5 million over four years.

Larkin
In addition to swapping records, the federal government wants doctors and hospitals to be able to
use their electronic medical record systems to prescribe drugs electronically, to track key medical conditions,
to report quality scores to the Medicare and Medicaid programs, and to report surveillance data to public-health
agencies.
Indiana hospitals and doctors still have plenty of work to
do. The electronic sharing of patient records is mainly one-way so far, at least
for physicians. They receive reports from hospitals and medical labs, but they don't send out much information
electronically.
They still rely on fax machines, mainly, for that function. Some use e-mail
to swap records, but industry experts say it is not secure enough to ensure patient privacy.
"Very few providers currently are tapping into the INPC," also known as the Indiana Network
for Patient Care database, acknowledged Dr. Greg Larkin, chief medical officer at
the Indiana Health Information Exchange. Because of that and other challenges, Indiana's
doctors have "only a potential leg up," he added.•
Please enable JavaScript to view this content.