Two big deals for a 400-acre Greenwood industrial park are fueling hopes for a new round of development east of Interstate
65.
Locally based The Precedent Cos. in recent months has landed build-to-suit deals for locally based Mays Chemical
Co. and Elona Biotechnologies Inc. to join Nestle Water, Arbonne International, Dayton Freight and others at the Precedent
South Business Center southeast of Interstate 65 and Main Street in Greenwood.
The deals leave the 2-million-square-foot
park, which Precedent began developing in 1999, with only three industrial sites left. As it sells the last of the industrial
spaces, the company plans to shift focus to its neighboring 332-acre residential development and 40-acre spread along Main
Street set aside for retail, restaurants or hotels.
The first retail space went to Franklin-based Heartland Community
Bank. Precedent also is talking with potential big-box users, outlot tenants and hotel operators.
"We knew
this was going to be a long-term hold," said Larry Siegler, Precedent's chief operating officer. "It's
been tough but not insurmountable. The summer of 2009 was dead, but it seems like everyone is coming out now, doing deals.
I've had more space showings and activities even over the holidays than I have for a while."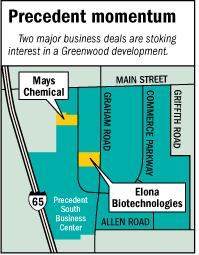 The decision
by outdoors retailer Cabela's in July to cancel plans for a store at Greenwood's exit on County Line Road was
a big blow to several property owners in the area, including those with holdings one exit south, at Main Street, said Danny
Marr, a principal in locally based Veritas Realty, which owns 20 acres across Main Street from Precedent's holdings.
Meanwhile, Greenwood's quest for a new I-65 interchange at Worthsville Road, a few miles south of Main Street,
could throw more undeveloped property into play.
"I still feel it's an area that will develop over
time, but it might take a while," Marr said. "It probably won't happen within a year, but I think there
is a future for retail along that corridor."
A key to retail traction will be continued residential development.
Precedent's 332-acre University Park community, half a mile east of I-65, calls for a total of 760 homes anchored by
a 43-acre park. The primary builder is now Virginia-based Ryan Homes. Ryan acquired the lots from C.P. Morgan, which went
out of business last February.
The additional jobs stemming from Precedent's build-to-suit deals also should
help drive retail.
Precedent this month plans to break ground on a 61,000-square-foot facility for Mays that will
consolidate the company's operations in Speedway and a few miles to the north along Southport Road. The $5 million building
on seven acres will be expandable to 100,000 square feet.
Mays, which distributes a range of chemicals for everything
from Pop Tarts and pharmaceuticals to windshield-wiper fluid, plans to keep its corporate offices at 71st Street and Binford
Boulevard in Marion County.
And Precedent is working in partnership with the city of Greenwood and Elona Biotechnologies
Inc. on a 50,000-square-foot building for a startup that would produce biotech drugs.
The building will cost $6
million. The total investment could reach $28 million with equipment, Siegler said.
The deals suggest the Greenwood
area can hold its own against other industrial hubs, said Luke Wessel, a principal in the local office of Colliers Turley
Martin Tucker.
"You have all the factors you are looking for when making a real estate decision," he
said. "Greenwood has a good draw relative to its location off I-65, a good employee base and amenities."
Wessel late in 2009 represented Quadrangle Development Co. of Deerfield, Ill., in a 140,000-square-foot deal with Amcor
PET Packaging. Quadrangle owns an 832,000-square-foot distribution center in the park.
"There's some
demand that seems to be going that direction, Wessel said. "Because of lack of new construction in the marketplace now,
there's some opportunity for existing properties."•
Please enable JavaScript to view this content.