It's somehow fitting that we broke a lot of the rules at Recess.
After all, local restaurateur Greg Hardesty's new SoBro eatery (4907
N. College Ave., 925-7529) doesn't exactly color inside the lines, either. The menu, which changes
daily, is merely an FYI. Hardesty and his staff decide what's for dinner.
And let's just say they're a bit more adventurous than I usually am.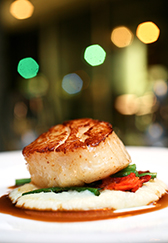 This seared scallop dish was served on a recent visit, but probably won't be today at the ever-changing Recess.
(IBJ Photo/ Perry Reichanadter)
So I was more than a little anxious about my first trip. What if I had to eat salmon,
which I've been studiously avoiding for years? Or a cow part that didn't
grow up to become steak? Or beets? I really don't like beets.
Then my friend gave me a pep talk that put me in a better state of mind. She saw the
mystery meal as a chance to try dishes she might not be brave enough to order on her own. If we left
hungry, well, then we would just pick up something else on the way home. And it was a
low-risk gamble despite the $35 to $45 per-person fixed price, since IBJ pays for our anonymous
review meals.
Her points well-taken, we made our way to the restaurant, which looks more like an
elementary school cafeteria than an upscale eatery. Think cinderblock walls, concrete floor and plastic
chairs straight from the lunchroom. The wine list comes on a clipboard. It was a welcome
departure from the typical fine-dining pretentiousness.
Our jeans-clad
server gave us "menus," explained the concept, and did a great job selling us on the
wine pairings that accompanied the first three of the four courses ($20 when we were there, but prices change with the wines).
We joked about not being able to decide what to order. He quipped that he'd asked the chef if he should push the chicken.
Then we got down to business.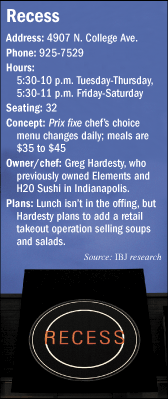 First up: Scottish Salmon Crudo. Of course. Not just salmon, but raw salmon. Raw salmon belly,
to be precise—sliced thin and presented atop a cucumber-jicama slaw of sorts with a few homemade
potato chips on the side. I ate my words along with the divinely delicate starter, which all
but melted in my mouth. Turns out salmon can be delicious. Who knew?
The second course was even more challenging for me. The dish, dubbed the TNFL Special, will be Hardesty's
entry in this year's Taste of the NFL culinary competition before the Super Bowl in Miami. He is
representing the Colts in the annual charity cook-off to benefit hunger-relief organizations. His creation? Beef Lengua
Chilaquiles. Yep, beef tongue. Extra credit for those of you who translated on your own.
This time, I let my friend dig in first, and her moan of pleasure had me following suit with only minimal
apprehension. I needn't have worried. The braised tongue (from Jasper-based Fischer Farms Natural
Beef) was pot-roast tender despite the sear it got before joining a mixture of roasted poblano peppers,
tomato, onion and garlic, all served on strips of tortilla chips. It reminded us of a deconstructed taco.
After that, the third course seemed downright tame. A skin-on, bone-out
chicken breast (from Gunthorp Farms in LaGrange) served in a bowl over beans, mushrooms
and spinach in a red wine chicken jus. The skin was crispy from a quick trip to the frying
pan, the meat as tender and juicy as it comes. The combination was downright delightful.
Dessert was billed as a blood orange and banana parfait with candied pecans. Sounded good even
before we found out the signature came on top of a slice of pound cake sitting in a pool of
crème anglaise. It was sour, sweet and satisfying all at once.
None of the portions was huge, but the meal was plenty filling. And at $36 per person,
the price wasn't prohibitive even if dinner for two exceeded IBJ's $50 weekly Dining
budget.
Which brings us back to the rules we broke. 1. Normally, we
avoid duplication during restaurant reviews—different dishes per diner makes for a review with
more scope. 2. We also typically eschew one-night-only specials since we want whatever we tried to also
be available to the reader. 3. We try to do lunch instead of dinner. 4. We try not to order things we don't
think we'll like. Recess didn't give us a choice. And that's all to the good.
Now who's up for a game of kickball? I promise to play by the rules.•
__________
First in our month-long series
of reviews of College Avenue eateries.
Please enable JavaScript to view this content.