Greenwood-based Zimmerman Biotechnologies LLC hopes to become the first company in the United States to make generic insulin, a long-awaited development in diabetes treatment.

The insulin is at least two years away from U.S. Food and Drug Administration approval, but the city of Greenwood might become the company's largest financial backer.

The Greenwood Common Council on Feb. 1 will consider an $8.4 million deal that would finance construction of an insulin factory, as well as help Zimmerman with FDA-approval and equipment expenses. A public hearing is scheduled for March 1.

The city's offer of direct financing is unusual, but Stephen Watson, attorney for the Greenwood Redevelopment Commission, said officials believe it's worth the high-paying jobs and potential to attract other companies.

"Part of what's appealing for this project is the sector that it's in—life sciences," Watson said. Zimmerman estimates it would create 70 jobs over five years that pay an average of $55,000 a year.

Zimmerman is a subsidiary of Elona Biotechnologies, a contract research and development firm that retired Eli Lilly and Co. scientist Ron Zimmerman started in 1997.

Elona, a 16-person firm, changed its focus three years ago to develop its own generic protein-based drugs, insulin and growth hormone. Despite a growing diabetic population and a lack of patent protection for basic insulin, no generic version is available in the United States.

Ron Zimmerman
"We're at most two years away from being able to market [insulin]," Zimmerman said, while also acknowledging that the FDA may take as long as 30 months to approve an application.

The company will submit its initial application in the next couple of weeks. It plans to go through a streamlined program, which the FDA set up for approving changes to existing drugs.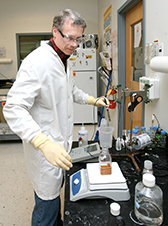 Jeff Rice works with the early stages of the protein-purification process at Elona Biotechnologies. (IBJ Photo/ Perry Reichanadter)
Zimmerman is counting on a timely response from the FDA and wants to begin production as soon as the insulin is approved. That's why he's pushing to build a new facility, which also has to pass muster for commercial-grade drug production.

The manufacture of cheaper, generic insulin would be a major step forward for 17.9 million American diabetics whose vital medication can cost $25 to $108 per vial.

"This is break-the-bank type stuff," said Paris Roach, an endocrinologist at the IU School of Medicine.

Going generic

With chemical drugs, huge demand plus expiring patents typically paves the way to generics. That's not the case with insulin. Companies like Eli Lilly and Co. have been making the drug for decades, and already have invested in the expensive equipment and processes.

"The patent might have expired … but who's going to make it?" Roach asked. "We're talking 30-foot-high instruments to purify proteins."

Zimmerman said his team tackled the cost factor by developing a process that requires seven steps, versus more than 20 used by Lilly. (Zimmerman has also shown his process to Lilly technicians and said he's open to licensing or outsourcing deals.)

The generic would mimic the human insulin that Lilly and Novo Nordisk have been making since the 1970s. Those patents expired in the early 2000s.

Most U.S. diabetes patients now use more fine-tuned drugs, but the market for the old line of human insulin is still worth $1 billion in the United States, or $4 billion worldwide, Zimmerman said.

"We can make the material significantly easier and cheaper than what is currently being done," he said. "We think we're in a good position to capture a significant portion of the market because of quality and price."

Zimmerman also said his company can apply its process to the making of next-generation insulin, or analogs, developed in the mid-1990s. That market is $12 billion to $15 billion a year, and the opportunity for generics to join the fray is right around the corner. The patent on Lilly's Humalog, for example, expires in 2013.

Doctor concerned

Raghu Mirmira, an IU School of Medicine endocrinologist, is uneasy about how generic insulin would work. Even minute changes to the purification process could affect potency, he said.

"People are always constantly tweaking their insulin dosages," he said. "The last thing anybody will want to do is switch over to a new insulin that will have different properties."

Mirmira said that if the drug wins FDA approval, commercial success likely would hinge on the answer to this question: "Can one just make the switch without thinking twice?"


Donna Zimmerman
Elona produced the first batches of insulin at its facility off Emerson Avenue. The existing business, which goes by the name R&D Enterprises, had annual revenue of $4 million to $6 million before it decided to change focus.

Zimmerman, 65, and his wife and co-founder, Donna Zimmerman, have invested $8 million to fund research and development the past three years.

Scaling up for commercial production is a $28 million project. The company is seeking $15 million in private capital, but has not yet signed on any investors, Zimmerman said.

Boost from Greenwood?

If Greenwood approves the economic development package, Elona would use a $6.4 million, 17-year loan from the city to buy an eight-acre tract in the Precedent South Business Center and build a 50,000-square-foot building.

The company says it would have the building substantially complete by February 2011.

Greenwood would finance the loan through a bond issue backed by property tax revenue from its tax-increment financing, or TIF, district. The Greenwood Redevelopment Commission would cover the first three years of bond payments, estimated at $2.25 million.

The terms of the loan equate to about 6 percent interest, and the commission expects to net $2 million by the end of the 17 years, Watson said.

The commission also is offering some upfront cash: a $1.5 million, zero-interest forgivable loan to help Elona with the regulatory approval process and a $500,000 grant for equipment.

The commission would cover that part of the deal out of its own cash reserve of $5.75 million, Watson said.

"At the end of the first 10 years, the city will have broken even in terms of what it has contributed to the project," Watson said.

That break-even view includes an estimated $2 million in personal property taxes Elona will pay over 10 years for its equipment.

Elona is offering several forms of collateral, Watson said. In addition to a mortgage on the land and building, Greenwood would receive a security interest in all the company's existing and future equipment, as well as intellectual property.

Even if Elona is successful, the project could max out bonding capacity on the TIF district, which has an assessed value of $159 million and produced $4 million in revenue last year.

At the last estimate, the district's bonding capacity was $31 million. The city has also been planning to improve Worthsville Road, a $24 million project.

"We believe we can do both," Watson said.

Local governments have been known to offer loan guarantees, but direct financing is rare, economic development consultant Larry Gigerich said.

"Certainly it's a creative proposal, one that reflects the economic times we're in," he said.•