Polymer Technology Systems Inc., a small Indianapolis-based maker of handheld blood monitors, has gone to court to fight a competitor more than 100 times its size: Roche Diagnostics Corp.

PTS, which was founded by a former Roche Diagnostics employee, is trying to free itself from a licensing agreement it says it was coerced by Roche to sign in 2003. That agreement required PTS to pay as much as 9 percent of the revenue from its CardioChek blood monitors and test strips as a royalty to Roche.

The royalties add up to millions of dollars, a big sum for a company with worldwide sales of less than $20 million per year. Roche, by contrast, sells $2.5 billion worth of blood glucose monitors each year, according to data from San Francisco-based market research firm Close Concerns.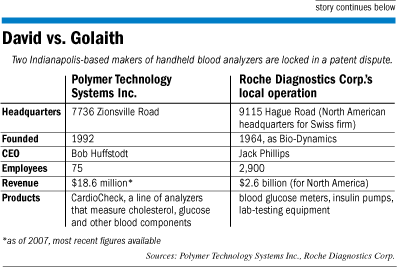 Roche, a Swiss company that runs its North American diagnostic division out of Indianapolis, claims PTS stopped paying royalties in April 2006 and now has a past-due bill of 3.42 million euros, or $4.7 million.

Roche filed a claim against PTS in a German arbitration tribunal in December, according to PTS' lawsuit. That move came eight months after an attorney for Roche wrote a letter to PTS demanding that it pay its overdue royalties.

Those royalties were supposed to be 7.5 percent of CardioChek sales through the end of 2006 and 9 percent for two years after that, according to the letter, which PTS disclosed in its lawsuit.

"PTS is in obvious and substantial breach of its obligations under the License Agreement," wrote Matthias Eck, a German attorney working for Roche, in the April 2009 letter. He said PTS had not allowed accountants to examine PTS' sales records for its CardioChek monitors even after Roche "repeatedly requested" it do so.

Roche officials declined to make further comment on the dispute for this article.

But PTS says it is Roche who should be shelling out—repaying the royalties PTS did pay from 2003 through early 2006.

Its lawsuit argues that Roche bullied PTS for six months in 2003. PTS finally agreed in December to sign a licensing deal. That was the same month PTS got a big break: an order from Wal-Mart Stores Inc. for 5,500 CardioChek monitors.

"[Roche] employed methods that are unfair and against public policy in obtaining the [licensing] agreements," wrote David Hensel, an attorney for PTS, in the lawsuit. "[Roche] threatened PTS with expensive litigation that [Roche] knew would force PTS, a small local start-up company, into bankruptcy due to the cost of the litigation. Therefore, PTS was coerced into signing the agreements."

Hensel, an attorney with Taft Stettinius & Hollister LLP in Indianapolis, did not return a phone call seeking comment. PTS CEO Bob Huffstodt declined to comment.

The patent at issue is called U.S. Patent No. 5,366,609, or the '609 patent. Roche received the patent in 1994 and has used it in four varieties of its ACCU-CHEK monitors: the Advantage, Comfort Curve, Aviva and Inform I.

Two years before, PTS was founded by former Roche Diagnostics employee James Connolly. It took until 2000 for PTS to bring its first product to market.

Sales took off in 2005 after PTS stopped pitching its monitor as a glucose meter—a direct competitor to Roche—and focused more on its ability to measure cholesterol levels. In 2008, PTS was named by Inc. magazine as the 3,151st-fastest-growing company in the nation.

Today, CardioChek meters for consumers sell for about $100 apiece. Packages of test strips range from $15 to $30.

PTS filed its lawsuit Jan. 15 in federal court in Indianapolis—which it views as friendly ground. The case is being heard by U.S. District Court Judge Larry J. McKinney.

In 2007, McKinney ruled against Roche in a similar patent case involving Florida-based Home Diagnostics Inc., which makes blood monitors sold under store brands, such as Walgreens.

PTS argued that McKinney's ruling means the PTS CardioChek meters also do not violate Roche's patent.•