The Health & Hospital Corporation of Marion County got good news in its first round of borrowing to finance a new Wishard
Hospital: so far, it is paying less than planned.
Hospital officials,
working through Citigroup and the Indianapolis Local Public Improvement Bond Bank, sold $195 million in
bonds Feb. 2.
The interest rate it committed to pay? Just under 3.84
percent.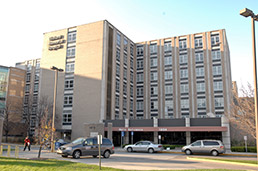 Wishard Health Services will replace its aging hospital with a new facility by December 2013. (IBJ File Photo)
"We are actually ecstatic about this," said Dan Sellers, chief financial officer of the hospital corporation,
an agency partially funded by local tax funds. His best-case assumption had been an interest rate of 4.3 percent.
The difference in rate means Health & Hospital Corp. will pay $26 million less than it would
have over the 30-year life of the bonds, had its bonds sold at a 4.3-percent rate.
"We'll have more money for health care," Sellers said.
The hospital corporation plans to sell another $466 million in bonds Feb. 22 and 23.
Nearly 80 percent of the Wishard bonds have been sold under the Build America program, which was
part of President Obama's stimulus package passed in 2009.
That program helped reduce the hospital corporation's interest costs 35 percent, or $72.6 million, during the first-round
bond sale. That means the hospital corporation will pay $147.2 million in interest over the 30-year life of the bonds.
Wishard is the county-owned hospital that acts as a safety net for poor
and uninsured residents. With unemployment leaving more people without insurance, Wishard's facilities
have been crammed with patients.
Hospital officials moved forward with
plans to build a $754 million Wishard facility after Marion County taxpayers agreed in a Nov. 3 referendum
to back the hospital's bonds.
Sellers cautioned that the early
success won't necessarily be repeated. The second round will be lease-revenue bonds, which are
not quite as popular with investors as the general obligation bonds.
Sellers expects the bonds backed by lease revenue will need to offer interest rates 0.25 to 0.4 percentage point higher than
the first-round bonds.
Please enable JavaScript to view this content.