The Village of West Clay, built in a former cornfield in Carmel, has become a poster child for sustainable development
in central Indiana.
Streets are narrow, lots are small, and homes are close. Villagers can walk to shops, restaurants,
salons, a fitness center and professional offices. Apartments, condos and homes are built in coexisting clusters connected
by pocket parks.
The community's design allows its residents to eliminate car trips, get more exercise, and
re-establish a sense of community with neighbors.
But the concept of West Clay runs counter to more than 50 years
of urban planning doctrine—inspired by mass ownership of cars after World War II—that calls for sprawling suburban
developments, safely secluded from cheaply built stores and office buildings.
Despite a nationwide swing toward
the kind of urban development the United States tossed aside all those years ago, hurdles remain for sustainable projects.
Before locally based Brenwick Development Co. Inc. could break ground on West Clay, Carmel had to approve 280 variances to
its planning codes. Brenwick also had to convince skeptical neighbors.
Now, a group of 200 developers, builders,
professional service providers and civic leaders have joined to trumpet a gospel of sustainable development—to educate
those inside and outside the industry on the latest issues in land development in an attempt to build consensus and encourage
best practices.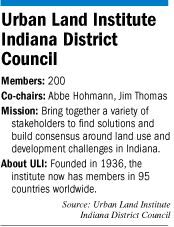 They've formed an Indiana district council of The Urban Land Institute, a not-for-profit think tank that
advocates for responsible and sustainable land development. The group, made up of a Who's Who of the local planning
and development community, already has held seminars on topics ranging from parking planning to development around Noblesville's
Exit 10, to a presentation on "Changing Metropolitan America" from ULI senior fellow and former Indianapolis Mayor
Bill Hudnut.
The group's theme for 2010-2011 is regionalism, with events focusing on transit, public finance,
redevelopment and economic development, said Abbe Hohmann, a principal at Colliers Turley Martin Tucker who co-chairs the
group with Jim Thomas of Hearthview Residential.
"ULI is certainly in favor of development, but we think
development should be sustainable and meet the goals of the community in which it is located," Hohmann said.
To be sure, sustainable development won't take off unless consumers demand it and the economics support it. Developers
are building more LEED-certified buildings not just for the warm-and-fuzzy feeling: They're building them because they
save a company money on energy bills and help build good will among customers and employees.
Central Indiana used
to be a model for urban planning, with an extensive streetcar and rail system and one of the nation's earliest mixed-use
structures, the 1925 Test Building that brought parking, retail space and offices to Monument Circle.
But city
planners and developers later turned toward zoning plans that isolated single-family homes from retail and office buildings,
requiring people to get in their car to do anything outside the home. The average U.S. commuter drives about an hour round
trip per day to get to work, according to Census data.
Part of the problem is, people in the United States have
been spoiled by vast tracts of cheap land. Elsewhere, geography helps force better land use. While America has an average
of 86 people per square mile, Great Britain has 630.
Urban Land Institute's proactive approach to encouraging
construction of dense, sustainable projects instead of farmland-destroying sprawl could help prevent government intervention
toward the same end, members say.
Turning the corner relies on public education about good development, said Carmel
Mayor Jim Brainard.
"Our development patterns from a financial standpoint are unsustainable," Brainard
said. "We used to have to live close together; we used to have pride in how we built. ULI is saying we need to design
our cities better."
The group hopes to facilitate dialogue among developers, planners, elected officials
and citizens on topics ranging from mass transit to green building, said Steve Lains, president of the Builders Association
of Greater Indianapolis and a ULI board member.
"We want the education to take place when you're not
looking down the barrel of a gun on a decision about a type of land use for a property," Lains said.
Ultimately,
Indiana needs to be more proactive about planning for demographic trends, instead of reacting once infrastructure already
is overburdened. Brainard and other leaders say a big challenge will be to convince members of the community, many of whom
covet a large lot and cul-de-sac, that density isn't a dirty word.•
Please enable JavaScript to view this content.