Despite his complaints about partisan gridlock, Sen. Evan Bayh had a pretty good 2009.

Bayh
In the rush of speculation about who will succeed him, many have forgotten to consider just what—and how much—Indiana may lose when Bayh retires.

In 2009, Bayh negotiated a key change in health care reform legislation, killing a proposed $20 billion levy on medical-device makers that would have threatened local life sciences firms. In August, he hosted his seventh in a series of annual job fairs around the state.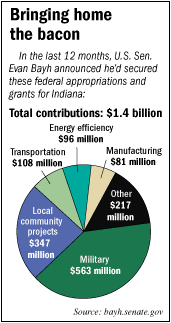 Perhaps most important for Hoosiers: He brought home the bacon—more than $1.4 billion in federal appropriations and grants in just the last 12 months, spread across the state.

Bayh, 54, who announced Feb. 15 he would not seek re-election, has a lifetime of political experience and connections, some inherited from his father, former Sen. Birch Bayh. Add in his reputation as one of the most conservative Democrats in the Senate, where filibusters make or break bills, and you'll understand why Bayh held a key vote—and the clout to call in favors.

"The [Obama] administration needed Bayh to get anything passed in such an evenly divided Senate," said Brian Darling, director of Senate relations for the Heritage Foundation, a Washington, D.C.-based conservative think tank.

"He was a swing vote on so many issues, the administration wanted to make sure they kept him happy and didn't anger him."

Bayh leveraged his pivotal position to Indiana's benefit, even as he stood his ground on trying to balance budgets at the national level.

"There just isn't anyone else in our state who can deliver what he's been able to deliver as a Democrat and a person involved in government and politics," said Doran Moreland, who served as director of Bayh's central Indiana office from 2004 to 2009.

Last year, Bayh announced he'd secured dozens of individual appropriations for Indiana, including a combined $347 million for community development projects and affordable housing, $107 million for high-speed rail and mass transit, $95 million for energy efficiency and research, and more (see graphic).

Then there was the rainmaker: military contracting. On Oct. 28, Bayh lauded President Obama for signing a defense spending bill that provides full funding for an aircraft engine used in the Joint Strike Fighter. The engine is made in Indianapolis by Rolls-Royce Corp.

Bayh spent much of his second term pushing for the Joint Strike Fighter from his seat as chairman of the Senate Armed Services Committee's Readiness and Management Support Subcommittee. Rolls-Royce and General Electric ended up with $560 million for the engine. In his announcement, Bayh claimed the money will preserve 300 of Rolls-Royce's 4,000 Indiana jobs and eventually could generate $1.7 billion in economic development impact for the state.

"Rolls-Royce has appreciated the ongoing support of Sen. Bayh," particularly on the Joint Strike Fighter program, Dennis Jarvi, Rolls-Royce's president of defense in North America, said in an e-mail.

Bayh has been a stalwart friend in the capital for Indiana's military suppliers for more than a decade. For example, Bayh has made a series of announcements dating back to 2004 related to communications equipment the Army and National Guard use in Iraq. Known as SINCGARS radios, they're produced in Fort Wayne by ITT Industries. In May 2005, Bayh touted a $767 million appropriation for 37,000 SINCGARS radios. In September 2006, he unveiled a fresh $116 million appropriation for 7,150 more.

Moreland recalled the efforts Bayh made on behalf of Indianapolis-based Allison Transmission, which helps produce the M1 Abrams tank. He said Bayh was instrumental in ensuring the contract stayed here when the U.S. Department of Defense considered switching to a foreign manufacturer.

"When opportunities came along, companies reached out to him and said, 'We're involved in this and we have a shot,'" said Moreland, who now runs the Indianapolis office of Tennessee-based Peritus Public Relations.

"They really didn't have to say much more. He did what he could to bring attention to those companies in our state that had the opportunity to be involved in federal programs. And the reason was, it meant jobs."

In a Senate rife with members who worry little about the macroeconomic impact of their pork-laden projects, Darling said Bayh stood out as one of the few concerned with out-of-control spending, and who labored to ensure his own appropriations were fully justified.

Bayh's approach was that half a loaf is better than none. He pressed for incremental changes, Darling said. Voters are less threatened by that sort of careful approach, he said. Critics called it timid. But it contrasts with the comprehensive overhaul proposals Democrats have rolled out in the last year.

"He did bring back money to Indiana, but he stood tough against federal waste," Darling said. "People in any state look to their [congressional] members and they want their piece of the pie brought back. But they don't want to see money sent to Washington wasted. If you have a balance, that's good."

For Moreland, Bayh's annual job fairs were perhaps the best representation of his low-key, practical approach.

Every year, Bayh would stage six to nine in communities around the state. Bayh invited only employers that had open jobs available to fill immediately. Moreland said up to 80 businesses would gather at each fair. They usually drew 2,500 to 4,000 job candidates.

Bayh, who holds a seat on the Senate's Small Business and Entrepreneurship Committee, frequently talks about small business as the economy's growth engine, and often cites the statistic that entrepreneurship, not big corporations, yields 91 percent of new jobs.

After job fairs, Moreland said, Bayh would require his staff to follow up and quantify how many of their introductions actually yielded hires. The process gave Bayh data that made for good talking points. But Moreland said it also proved to Bayh that his efforts were about more than checking off boxes on a long list of political chores. They produced real results.

"That's something only the people who had a chance to work closely with him had a chance to see," Moreland said. "You don't pick that up from C-Span or The New York Times."•