The smoking-ban debate in this city and state is getting a new spark from a fired-up group of tourism and convention officials.
They're trying to light a fire under lawmakers, who have been reluctant to approve the kind of comprehensive smoking
ban that health—and now tourism—officials say is needed here.
Indianapolis Convention and Visitors Association CEO Don Welsh and other area tourism and convention officials say Indianapolis
officials' unwillingness to strengthen anti-smoking legislation is imperiling the city's growing tourism trade.
"In many cases, the ordinances have been driven politically or solely due to the desires of local citizens,"
Welsh said. "While I understand that, the desires of visitors who spend billions of dollars in our community every year
have not been considered."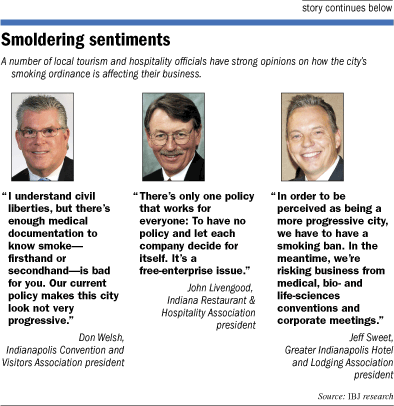 On the state level, the Indiana House on Feb. 24 passed a measure that
would ban smoking in all enclosed public places except casinos and horse tracks. Several local tourism officials said they
plan to get in the ear of state politicians as the bill progresses through the General Assembly.
A number of cities in the United States and abroad have passed legislation outlawing smoking in all public places, including
hotels, restaurants and bars. Welsh said he recently heard from visitors from New York who were disgusted by Indianapolis'
policy.
"When Paris passed their anti-smoking legislation 18 months ago, that set the tone globally," Welsh said. "It's
what people come to expect, and Indianapolis is being left behind."
Welsh is far from alone in his concern.
Jeff Sweet, president of the Greater Indianapolis Hotel and Lodging Association and general manager of Hilton Indianapolis
Hotel and Suites, said the complaints he hears from visitors about Indiana's smoking policies are becoming louder and
more frequent.
"Our guests, quite frankly, are taken aback by the smoking in our city," said Sweet, whose hotel is in the process
of going completely smoke-free. "There's no getting around it. It's starting to affect the city's
image, and not in a good way."
Dirk Ebener, CEO of Atlanta-based NuernbergMesse North America, which represents more than 100 trade shows globally, said
a city's smoking policy has a major impact on its image. Ebener, who recently conducted a site inspection in Indianapolis,
said the smoking in entertainment hot spots here is a definite drawback.
"There are a growing number of conventions in various sectors that definitely prefer a non-smoking city," Ebener
said. "A city's smoking policy says a lot about it. It speaks to cleanliness of the city, demonstrates the health
awareness of the city, and calls attention to its overall progressiveness."
In 2006, the City-County Council enacted an anti-smoking law, but there are several exemptions, including bars and other
establishments that don't allow anyone under 18 and businesses that don't employ anyone under 18.
In October, the City-County Council voted against an ordinance that would have strengthened the existing smoking ban to include
bars and the vast majority of workplaces. Council members then decided in a 14-13 vote to table the legislation, which means
it can return to the council agenda at a future meeting.
Local
patrons like Kenneth Fegett still enjoy a smoke at the Front Page and other area bars. (IBJ Photo/ Perry Reichanadter)
Mayor Greg Ballard has said he would veto such an ordinance if it reaches his desk.
That stand, Welsh said, is endangering a critical sector of convention business the ICVA is trying to develop.
"Many in the life sciences, bio and medical fields are vehemently against smoking in public places," Welsh said.
"I'm not sure it's always a show stopper, but it's certainly an unnecessary worry and concern that
we shouldn't have."
Medical and life sciences conventions and corporate meetings are key to the city's plan to grow downtown and its convention
business, Sweet said.
"Bio and life sciences is a premium-rated business," he said. "There's a huge benefit to getting
a foot in the door with that industry. Since that sector is growing rapidly, now is a critical time for this city to put its
best foot forward with those organizations."
Sweet said the current policy hurts the city's otherwise pristine reputation among convention-goers.
"In order to be perceived as being a more progressive city, we have to have a smoking ban," he said.
The city's rapidly growing tourism and convention business means there's plenty at stake.
A 2006 study by Washington, D.C.-based industry analyst D.K. Shifflet and Associates showed the city's annual visitor
spending hitting $3.6 billion.
Life sciences currently generates 4 percent of Indianapolis' convention and visitor business, but within a few years,
Welsh said, it could account for 20 percent. Sports is the city's largest convention and visitor moneymaker, he said,
making up 24 percent of the pie.
While the money spent on life sciences and medical conventions is considerable, it's just part of the benefit. ICVA
and its partners in the endeavor to grow that sector hope exposure from the medical and bio gatherings gives the region further
gravitas as a life sciences hub. That, BioCrossroads President David Johnson said, will help build the credibility of companies
located here.
"If we could make Indianapolis ground zero for these types of meetings, that would be a tremendous way to show the
strengths of this community in a way others in the industry don't normally think of," said Johnson, whose organization
heads economic development for Indiana's life sciences initiative.
Not everyone in the local convention and tourism sector favors strengthening the city's anti-smoking law. John Livengood,
president of the Indiana Restaurant & Hospitality Association, said there's an intense divide among members of his
organization.
While some agree with Welsh and Sweet that Indianapolis' smoking laws are scaring off certain visitors, he said others
fear an all-out smoking ban will hurt the city with other patrons.
"There's only one policy that works for everyone," Livengood said. "To have no policy and let each
company decide for itself. It's a free enterprise issue."
Waiting for local businesses to conclude that smoking must be banned, Welsh said, could have detrimental consequences.
"I understand civil liberties, but there's enough medical documentaion to know smoke—firsthand or secondhand—is
bad for you," Welsh said. "Our current policy makes this city look not very progressive."•
Please enable JavaScript to view this content.