Westfield's Sports Commission is evaluating proposals from three developers interested in helping the town become "The
Family Sports Capital of America."
The concept, which Mayor Andy Cook began pitching last spring, calls for building a $60 million youth sports complex, including
a 4,000-seat stadium.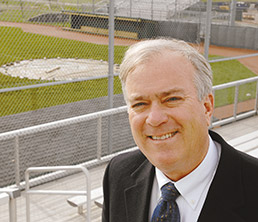 Westfield
Mayor Andy Cook hopes to build a youth sports complex. (IBJ File Photo)
Local developers Paul Estridge, Chris R. White, and Beau Wilfong and Steve Henke have submitted proposals to the Sports Commission.
The mayor would not make the proposals public.
Westfield anticipates selecting a development partner and then establishing a tax-increment financing district to generate
public funds for the project.
The location of the development hasn't been determined, but officials provided a map showing the three general areas
the developers are considering for the 200-acre to 300-acre complex.
Estridge Cos., which built the 1,500-acre Symphony community, would target an area around Towne Road and 146th Street. White's
CR White Development of Westfield is eyeing an area at State Road 238 and Grassy Branch Road. Henke, who was part of the partnership
that developed Bridgewater Golf Club, and Wilfong are looking northwest of U.S. 31 and State Road 32.
Westfield spokeswoman Carrie Cason said the developers control the land in question but do not necessarily own it.
The sports commission will spend the next three to six months discussing with each developer "who pays how much for
what," and how the project would take shape, Cook said. The commission will then recommend a winner.
Please enable JavaScript to view this content.