Ann Lathrop's interactions with the Indiana Pacers and Indianapolis Colts aren't exactly what she might have envisioned as a young college student pursuing a career in sports medicine.

Now president of the city's Capital Improvement Board, her relations with the teams are tied to their financial conditions rather than the health of their players.

It's a fitting role for the Indianapolis native, who ultimately decided she'd rather crunch numbers than tape ankles.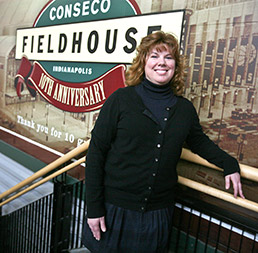 CIB President Ann Lathrop will play a role in attempting to keep the Indiana Pacers in the city. (IBJ Photo/ Perry Reichanadter)
Appointed to lead CIB in December after two years as board treasurer, Lathrop assumed control at a critical time for the organization, which oversees the city's professional sports venues and the Indiana Convention Center.

In addition to shoring up a projected $47 million deficit for the agency in 2010, Lathrop and the 10 other board members face the enormous task of striking a deal with the Indiana Pacers that will keep the team from breaking its lease—and possibly leaving Indianapolis.

Fixing one could affect the other. Keeping the Pacers happy might require CIB to cover $15 million in Conseco Fieldhouse operating costs, which would further strain the agency's delicate financial health.

(Story continued below.)



Lathrop doesn't pretend to have all the answers, but the 41-year-old is well-suited for the challenge. Those who work with her—both on CIB and in her day job with the Crowe Horwath accounting firm—say she's a capable leader who builds consensus among team members.

"She's very good at organizing and assembling a group of people to bring all the facts together to a particular problem," said Toby McClamroch, managing partner at Bingham McHale LLP and CIB's general counsel since 2008.

And despite the mayoral appointment that got her the board position, Lathrop isn't caught up in local politics. The certified public accountant simply wants to do what she can to serve her community.

That impresses former Indianapolis Mayor Stephen Goldsmith, who hired Lathrop as city controller in 1997.

"Ann's not a high-profile political player," said Goldsmith, a professor of government at Harvard University. "And it's good for the city that the direction of CIB, especially in these tough and turbulent times, will be led by a professional financial expert."

An Indiana girl



Lathrop grew up on the northeast side of Indianapolis, the elder child of an entrepreneur and a manufacturing worker. Her younger brother, Michael, is a building inspector with the town of Zionsville.

Her father, Maury, worked as a handyman and ran his own businesses—including one that attempted to capitalize on the popularity of whitewall tires. He traveled to used car lots and converted normal tires into whitewalls by grinding and spray-painting them. Her mother, Carol, was a production specialist at the Naval Air Warfare Center, now Raytheon Technical Services Co.

As a student at Lawrence North High School, Lathrop interned at the former Indianapolis Water Co., reviewing bank reconciliations for her uncle, James Lathrop, who was controller at the time.

It was an early taste of what would become her calling, but Lathrop nevertheless enrolled at Indiana University as a sports medicine major. She doesn't recall what drew her to the profession, but said she thought it would be fun. After two years, she realized accounting likely would be more lucrative.

About the same time, Lathrop dropped a bombshell on her parents: She was getting married at 20 and moving to California with her husband, who had recently graduated from Purdue University.

Lathrop said her parents trusted her decision, and she did not disappoint. She earned an accounting degree in 1991 from San Diego State University.

The couple returned to Indianapolis that same year, with Lathrop landing at the local office of the New York-based KPMG LLP accounting firm. One of her clients was the city of Indianapolis.

She left the accounting firm for a job in the City Controller's Office in 1993 as part of the Mayor's Fellow program—and was the only non-MBA accepted. Lathrop stayed for three years before rejoining KPMG and transferring to its Washington, D.C., office Her divorce the year before made the move easier.

Lathrop returned to public service in 1997, when Goldsmith hired her as city controller—the first woman to hold the position—to replace the retiring Jim Steele.

Goldsmith said he needed someone who was technically proficient and creative, particularly because the city was implementing a new accounting system, which is still in use.

"The job of controller was an enormously important job for the city and for me," Goldsmith said. "Maybe more important than mayor."

That time spent at the city provided her an appreciation for local government and a passion for serving, she said, which ultimately led her to CIB.

Still, she re-entered the corporate world in 1999, stopping at a couple of companies before landing at Oak Brook, Ill.-based Crowe Horwath in late 2004.

Kevin McGrath, chief operating officer of the accounting firm's Indianapolis office, is one of Lathrop's biggest supporters.

"What I'm certain of is that the same leadership traits she demonstrates here probably led to her appointment in the capacity with CIB," he said. "She's very good at setting strategy and holding people accountable, but doing it in a way that she's building a team consensus."

Right person, right experience

Indianapolis Mayor Ballard shares his sentiments. His upset election in 2007 over incumbent Bart Peterson led him to bring Lathrop back to city government, albeit temporarily, to lead a review of the city's finances during the transition.

Ballard appointed her CIB treasurer in 2008 before naming her president in December.

"Ann's career of public service is as diverse as it is distinguished," the mayor said via e-mail. "She is the right person, with the right experience, to serve as president of the Capital Improvement Board at this time."

Lathrop's ascension to CIB president runs nearly parallel to her success at the firm. Now partner in charge of market, development and sales at Crowe's Indianapolis office, she is taking on the dual role of chief operating officer of its staffing division, Creative Financial Staffing.

The energetic Lathrop already juggles the responsibilities of leading a staff of about 60 with her volunteer work at CIB, which commands about 25 hours a week. The only perk she and other board members receive for serving on CIB is the use of its suite at Lucas Oil Stadium.

She typically rises by 5:30 a.m. and works until 8 p.m., a brutal schedule Lathrop said is achievable with the help of an understanding husband and additional time that otherwise might be devoted to children.

Lathrop and Michael Gargano, chief of staff at Indiana Family and Social Services Administration, have been married 10 years. His two daughters, with whom Lathrop is very close, live in Ohio.

When she has some down time, Lathrop enjoys devouring mystery novels, because she enjoys trying to figure out whodunit.

A self-described "hometown gal," she also considers herself a sports fan and roots for both the Colts and Pacers. Lathrop pays more attention to both teams these days, now that she's more aware of the economic impact they have on the city.

Lathrop dismissed any notion that her gender could be a liability for an organization historically led by men. She credited Goldsmith with giving her an opportunity and said that although past CIB presidents traditionally have been close to the mayors that appointed them, "in my mind that doesn't mean it's a good-ole-boy network."

Game-playing not allowed

CIB's recent money woes have led the agency to tighten its belt and reduce its operating budget from $78 million at the beginning of 2009 to a target of $63 million in 2010.

Lathrop said the daunting task of reversing the $47 million deficit took her breath away. Even so, "I kind of thrive on a challenge," she said, "and just dug in."

Besides making $26 million in budget cuts and avoiding $25.5 million in debt-service reserve payments, CIB also has improved its financial situation with the help of the Indiana General Assembly.

State lawmakers expanded the Professional Sports Development Area that will include the new JW Marriott hotel complex downtown and approved a 1-percent increase in the local innkeepers tax, both measures that will generate additional tax revenue for CIB.

In addition, the board accepted the first of three potential $9 million loans from the state.

Lathrop is cautiously optimistic about CIB's improving financial condition but acknowledged the organization is not out of the woods yet. The challenge now, she said, is growing revenue from the expansion of the Indiana Convention Center set to open next February.

CIB revenue typically increases about 3 percent annually. The recession and the downturn in hotel occupancy, however, have contributed to a decline of roughly 20 percent, a figure Lathrop called "unprecedented."

Adding to the challenge: the extra $20 million it takes to operate Lucas Oil Stadium each year. And then there are the ongoing discussions with the Pacers.

Lathrop said she supports the mayor's desire to keep the team in the city, as long as it's "economically feasible."

The chances of Indianapolis' losing the Pacers are slim. The team has a rich history in the city, dating to its inception in 1967 and its glory days playing in the ABA. But Pacers executives have remained mum on negotiations, and so has Lathrop, who is not about to tip her hand when pressed for details.

There's no timetable to reach a deal with the team, Lathrop said.

"We want to do something right, not fast," she said. "If and when there's a solution, I think everybody's going to feel good about it."

A favorable outcome could cement Lathrop's status as a community leader, although she bristled at the thought of running for political office. She's perfectly content to stay in the private sector.

She's probably not suited for the exploits of politics, anyway.

"I don't do well playing games," she said. "I never have."•