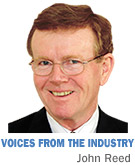 Banks are in trouble. Most are suffering at least a little, and many will not survive. That includes
Indiana banks.
While the nascent recovery from the Great Recession tries to gain traction, early signs of hope have driven up most stock
indexes. But not bank stocks.
The NASDAQ Bank Index, populated by big banks, lost 18.4 percent last year. And small banks fared even worse. Indiana's
listed bank stocks were off a median 31.7 percent for the year; this follows losses of 10.6 percent in 2008 and 19.9 percent
in 2007.
Some big banks are reporting record earnings. But small banks have both lingering and looming problems.
Small banks, such as those based in Indiana, face many headwinds. Some are doing just fine, but others likely will not survive.
Some earned their fate through imprudent lending. Others, despite strong credit culture and good banking practice, simply
got caught in the economic slump.
The old problems include effects of the housing collapse. Many foreclosures remain on bank books and must be liquidated into
a soft market, which drags on earnings and saps bankers' energy. Then there are the shadow foreclosures—underwater
mortgages that haven't gone to foreclosure because the banks don't want unsellable homes on their books, or because
of ill-conceived government programs to keep people in homes they had no business buying in the first place.
Other old issues include troubled commercial loans, especially small-business loans largely held by small banks. Small companies
do not have the same access to capital as big companies, and the liquidity squeeze sometimes suffocates them, leaving their
banks holding the bag.
While the economic recovery may bail many of them out, bankers struggling to work out these problem loans are reluctant to
pursue new loans with so many troubled loans still on their books, and new loans are, of course, the engines of earnings growth.
A newer challenge unfolding for a while, but not yet in full bloom, is commercial real estate, and many small banks are heavily
exposed to this sector.
The list of problems is long, but can be broken into two categories: supply and demand.
On the supply side, many longer-term commercial leases were signed before the onset of the recession, and renewals are coming
up; some won't be renewed, or will be at lower rent rates.
Adding to future supply are commercial properties still under construction, financed and started before the downturn.
On the demand side, the economy is still soft, and some believe that even when the recovery is well under way, many of the
lost jobs will not be replaced, which means many desks will remain empty.
In addition to high vacancy rates now (20 percent-plus in the Indianapolis office market), there are shadow vacancies: Many
tenants have more space than they want or need, and are paying pre-crash rents. They cannot get out of their leases early,
but at the end of their lease many will downsize and seek lower rents.
What does all this portend for banks, and small banks in particular, such as we have in Indiana? Think Fridays. Fridays are
popular, marking the end of the work week. In the banking industry, Fridays sometimes signal an end, as well—the day
bank failures typically occur.
The problems leading banks to failure usually build over time, but the finale is driven by regulators, and regulators like
to give buyers of the corpus a weekend to transition to new hands.
On Friday, March 5, another four U.S. banks were closed, making it 26 this year, following 140 last year. And more are on
the way, including several in Indiana.
So what do you do about all this? If you are a banker, tough it out; things will get better. If you are a bank stock investor,
tough it out or stay on the sidelines until momentum confirms that the tide has turned.•
__________
Reed is president of the Investment Banking Group at David A. Noyes & Co. Views expressed here are the writer's.
Please enable JavaScript to view this content.