Conexus Indiana, the Indianapolis-based logistics/transportation initiative, is sounding alarm bells over the vulnerability
of infrastructure serving the Ohio River and Great Lakes waterways.
Many of the locks controlling the key passageways date back 80 years and are failing, said David Holt, vice president of
operations and business development at Conexus.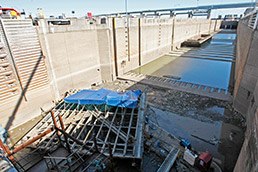 A huge gate at the Markland Locks Dam near Madison fell last September, forcing the shutdown of the main lock. (AP Photo)
Last September, a 250-ton door of the Markland locks near Madison fell off its hinges, causing substantial delays of river
traffic.
And a dam farther downstream, southwest of Mount Vernon, is leaking and may not last until a new complex is completed in
2020. Meanwhile, the Soo Locks, which provide Indiana access to Lake Superior and Lake Huron, are in danger of failure, Holt
said.
"Central Indiana doesn't understand this," said Holt, who plans to include the risks in an upcoming report
on the state's logistics industry.
Lately, he and other Conexus leaders have been buttonholing Indiana's congressional delegation in an attempt to get
funds appropriated and otherwise expedited for key modernization projects.
"If the locks would go down, Indiana would lose access to the Gulf of Mexico," Holt said. "It would cost
Indiana companies millions of dollars."
The value of cargo passing down the Ohio in Indiana is estimated at $30 billion, with $13 billion worth of goods to and from
Indiana coming via the Great Lakes. That includes raw materials for northwest Indiana's steel industry.•
Please enable JavaScript to view this content.