Dr. Edward Kowlowitz can credit pain in a figure skater so severe that it almost sidelined her from an important competition for his decision to accommodate same-day appointments.

Abigail Legg sought treatment from Kowlowitz in July 2008, just three days before she was set to skate in Philadelphia. A round of injections to relieve pain caused by inflamed facet joints did the trick, allowing her to compete.

"They said if I had not had that treatment, I would have been on bed rest for three days," said Legg, 23. "Everything went beautifully after that."

Even more unusual than the remedy is Kowlowitz's seeing her immediately. Waits upward of three weeks are typical at his Center For Pain Management.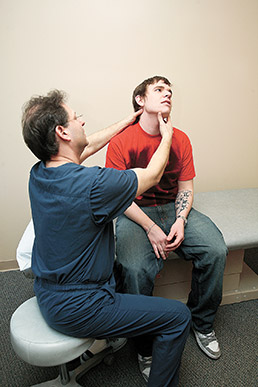 Dr. Edward Kowlowitz of Urgent Spine Care Center checks a patient for range of movement. (IBJ Photo/ Perry Reichanadter)
Legg had an advantage. A student she coaches is the daughter of an administrator and physical therapist at the center. Yet, Kowlowitz began focusing on acute neck and back pain rather than chronic pain in order to reduce wait times and, he hoped, prevent injuries from becoming more serious.

The result is the Urgent Spine Care Center, which Kowlowitz founded in October. The practice operates within the Center For Pain Management on North Meridian Street near 86th Street.

"Not everybody can afford to be off work for two weeks or a month [with a neck or back injury]," Kowlowitz said.

His aim to see patients quickly could be considered another example of a physician's attempt to offer more convenience,as the health care industry continues to evolve amid additional scrutiny.

At the very least, it shows that non-medical items, such as "ease-of-appointment making," are edging onto radar screens of physicians who can be notoriously unresponsive to patient convenience.

Kowlowitz hopes that, by seeing patients within 48 hours of making an appointment, they will get back to work without walking around like Quasimodo while waiting to see a specialist.

Specialists increasingly are accommodating patient schedules, said Bill Thompson, managing partner at Hall Render Killian Heath & Lyman PC, a multistate health care law firm based in Indianapolis.

Various Web sites that rate physicians are one reason physicians have become more responsive in the past three to five years, Thompson said.

As health care slowly shifts to operate more like retail stores, more than 30 sites have sprung up, including a subscription service run by Indianapolis-based Angie's List. The sites are trying to help consumers make informed decisions.

"There is so much information about physicians on the Web, including patients talking about their experiences, positively or negatively," Thompson said. "And so physicians are competing for patients based on service—not only the ability to take care of the ailment, but also the ability to take care of that ailment in a very positive experience."

Some health insurers are even beginning to tie physician reimbursements to patient satisfaction, Thompson said.

Amy Rice, one of three physical therapists on staff at the spine center, said many people can't wait, or can't afford to wait, to see a specialist.

"Those first few days and weeks after an injury are critical, both for your health and financially," she said. "In this economy, people don't want to waste time and money."

Indeed, those suffering from neck or back pain who miss at least eight weeks of work have only a 75-percent chance of returning to their jobs. That figure drops to 50 percent when the time away increases to 12 weeks, according to the Illinois-based American College of Occupational and Environmental Medicine.

Certified in anesthesiology and pain management, Kowlowitz launched the Center For Pain Management in 1992. Three more doctors are on staff, each of whom also is an anesthesiologist certified in pain management. Dr. Jocelyn Bush came aboard Sept. 1, to help meet the additional demands expected from the Urgent Spine Care Center.

Kowlowitz and Bush, as well as Drs. John Fitzgerald and Karen Schloemer, share duties between the two centers owned by Kowlowitz.

Demand for the urgent care center's services has been somewhat sporadic. The center will field several calls one day and none on another, Rice said. But Kowlowitz anticipates patient care will increase once more people discover the center.

"Some patients don't consider themselves sick enough to come to a pain center," he said. "This can help."•