Indiana has its first car-sharing program—not in Indianapolis but in Bloomington.
Indiana University has made space for four cars owned by Cambridge, Mass.–based Zipcar, which operates a car-sharing
service in 150 cities, mostly on college campuses.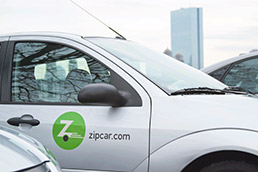 "Zipcars" could dissuade students from bringing own cars to congested IU campus. (Photo courtesy Zipcar)
Car-sharing is ideal for congested areas where owning a car is a hassle and communal stuff is cool. IU students, staff and
faculty can join Zipcar for $35. They then pay $8 an hour or $66 a day to drive—more during weekends.
Bloomington already has a city and campus bus system, but the Zipcar concept fits for those who may need to get somewhere
on their own schedule or to buy something that's a hassle to lug onto the bus, such as groceries.
One lure for IU officials to embrace Zipcar is that it's an alternative to students' bringing their own cars
to campus.
"Zipcars are the key to enhancing IU's transportation system and in reducing congestion in Bloomington,"
said Ilya Rekhter, chief transportation officer for the IU Student Association.
Urban advocates have been trying to bring a car-sharing service to Indianapolis as a way to promote urban living and as a
complement to the IndyGo bus service.
Indianapolis-based People for Urban Progress has been in talks with city officials and with an unnamed developer about striking
a deal with a rental car company to operate such a concept.
Please enable JavaScript to view this content.