Forget the couch and the remote control—Deseri Garcia gets her dose of athletics live and in person.
The Indianapolis consultant spends her weekends "adventure racing," which can mean running, biking, rappelling
and kayaking, among other sports. Some events last 38 hours.
What's the appeal of something so grueling?
"It's discovering that you can push beyond what you've done before," said Garcia, 44. "It gives
me courage to push boundaries in other areas—business or relationships."
Believing that this strategy might pay off for others as well, Garcia five years ago launched Vida Aventura ("adventurous
life," in Spanish). The local firm uses obstacle courses, scavenger hunts, trust games and other nontraditional activities
to build teams and develop leaders.
Her clients range from small businesses to Clarian Health and Cummins Inc. She uses hundreds of activities, depending on
the size of the group and their goals. She is certified by the Association for Challenge Course Technology.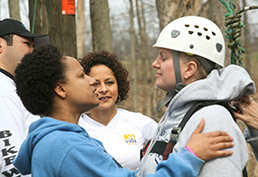 Deseri Garcia, center, watches as Simone Andrews, left, gives a pep talk to classmate Yelena Yahontova at the Spice Challenge
course on the east side. (IBJ Photo/ Perry Reichanadter)
Christopher Overstreet met Garcia two years ago when she was president of Rainmakers, a local networking organization. He
hired her to lead team-building exercises for his Indianapolis marketing firm, Xiik. His staff had been having trouble communicating,
so he brought in his employees from other cities for a half-day workshop with Garcia, and immediately noticed results.
"It was amazing," Overstreet said. "People were able to talk to each other better, collaborate more. It
was a phenomenal change that I noticed."
He has since hired her for another workshop with employees on goal-setting, and for some one-on-one coaching for himself.
He said he has been impressed with Garcia's ability to lead people out of their comfort zones. One employee was so moved
by her own success in letting go during a challenging exercise and trusting her co-workers that she broke down crying. It
was a turning point for her.
Garcia said she strives for such "Aha!" moments. Through team-building exercises, people sometimes become newly
aware of their own qualities, she said. For example, an employee who rushes through instructions and fails at a group exercise
may realize he needs to slow down at work.
"It's about creating analogies for learning," Garcia said.
This isn't all feel-good, fuzzy stuff, she added. It affects the bottom line.
Contented employees usually work harder, improve profitability and hang around longer, saving companies the expenses of turnover.
Garcia said the 20 years she spent working in business development at local companies Langham and Roadway Express gave her
experience in workplace dynamics that she now puts to work through Vida Aventura.
"I went through a leadership development workshop about five years ago and fell in love with coaching and doing facilitation
work," Garcia recalled. "I discovered it was my passion."
She runs the company out of her Broad Ripple home. She is the only employee, although she frequently contracts with other
facilitators when she works with large groups. She hopes her company will eventually grow large enough to take on more employees.
She said she misses the camaraderie of working in a larger setting, although she doesn't miss the drama.
Last year, Vida Aventura brought in less than $150,000. That was a challenge, Garcia said. But as the economy improves, she
hopes to reach $250,000 to $500,000 in revenue in the next couple of years.
This year has started off strong, she said. Many companies that have shed staff are looking to reignite those who remain,
she said.
She hopes to branch into culinary team-building as well as increase "destination-based" work—taking client
groups to interesting places, both here and abroad. For example, she led a "Survivor"-type activity with Cummins
employees from all over the world in Sao Paulo, Brazil.
Garcia said she doesn't think being a woman and a minority has hurt her business success. She follows the example of
former boss Cathy Langham, CEO of Langham, a transportation and logistics company.
"Cathy Langham made [being a woman] a non-issue," Garcia said.
For her part, Langham praised Garcia's listening skills, her tenacity and her ease with people.
"Deseri is a warm, dynamic person," said Langham, who has known Garcia for 15 years. "It's easy for
her to meet people and they like her. They continue to like her as the relationship grows. That's a stand-out strength
in my mind. She's got a great energy and great personality. She's in the right career."
Garcia's love of teamwork sprang from her experience with fellow athletes in adventure racing, which she stumbled into
10 years ago after a lifetime of various athletic pursuits. She started with roller speed skating as she grew up in Fort Wayne,
the child of a Cuban father and an Irish-German mother. At Ball State University, she took up lacrosse and running, and began
tackling marathons. She's a 15-year veteran of the OneAmerica 500 Festival Mini-Marathon.
Garcia said she exercises four to six times a week, mostly to improve her health and vitality, but also to keep balance in
her life. But she doesn't expect her clients to share her penchant for extreme sports.
"You don't have to be an Olympic athlete to work with me," she said with a laugh.•
Please enable JavaScript to view this content.