Locally based lithium-battery maker EnerDel serves as collateral on a $15 million bridge loan taken out late last month by its New York-based parent, Ener1.
Ener1 is trying to raise $60 million or more to finance its operations this year, which include ramping up production of battery packs for electric vehicles at a new plant in Hancock County.
The Cayman Islands branch of Credit Suisse AG provided the loan March 23, and it comes due June 23. Ener1 will pay an interest rate on the short-term loan of about 6 percent.
Greg Hahn, chief investment officer at Winthrop Capital Management in Carmel, said the interest terms are favorable, "but to put the company stock as collateral on what's called a bridge loan is a pill to swallow.
"I actually think it's a reflection of how tight credit still is in this market."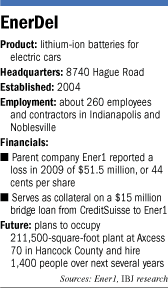 Additional security on the loan is Ener1's stake in the Norwegian electric car maker Think Holdings and warrants for Credit Suisse to buy Ener1 stock.
In an e-mail statement, Rachel Carroll, Ener1's vice president of corporate communications, said the loan will give Ener1 time to put in place long-term financing.
Although the company is in line for significant government subsidies, it needs to raise an additional $60 million to $70 million for its operations this year.
Ener1 has landed a $118 million federal grant and expects to receive a Department of Energy loan for $250 million to $300 million.
The company also is in line for $21 million in tax credits from the state of Indiana because it chose to build its first full-scale battery production facility in Hancock County and plans to hire 1,400 people over the next several years.
EnerDel formed in 1994 via the merger of the lithium-battery operations of Ener1 and Michigan-based Delphi Corp. The company has its headquarters at Hague Road, where about 200 of its 260 employees and independent contractors work.
EnerDel already is occupying its new Hancock County production space at Axcess 70, an industrial park at Interstate 70 and Mount Comfort Road, spokesman Guy Westermeyer said. The company has leased 211,500 square feet and has an option to double that space.
EnerDel also is expanding in Korea, where it produces the cells for its battery packs.
It is the largest subsidiary of Ener1, which also develops fuel-cell products and nanotechnology-based materials used in manufacturing.
EnerDel is continuing to burn through cash as it ramps up operations. Ener1 reported a $52 million loss in 2009. Operations consumed $41 million, reducing cash on hand to $14 million.
CEO Charles Gassenheimer said during a March 11 conference call with analysts that the company needs to raise $150 million for the next three years.
Ener1 could sell as much as $60 million in stock to cover this year's needs, but that would dilute the shares of existing investors.
"I do believe that there are better ways for this company to attract long-term investor capital," Gassenheimer said.
He declined to detail his preferred means of financing, but said, "I'm highly confident that we may very well be heading down a different path that doesn't involve coming to the … public capital markets."
Deutsch Bank analysts interpreted Gassenheimer's remarks to mean he's looking to private equity, or strategic investors, such as automotive suppliers or automakers.
"We believe that a large-scale investment, particularly one from a strategic investor … would represent a validation of the company's prospects and potentially a significant catalyst for the stock," the analysts said in a March 12 note.
The analysts also were encouraged by EnerDel's prospects of lining up additional customers for its batteries. The company's ramp-up is tied to its exclusive-supplier agreement with Think, which hopes to set up a North American manufacturing operation in Elkhart. (Ener1 owns a 31-percent stake in Think.)
The company expects to land two new customers, one in Asia and one in Europe, this year, Chief Strategy Officer Jeffrey Seidel said during the conference call.•
Please enable JavaScript to view this content.