The Indiana Health Care Association finds itself looking for a new president as the organization tries to dig out of a pile of debt.

Smith
Current President Steve Smith, whose contract expires Nov. 30, says he's put the organization on a path to be debt-free and financially stable by 2012. But his predecessor says Smith has ruined a once-strong organization.

The state's oldest association of nursing homes posted a loss of $395,000 in 2008—a staggering number for an organization with a budget of less than $2 million.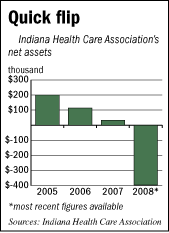 Things turned around in 2009, with IHCA posting a surplus of $8,300, according to unaudited figures provided by Smith.

But the organization had to run up its $200,000 line of credit and a $200,000 debt to its parent organization, the American Health Care Association, according to public filings and people with knowledge of the organization's finances.

It's also going to propose a 3-percent to 4-percent hike on dues or one-time assessment at its annual meeting in May—something that's never popular but hasn't been done in several years.

It's unclear whether the financial weakness of IHCA affects its lobbying power at the Indiana Statehouse or with state regulators of nursing homes. However, some of IHCA's members hired a separate firm this year to monitor legislation and regulation apart from IHCA.

"As members, you're always concerned about the financial health of the organization that represents you," said Mark Greene, a lobbyist for Milwaukee-based Extendicare, one of the many large national chains that are members of IHCA.

What is clear is that Smith's tenure has transformed the IHCA from how it operated under Art Logsdon, who was president of the organization from 1999 to 2006.

Within a week of becoming president in November 2007, Smith started firing staff members. IHCA now has six personnel, down from 13 under Logsdon. He dismissed the chief financial officer and Faith Laird, who was IHCA's regulatory expert and, conveniently, a close friend of Sen. Patricia Miller, R-Indianapolis, one of the most powerful state legislators on health policy.

Smith, 48, canceled IHCA's fall convention and combined it with its annual spring conference. He paid $77,000 to bring in Newt Gingrich to speak at the event as well as for IHCA to be the sole long-term-care sponsor of Gingrich's Center for Health Transformation.

He started selling sponsorships for the spring convention, and has $155,000 lined up for the event in May, at which former Sen. Tom Daschle will speak. In addition, Smith sold year-long sponsorships for $25,000 apiece to allow vendors privileged access to IHCA members.

Also under Smith's watch, a former IHCA member, American Senior Communities, resumed its membership after years of absence. That gave the organization another 4,100 beds—or nearly $170,000 a year in extra dues.

Smith also canceled some events that brought in revenue—but that he argues were unprofitable when the expense of staff time was taken into account. IHCA stopped offering a popular training course for nursing home administrators, which brought in about $35,000 a year, according to former staff members.

That de-emphasis of education led some members to leave IHCA, such as Morristown Manor in Shelbyville.

"We wanted a different organization that had a little better fit for us," said Greg Smith, co-owner of Morristown Manor, who is not related to Steve Smith.

Accounting changes

Smith also pushed to have each entity under the IHCA umbrella, and each event the organization stages, have its own statement of profits and losses. Previously, he said, administrative expenses incurred by IHCA's foundation or political action committee were accounted for under the association.

That change in financing, he said, required moving some money around on paper. For example, IHCA's 2008 tax filing shows a related-party loan from the foundation to the association for $117,000.

Making such changes to the accounting should have happened years before, Smith said. That made financial results look ugly for one year, but he predicts will make things better going forward. The surplus in 2009 is evidence of that.

"It represented a reconciliation of all the audits from 2003 to 2008," Smith said of IHCA's 2008 financial report. "If we had wanted to pay for it, we could have restated all of them. But we sort of took the bullet all at one time."

But Logsdon, who is now a private attorney, said that's "a big lie." He noted that IHCA had received clean audits from its accounting firm, Carmel-based Katz Sapper & Miller, throughout his tenure.

Smith hired a new auditor, Illinois-based Crowe Horwath, for 2008. Crowe cited IHCA for 12 deficiencies or material weaknesses in its accounting policies and decisions.

One citation noted that IHCA was, on its books, sorting all incoming revenue into separate accounts for each entity, but in practice, all incoming cash was going into the association account.

Similarly, Crowe noted that the association recorded management fees for overseeing its foundation and for-profit services business, but did not distinguish between the two.

No such commingling of cash was noted by Katz Sapper & Miller. But Smith said those problems existed in prior years and were not uncovered until he brought in Crowe to look for them.

"They all were designed to be separate entities. But at some point in the past, that separation got a little blurry," Smith said. He added that he had "a strong suspicion" about the problems, which is why he hired a new auditor.

But Logsdon said Smith's record speaks for itself. When Logsdon was pushed out by the IHCA board in December 2006, the organization had net assets of $200,000. IHCA lost money in 2007 but still had $32,000 when Smith arrived. By the end of Smith's first year, IHCA had negative net assets of $397,000.

"He's looking for someone to blame," Logsdon said. "I guess if I had lost $400,000 in one year, I'd be looking for someone else to blame, too."

Using PAC funds

IHCA still has enough cash to operate, Smith noted. Even after the losses in 2008, IHCA had access to $22,000 in cash and another $150,000 in short-term investments. It had to liquidate nearly $150,000 in long-term investments.

But during the 2009 legislative session, Smith resorted to using $35,000 from IHCA's political action committee to pay for lobbyists, Medicaid reimbursement analysts and other expenses. The political action committee had not used funds for such purposes in the past, according to state filings and interviews with former IHCA staff members.

Smith defended that move, saying IHCA raised more money than usual for the committee in 2009 and that using the money to pay lobbyists is allowed by the committee's rules. The lobbyists' work influencing legislators, Smith said, helped save nursing homes "tens of millions of dollars."

At the same time, IHCA was also involved in lobbying the Indiana Family and Social Services Agency about changes to Medicaid reimbursement for nursing homes. But some IHCA members were unhappy with IHCA's effectiveness.

Their ire was sparked in April 2009 by a letter sent to Smith by the director of aging at FSSA, Megan Ornellas. Responding to Smith's concerns about the proposed changes to Medicaid reimbursement payments, Ornellas said she had received no feedback from IHCA on the proposal for three months.

"Unfortunately, we did not receive any specific suggestions from you or your members at any of our subsequent meetings, other than the belief that a price-based system was the best direction for future reimbursement," Ornellas wrote. "Despite our repeated requests, we have not seen any modeling, fiscal impact, etc., regarding IHCA's price-based proposal."

Smith declined to comment on Ornellas' letter.

The changes in Medicaid reimbursement ultimately came out to IHCA's liking, at least according to its public statements. But the fallout from the episode led four IHCA members—Kindred, Golden Living, Extendicare and ManorCare—to hire a separate lobbying firm on their own to monitor legislation and regulations during 2010.

Ironically, those companies hired Beebe Scherer & Associates LLC, the firm Smith had dismissed as IHCA's lobbyists in favor of Ice Miller LLP.

In response, Smith wrote in an e-mail, "What members do is their decision. At least two of IHCA's largest members retain lobbyists in addition to those retained by IHCA."

Smith told the board late last year he wanted to serve only one more year. He says he's ready to move on to another challenge.

"When I got hired, that's exactly what [the board members] told me: 'We need a change in a hurry because we've got some concerns about the future of our organization,'" Smith said. "I've done that; now it's time for somebody else to take it to the next phase."•